25 Shortcut Dinners Your Kids Will Love
Busy week? No worries! We all need simple, kid-friendly, last-minute dinners in our repertoire. Try some of these 25 shortcut dinners that deliver up good nutrition and kid appeal, too.
With the hustle and bustle of the holidays, full schedules, and long to-do lists, feeding your family healthy dinners can be a challenge. Which means that it's the perfect time to serve up some of our favorite shortcut meals! The kids and adults in your house will love these ideas, which are big on flavor and include some family-friendly favorites. Plus, you will love how easy they are to get onto the table!
25 Shortcut Dinners Kids Love
In about 20 minutes, you can have this comforting soup ready to serve. Bonus: You can make it with frozen veggies!
Serve breakfast for dinner with this delicious smoothie. Bonus: It has spices that really hit the spot at this time of year, in addition to protein to fill the little ones bellies.
3. Pizza Toast.
Layer marinara and shredded cheese over toast and warm under the broiler for a few minutes for a super simple take on pizza.
4. Veggie Grilled Cheese
Tuck some shredded spinach into a basic grilled cheese for more flavor and nutrition—but the same quick cooking time. (Pull some tomato soup from the pantry or freezer to make it a combo meal.)
Use the canned squash puree in a pinch and have this shortcut dinner on the table in just minutes.
There is absolutely nothing wrong with serving a sandwich for dinner—and this one is super cute! Add some simple sliced veggies or fruit alongside and call it good.
With a quick blitz in the food processor, you can prep the veggies in no time. The oranges add a nice sweetness that the kids will love.
Pull the majority of the ingredients for this comforting soup from the pantry and let dinner simmer while you help the kids with their homework.
This simple idea can double as dinner if you add some crackers, toast, or tortilla alongside.
Short on food in the house? Dish up a balanced assortment of foods and call it dinner!
This is a nice change to a standard pasta dinner and you can even make the quinoa ahead of time, let it cool, and store it in the freezer in a zip top freezer bag.
12. Quick Bean Tacos
Warm beans, corn tortillas, and salsa make simple, yet really satisfy dinners. Add some shredded cheese or lettuce if you're feeling more ambitious.
13. Pancakes
Pick your favorite pancake recipe and make up a batch for dinner!
Make this healthy take on takeout at home and save yourself some money as you serve up a nice mix of protein, veggies, and grains.
Tortillas make a great (and quick!) pizza base and these come together—with those classic Mexican flavors your kids love—in just 10 minutes.
My daughter loves anything served on a stick and this is an awesome weeknight meal idea. Use the ingredients your kids like best with a little mayor, mustard, or ketchup on the side.
17. Scrambled Eggs
Cook up some scrambled eggs and serve with tortillas as tacos, with toast and fruit, stirred into some leftover rice with soy sauce, or stuffed into a pita pocket. The inexpensive protein is a great one to rely on when you're short on time.
18. Quinoa with Peas
Or pasta with peas. Or couscous with peas. This is a go-to quick dinner in our house—with a little butter or olive oil—and it's both super fast and comforting.
Way cuter than plain toast, this easy idea is a simple meal idea that your kids will love.
Serve up some healthy fats—and veggies mixed right in—with this protein packed dinner idea. Spread into a sandwich or serve with crackers for dipping.
Couscous, a tiny pasta, just needs hot water and a short rest to fluff up beautifully. Combined with a few fresh ingredients, you'll have a flavorful dinner for the whole family.
22. Rice Noodles
Many kinds of rice noodles only need a short stint sitting in very hot water to cook, so they make a great pantry staple. Pair with some thawed peas and toss with a little toasted sesame oil and nuts for a quick Asian-style dinner.
23. Quick Noodle (or Zoodle) Soup
Warm some broth, add some noodles (or zucchini noodles), and sliced carrots or frozen veggie medley. Serve with toast or crackers!
24. Yogurt Parfait
Pair up yogurt and granola with sliced fruit—or leftover roasted squash or sweet potato, which is surprisingly good in a parfait. Let the kids layer their ingredients, adding shredded coconut, nuts, seeds, or other fun toppings you might have on hand.
This simple dip is perfect for dunking veggies, crackers, and even sliced cheese.
Do you have a shortcut meal that your family loves? We'd love to hear about it!
Amy Palanjian shares recipes and feeding inspiration for little ones at Yummy Toddler Food. Follow her on Instagram or find her on Facebook.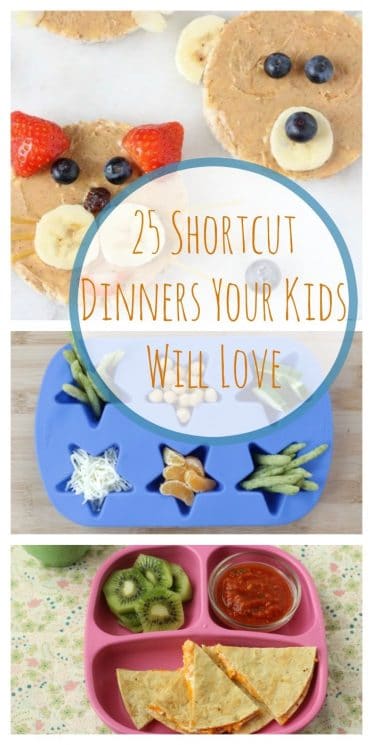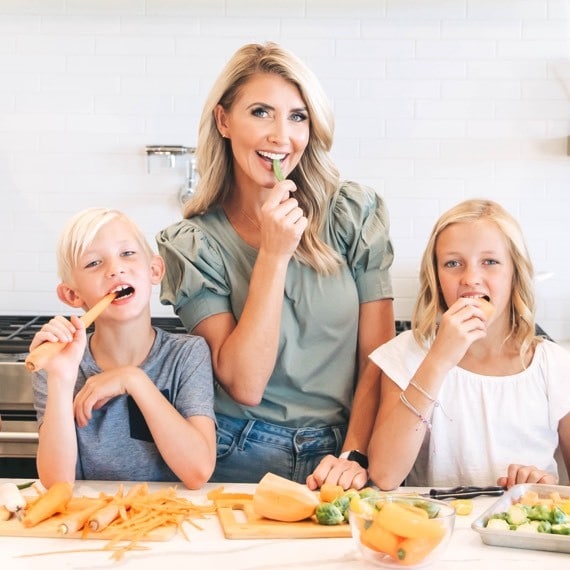 Natalie Monson
I'm a registered dietitian, mom of 4, avid lover of food and strong promoter of healthy habits. Here you will find lots of delicious recipes full of fruits and veggies, tips for getting your kids to eat better and become intuitive eaters and lots of resources for feeding your family.
Learn More about Natalie