22 Healthy Freezer Friendly Foods
Winter is coming, the harvest is here, and if you want to pack your freezer full of ready to eat, or ready to cook foods, now is the time! We are big fans of freezing healthy food here. If you don't have extra room in your freezer, or have been wanting a deep freezer, check your local classified ads. I was able to pick up our deep freezer in our local classifieds for $40! It's been working beautifully for 10 years, and I couldn't live without it!
We often get the question, what foods freeze well? We definitely have opinions about that. Honestly, my go-to answer is, if you have ever seen it in the frozen aisle at your grocery store, you will most likely be able to freeze it yourself! This may not always be the case, but I use it in making my final decision.
We do have a few steps that can assist you in the process of making certain foods, freezer ready: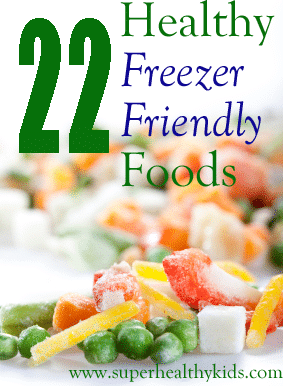 How to Prepare Fresh Produce for Freezing
Blanch It
Blanching allows the color, nutrients, and enzymes to stop breaking down. Once your veggies are prepped (rinsed, peeled, chopped, whatever), drop them in a pot of boiling water. After about 2 minutes, remove with a slotted spoon and dunk in a bath of ice water. I generally fill my kitchen sink with ice water for this, and collect the veggies until they are all blanched.
Puree of Juice It
If your fruits or vegetables are about to go bad, throw them whole, into a juicer or a blender, and then freeze the product! You can do this with any fruit or vegetable. You could also combine different fruits and veggies (carrots with bananas, etc). Make an entire smoothie, and freeze in small cubes for re-blending later.
Pre-Freeze It
Some fruits and vegetables require what I call a pre-freeze. When freezing whole foods like spinach, strawberries, grapes, cherries, broccoli, etc., arrange on a cookie sheet in a single layer. (usually over parchment paper so it doesn't stick to your pan). Freeze for a few hours, just until they are mostly frozen, THEN you can bag them safely without having to take out a clump of frozen strawberries, etc.
Seal It
While I do have a vacuum sealer (preferred), I don't always have bags for it. Freezer safe zip top bags work well too. Especially if you are going to use your produce or meals within a few months. If you want to store longer than a few months, I would definitely go for a vacuum seal. You can also freeze foods in foil baking pans, and freezer safe tupperware style containers.
The Foods We Freeze:
Peas and Green Beans! For peas, Have the kids open the pods by pressing a fingernail into the seam of the pod, and opening the pod.  Collect all the peas in a bowl. Then, you will want to quickly blanch them.  Then bag them.  For green beans, rinse, blanch, and bag!  
Tomatoes – I learned this trick last summer after we had too many tomatoes to eat, and I didn't have a chance to can them. Put the entire tomato in the freezer! Surprisingly, it works! You can literally put a whole tomato in the freezer. They obviously won't be good for salad toppings, or other traditionally fresh tomato dishes, but anything pureed (like marinara sauce), it's perfect!
Spinach, pureed or whole!  When short on time I will put entire spinach leaves in the freezer, especially if our spinach is about to go bad!   To puree spinach before freezing, we add the spinach leaves to a blender, with a touch of water, just enough to make it blend, then pour the spinach into an ice cube tray.  You can use this for all kinds of things, from brownies to soups!
Grapes, whole.  When freezing grapes, we make sure to freeze for a few hours on a baking sheet, before bagging.  Otherwise they stick together.  Once frozen they are  delicious just as a snack, or blended into a smoothie!  
Strawberries–  If you have strawberries in your garden, freezing them is one of the easiest way to preserve them.   We use them in smoothies mostly, but I also set them out on the counter for a quick defrosting, and then snack on the defrosted strawberries. You can add them to oatmeal too!
Cherries – We freeze cherries whole (after they are pitted) and snack on them.  We also add them to muffins, and this frozen cherry "cocktail". It just has sparkling water and frozen cherries as their ice cubes.  It's so delicious as the cherries start to defrost and flavor the water!  There are a few other things here, we use our cherries for.  We take the pits out (super easy if you have a cherry pitter), and freeze in a single layer before we add them to bags.
Juiced Carrots  (Ninja Carrot Cubes).  We buy a lot of carrots!  My husband literally eats them every morning. Sometimes however, we even have too many for him to finish before they start to get soft and aren't crunchy.   So, I'll take the remaining bag, before I get a new bag, and juice it. Then, I pour the juice into ice cube molds, and we add it to soups and smoothies! 
Whole or chopped Celery- Yes, whole celery is also possible.   Wrap celery in foil, and it will even maintain it's crispiness.  It's also a great idea to chop celery and freeze in little baggies to add to Chicken noodle soup, or any other dish where your celery is going to be soft after cooking. We blanch our celery first if we are going to use it for cooking! 
Bananas- Make Ice Cream! How many brown bananas have you tossed?  Forget about that!  Freeze them with or without the peel, and you are ready for this super quick and fast and easy ICE CREAM!  Also, of course adding frozen bananas to smoothies helps smoothies to get their frosty texture that we love.
Raspberries – you can freeze raspberries whole, in a single layer in the freezer. Then, place in bags.  We use frozen raspberries for smoothies  and oatmeal all the time! A fun twist on the frozen raspberry though are these  Frozen Yogurt Raspberries!
Chocolate covered fruit, like frozen bananas!  We freeze the bananas (or other fruit) for a few hours first to make it easier for your chocolate to stick.  THEN, remove frozen fruit from freezer, dip in chocolate, and re-freeze on parchment paper on a baking sheet.  Once frozen, just eat! Who cares about storing these bad boys!?!? 
Ice Cubes with fruit!  Who knows why we do this?? I think my kids just like the way it looks, and I think it's delicious in water!!  We freeze small berries, or chop up strawberries in water for cool ice cubes. 
Fresh Herbs- We are growing basil, sage, and cilantro right now, but our basil plant is taking over the world!  I just don't make enough foods where I add basil.  But you can chop off the leaves, and freeze your herbs whole, suspended in water.  Then, use for brothy Soups!  
Zucchini, shredded- Just the other day, I paid my 14 year old $5.00 to shred all the monster zucchini's that have grown in our garden.  It was well worth it to me.  We ended up with about 30 bags worth of zucchini.  I had him shred (with skin and all), and place in a bowl. Then, we portioned out 2 cup servings into freezer safe bags. Now, we can make zucchini bread or zucchini muffins all winter long.
Yogurt- Also, grapes dipped in yogurt. What a treat!  Interesting, because we actually don't freeze other dairy foods.  I don't like the way cheese, milk, or sour cream tastes defrosted, so we just don't do it. But,  Frozen yogurt on the other hand, is a delicious dessert, and well worth making.  For a full tutorial on these frozen yogurt bites, check out this post.
Waffles – I would have never thought of doing this until we started seeing them in the grocery store! At first I thought, why would anyone buy frozen waffles? Then, when we had them a few times and there was no waffle mess, I thought to myself, "GENIUS!! We must make these ourselves!"  We hardly ever set out to just make frozen waffles, it's always "waffle day", and we end up with too many to eat. I freeze them in layers, with wax paper in the middle, and stuff in a freezer safe gallon bag.  Then, we put in the toaster before eating.  (better than the microwave, which makes the waffles soft, not crispy like we like them).
Bread- ALL. THE. TIME!  I actually freeze all of our store bought bread (which I've been purchasing lately, as I feel too busy to make bread), but we also freeze sweet breads, like banana bread or zucchini bread.  I freeze regular sandwich bread because for us, it tastes just fine when it's defrosted, and then I can buy a lot at once, without having to return to the grocery store in the middle of the week.
Muffins- Muffins are easy to freeze.  We hardly ever eat all 12 muffins when we make them. So, we throw the rest in a gallon size zip top bag, and place in the freezer.  We usually eat them within a week or two, but they are good for up to three months.   When we are ready to eat them, we just microwave for 30-60 seconds.  Test it, and keep adding 30 seconds till the middle is no longer frozen.
French Toast – Who would have thought you could do this either until they started selling frozen french toast at the grocery store as well!! Ha ha.. So, we cook the entire french toast, and freeze that. To re-heat microwave for 1 minute, or about 5 minutes in an oven.
Popsicles (From whole food juices or smoothies). So, we've posted A LOT of popsicles on this site.  How could we not when kids will eat them so willingly!  Our most popular popsicle, and actually our most popular post OF ALL TIME on this blog, with the most pins and visits is this: Whipped Pineapple Pops
Beans, after they've been cooked.  I think beans may be my favorite thing to freeze.  They are so inexpensive to purchase dry (we have hundreds of pounds of beans in 5 gallon buckets), and they are so easy to cook.  (I use a crockpot).  The one complaint I have had when other people try this, is they say their beans defrost and taste dry.  You can include a little water in your bags of beans, and this should help keep your beans hydrated.
Cooked meats, like shredded chicken, ground beef.  I usually do this when we are making a regular meal, and I cook extra meat.  It makes it so easy for dinner on other days to have the meat already cooked! 
So, those are the foods we freeze most often! I know there are a million more. What do you freeze at your house?
Come back! On Wednesday and Friday Natalie is going to post her families favorite Freezer Friendly MEALS!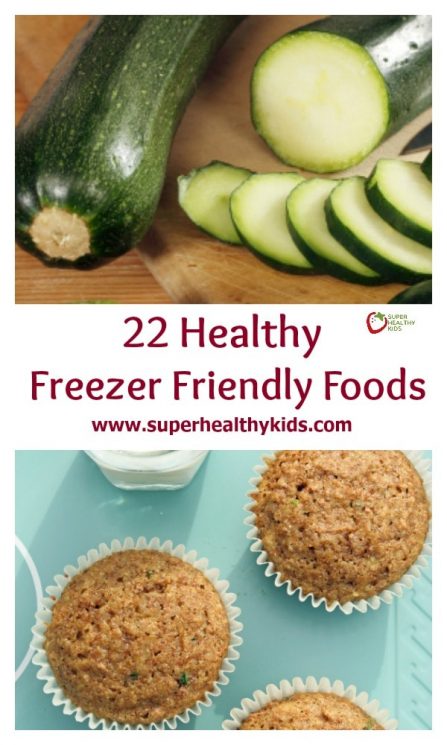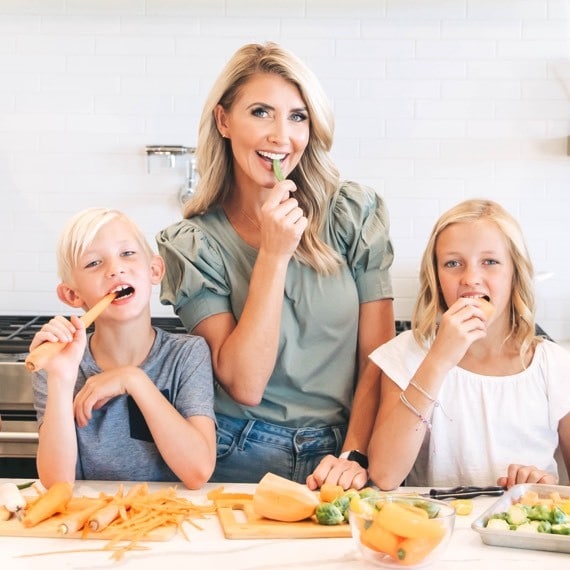 Natalie Monson
I'm a registered dietitian, mom of 4, avid lover of food and strong promoter of healthy habits. Here you will find lots of delicious recipes full of fruits and veggies, tips for getting your kids to eat better and become intuitive eaters and lots of resources for feeding your family.
Learn More about Natalie