21 Ways to Dress Up Veggies
Break out of a plain steamed-veggie rut with these fresh and flavorful ideas that don't take long to do.
Eat Real Stay Sane!
---
In my house, big plates of salad are off-limits.
"That's rabbit food," the husband says.
The only time I get salad is at my parent's house, or I make one with a tiny bit of spinach with tons of bacon, chicken, and craisins – not exactly a meal teeming with amazing veggie nutrients.
However, we are both concerned about our health and do our best to get in lots of veggies, despite my husbands self-imposed restrictions about salads.
I know some parents are concerned about "hiding" veggies in their foods, and I can see the merit of that argument. A kid who despises carrots might resent you for sticking it in one of his favorite foods. Here's a good argument for not hiding vegetables from your kids.
I believe a hybrid philosophy works really well. You can point out that they're trying the same veggies but in a different way, but sometimes I think it's also great to serve them something they'll never be able to tell has veggies in it (think carrots pureed in a cake).
I believe in improving the nutrient density of our meals, especially to kids, and at times hiding veggies might be the only way to get that to happen.
Here's a list of simple ways to get our kids to eat more veggies (or picky husbands…)! Some of these hide the veggies completely, while others improve the presentation or flavor.
1) Smoothies
My husband and I drink smoothies every morning, and more often than not we blend up veggies with it. The secret to a great smoothie is definitely to add a banana.
I make a killer sweet spinach smoothie that contains peanut butter, spinach, smidgen of vanilla-flavored protein, banana, ice cubes, and milk. It tastes like dessert.
Smoothies also work for incorporating non-veggie superfoods such as flaxseed and coconut oil.
2) Juicing
While health food gurus debate the merits of long-term juice cleanses, I don't think anyone can argue the virtues of the occasional juice for breakfast or lunch. In fact, we usually juice for one day a week.
I know the cost of buying a juicer can be daunting, however we found ours secondhand through a local classified ad for 1/3 the retail price. It was pretty much brand new… score!
The easy way to make this tasty for kids is to add fruit.
Try doing 2 carrots, 2 celery stalks, and ½ a green apple for your little people. Still too veggie-fied? Add ½ a lemon, more apple, or even a pear.
You can also check out 201 Healthy Smoothies & Juices for Kids found here on Super Healthy Kids.
3) Spaghetti
A fan favorite at our house! Spaghetti is a no brainer if you want to add a bunch of veggies to a meal. This is our spaghetti recipe that we like to use (scroll down to #21 on this list for a marinara sauce with bell peppers and celery).
It's kid friendly, and a super simple way to get veggies.
4) Zucchini Lasagna
You've probably got a go-to lasagna recipe that your family already loves – now you can mix it up a bit!
Instead of noodles, thinly slice up a zucchini. First pat in bread crumbs, and then dip in whipped egg. Fry it up (in a healthy oil, of course!) and layer just like your normal lasagna.
5) Zookies
When we had a garden growing up, we made the mistake of having multiple zucchini plants. It pretty much took over the whole back yard!
Needless to say we had to get creative with how to use it, and we got a zookie recipe from one of our friends at church. We don't have this recipe posted yet but you basically use your normal chocolate chip recipe, add in 1.5 C of shredded zucchini, and swap out the chocolate chips for butterscotch chips.
Obviously this is just an occasional treat right?
6) Baked Yellow Squash Rounds
File this one under dressing up your veggies! Slice it up and place on an aluminum foil-lined cookie sheet.
Next, generously sprinkle seasoning seasonings over the top, and bake at 350 for about 20 minutes (or until turning brown).
We usually go for a mixture of garlic powder, onion powder, salt, and pepper. You can also try out spicier versions (with chili powder) or even cheesy versions!
7) Baked Asparagus
My brother-in-law cooked these for us and we've never gone back. Well, more like my husband won't let us go back.
Coat your asparagus in olive oil, and then toss with salt, lemon pepper, and parmesan cheese. Bake at 425 for about 15 minutes, or until just tender.
Well… sometimes we overcook them on purpose to get them a little crunchy, but I won't tell you how to live your life.
8) Stir Fry
The great thing about stir fry is that you can do it with so many different veggies! Cater to what your children like.
Basically, pan-fry some steak (cut into cubes), then add veggies. Add veggies that take the longest to cook first (such as carrots). Sear until you've got them where you want 'em. Add some stir fry sauce and warm through. Serve with rice!
9) Vegetables with the Roast
Do you cook a Sunday roast?
Next time, add some carrots to the pot. They'll soak the seasonings and the roast juices and taste like a mini piece of meat! It's the only way my husband will eat them. Well, after he puts gravy on them.
10) Brown Sugar Carrots
Okay, okay, brown sugar isn't the healthiest thing in the world – but if it gets your kids to start eating carrots, the tradeoff can be well worth it! Plus you can buy organic, unrefined brown sugar which is what we use. We like the Wholesome Sweeteners brand.
Simply enough, when you cook your carrots on the stovetop, add some brown sugar for extra-sweet veggies. It also works great with butternut squash.
11) Cheese Broccoli
Like you need instructions for adding shredded cheese to broccoli.
However, don't be fooled by the simpleness of this trick – cheese has great abilities in getting kids to eat stuff.
12) Salsa
Oh salsa… if only we didn't have to keep making batches of you every week and you could just appear in my fridge! That would be wish #1 for a genie.
Anyway, here's a simple recipe that includes tons of veggies and goes with anything.
13) Steak & Everything
This is one of our favorite "crud, it's 6:30 and we have no idea what to eat" meals.
Start by browning some ground beef and siphon off the grease. Add a healthy portion of Lawry's Seasoning Salt and add in the veggies! We usually do olives, tomatoes, mushrooms, and onions, but you can get creative. Cook until your veggies are the way you want them.
Just before serving, add shredded mozzarella and serve on hamburger buns.
14) Fajitas
The surefire ways to get my hubby to eat veggies are to season them like crazy, cook them for a long while, or eat with meat.
This one checks off all three!
We'll slice up a couple bell peppers and 2 chicken breasts, then add ¼ C water mixed with a fajita seasoning packet and slow cook for about 4 hours. Serve with tortillas.
15) Green Beans With Extras
One of my favorite things about Thanksgiving is the green bean casserole! You know, the green beans with the crunchies and the almonds and the cream of mushroom?
However, I've noticed a lot of kids don't like the cream of mushroom, and a lot of moms don't like having to bake it.
You can split the difference by cooking up your green beans like normal, and sprinkle sliced almonds and those crunchy french fried onion thingies on top.
16) Chicken and Spinach Quesadillas
One of the wonderful things about spinach is that when you sauté it, the spinach virtually disappears. Then you can hide it in all sorts of places!
In a skillet, toss some butter and a decent amount of spinach (remember, it cooks down A LOT), and put a lid on top. Stir every so often.
Once it's cooked down, add it to your tortilla with a little shredded chicken and cheese.
17) Chicken Noodle Soup
This recipe is surprisingly easy and definitely a kid favorite! Really, all you need is sliced carrots, shredded chicken, noodles, and chicken broth! We like ginger and salt for seasoning our chicken noodle soup.
Of course, you can easily add other veggies, like celery, to the mix.
18) Shish Kebabs
What kid doesn't like food on a stick?
And what kid doesn't like choosing what goes on said stick?
Here's a recipe we love for making the world's best shish kebabs.
19) Ranch and Veggies
Like, you get a bowl of ranch, and a plate of veggies, and you win as a parent. Find a homemade ranch recipe (without vegetable oil) to make it even more healthy.
20) Celery Stuffed with Things
This is an obvious snack that everyone knows about – stick peanut butter or cream cheese inside your celery.
However, you can even spice that up with M&M's or raisins smushed on top.
21) Spaghetti with Squash Noodles
Spaghetti sauce can cover the sins of many dishes, one of them being that it seems a little depressing to me to put squash instead of noodles.
The things we do for the sake of being healthy. *sigh*
Ok, it's actually better than you think it's going to be, because the real hero of this meal is the sauce anyway. This is our marinara sauce that we like to use.
Bake up some spaghetti squash, use a fork to take it out of the skin, and serve with sauce over the top.
You can use that marinara sauce as a veggie dip also, or even fry up some healthy mozzarella sticks with sourdough breadcrumbs. Mmmmmm!
BONUS: 4 MORE WAYS!
22) Gourmet Grilled Cheese Sandwich
Grilled Cheese is a very common meal around here too because they are super-duper easy. We love using our homemade sourdough artisan bread with our sandwiches.
Go ahead and add some veggies with your sandwich like tomatoes, mushrooms, pickles, avocado, or onion. You can even spice it up by adding different kinds of cheese or meat like bacon or ham.
23) Soups
I am such a sucker for Zupas' Wild Mushroom soup (I have a recipe for that one but haven't posted it yet. Stay tuned!) and Cameron always gets their Chicken Enchilada soup. Growing up, my favorites were potato soup over broccoli or tomato soup with grilled cheese toast.
Soups can be pretty easy because a lot of them just require you to throw stuff in your food processor and then put it in the crock pot. My friend Tara over at We Got Real put together 60+ Slow Cooker recipes that has a bunch of soup recipes in it.
We're big fans of the crock pot around here!
24) Zucchini Banana Bread
I really, really love good banana bread. There's something magical about the sweet cinnamon banana flavor with a moist fluffy center. I'm going to go have to make me some now! This is the best banana bread recipe from our kitchen to yours – and it's healthy.
Now just take that recipe and add in about a cup of shredded zucchini and voila!
25) Pizza
Homemade pizza is super fun with the whole family. Just put together your favorite crust recipe (we have a sourdough crust that we like to use), put out all the toppings you want, then have everyone go at it adding their favorite toppings. You can't go wrong with this one.
Encourage your kids to try mushrooms, onions (hide in a bbq chicken pizza), peppers, spinach, or tomatoes.
Well, those are my favorite kid-friendly ways to dress up vegetables! I'd suggest finding 2-3 of those and begin incorporating them into your meal plans.
Any other ways you dress up your veggies for the kids?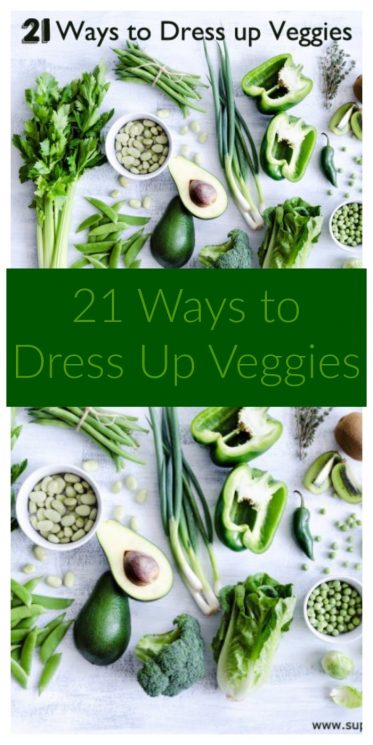 ---
Erin is a stay at home mom of 1 (hoping to grow that number), awesome wife, she bleeds blue (BYU fan and Mormon), loves anything peanut butter or chocolate, has a slight obsession with animals, and has a mission to inform the world the benefits of eating whole real food while staying sane in a society of processed foods. Follow her on
Pinterest
and
Facebook
and drop by her blog at
http://eatrealstaysane.com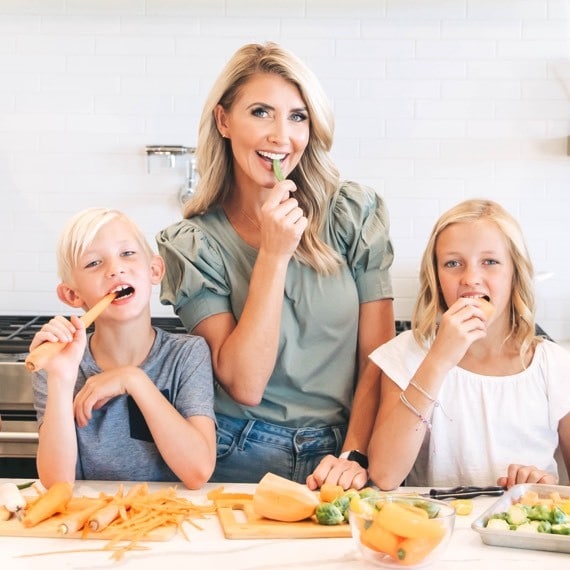 Natalie Monson
I'm a registered dietitian, mom of 4, avid lover of food and strong promoter of healthy habits. Here you will find lots of delicious recipes full of fruits and veggies, tips for getting your kids to eat better and become intuitive eaters and lots of resources for feeding your family.
Learn More about Natalie