Toast Toppings: 25 Ideas for a Healthy Breakfast
My kids love toast (and our toaster)! Any topping and any time of day. We're just hard wired to love bread. And when we can dress it up with a little extra flavor, it's a win-win for everyone! So, here are some of the toppings my kids like on their toast- Let us know what you guys like in the comments!
Kids Favorite Toast Toppings
Erica loves to get creative with fruit faces on her toast. Her first creation yesterday was chocolate chip hair, banana eyes, strawberry nose, and apple mouth.

Typical toppings

: Most mornings we add honey or cinnamon!

Flower Power

. Slicing strawberries lengthwise, and arranged in a fan gives the look of a flower. So fun for tea parties, princess parties, or that special little girly girl!

Applesauce Toast!

I asked last night on twitter what favorite toast toppings were. Among the replies was Maria, who said she loved applesauce on toast. We have a recipe for rhubarb applesauce here.
Another twitter reply was from Healthy Kids Challenge for

peanut butter/ Banana toast

! We love this too, except adding a little chocolate!
Homemade jam has always been a favorite of ours. We've never tried orange marmalade though as that is what @marygooch on twitter said was her favorite!
Erica, my daughter, insisted on designing this Valentine special:

Peanut butter, strawberries, and chocolate!

MMMM. She even took her own picture!
Mustard! Strange, I know. My best friend all through high school would eat

mustard toast

for breakfast every day!

Almond Butter, honey and granola

! What a great combo, right?

Poached Eggs on Toast!

This combo of fat, protein, and whole grains makes a perfect balanced breakfast. (I tried to make a poached egg for the photo yesterday, and it was an absolute disaster!)

Light Cream cheese and homemade jam

. I always keep some spreadable cream cheese on hand. I love this stuff for wraps, sandwiches, toast, and dips!

Pureed pinto beans and grated cheese

. This doesn't have to be for burritos only (or breakfast only for that matter). Some people don't like typical breakfast foods, and this is a great alternative.

Mushroom Toast

. I had this for the first time as a teenager in East Germany (before the wall came down) It was so delicious, I can literally still taste it. It had sautéed mushrooms, garlic, and a sprinkling of cheese on top. My kids aren't keen on mushrooms yet, but I'm still trying.

Toast Dippers

. You can have any variation of dipping sauce. This dip is hummus, which is why we have the carrots to go with it.

Fresh Tomatoes and Mozzarella Cheese

. Bake this for a few minutes to get the cheese crispy. Works especially well with those who have a toaster oven.

Nacho Toast

. Add salsa, green onions and cheese- then bake. The salsa I bought was super runny, or these would look better, I'm sure!

Light cream cheese, raisins and cinnamon

. Mix these altogether and spread.

Nutella and apples

. Nutella is a mixture of hazelnuts, cocoa and sugar. While it is a dessert food (sugar is the first ingredient), its fun to use on occasion.

Laughing Cow Cheese wedge with cucumber slices

.

Hawaiian Pizza.

Orange marmalade for a spread (optional), Pineapple tidbits, lean, nitrite free ham, and some cheese baked on top.
Bear Toast- as soon all over Pinterest!
Cream cheese, pomegranate seeds, and nuts!
Cottage cheese, edamame and cherry tomatoes.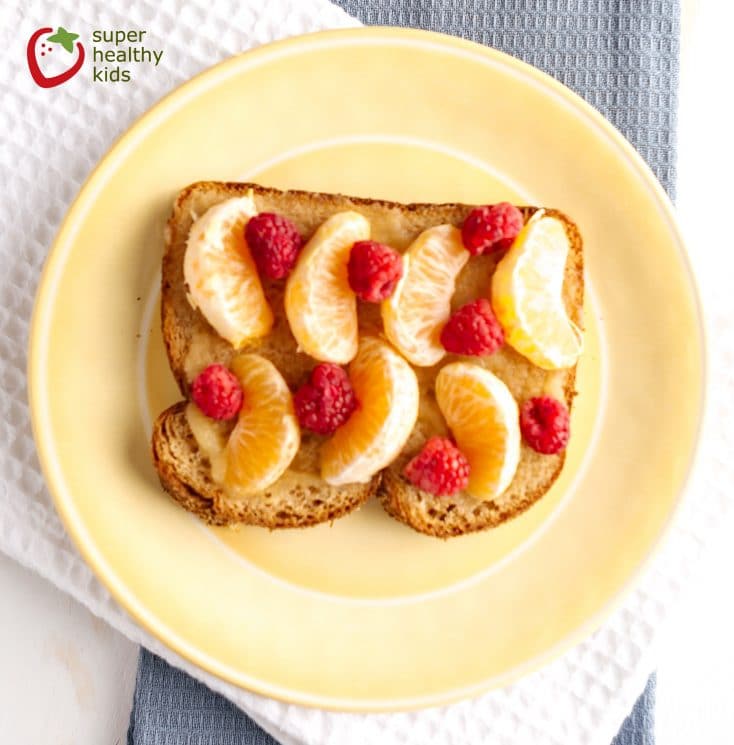 THOSE ARE OUR FAVORITE! What about your kids?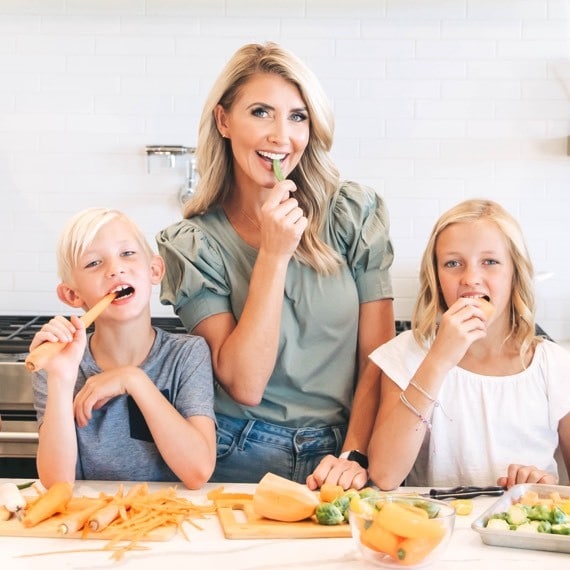 Natalie Monson
I'm a registered dietitian, mom of 4, avid lover of food and strong promoter of healthy habits. Here you will find lots of delicious recipes full of fruits and veggies, tips for getting your kids to eat better and become intuitive eaters and lots of resources for feeding your family.
Learn More about Natalie