10 Cooking Skills Your Kids Should Know
I do believe one of the most important parenting lessons for your kids is giving them the confidence they need to do hard things!  Kids do not become confident when they are asked to do things too simple for their age.  Asking my 12 year old to tie her shoes, is not going to instill confidence! Asking her to make dinner for the family on the other hand, pushes her to do hard things that builds her self-esteem, and helps her feel important.  Kids can do hard things!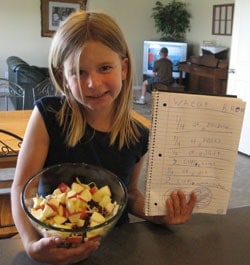 When Erica was about 7, she decided she wanted to learn how to cook! I had been having the conversation with her: "When you are a mom, you are going to need to know how to cook!" So, she pulled out an old spiral bound notebook, put page numbers throughout the ENTIRE thing, and asked me to spell each and every ingredient for our salad (the recipe she is holding was a bread recipe). Then she started an index. I thought it was so stinkin cute, I wanted to rush out and buy her her very own CUTE recipe binder where she can collect her favorite recipes until she leaves home. I resisted however, and decided to let her do it her own way. She doesn't know any better.
Kids need to learn cooking skills. It is more difficult and time consuming to let your kids help you in the kitchen. But studies show, if they do, they are more likely to eat healthier, and when they leave home they will prepare healthier meals for their own families. And the cycle of health continues.. I was reading in the paper a few years ago, our generation (today's mom's and dad's) do not know the basic steps of cooking. That we complain we have no time to be in the kitchen to make food for our families, yet we spend an average of 4 hours in front of the TV a day. So, let's get back into the kitchen with our kids! I promise,they will not only learn vital skills, but you'll be preparing them for life when they aren't under your roof any more!
These are the 10 things I felt were important for my kids to learn, and which they've mastered beautifully.
Make toast– I do believe this was the very first "cooking" skill my kids have mastered, and now, well, they are pretty much professionals at it.  

Measure things

– I haven't met one child (mine or anyone else's) who doesn't like to help with measuring things!  I love turning this into a math lesson as well. I will say, if you are using a 1 cup, but the recipe says to use 1/2 cup, what should you do?
Press Garlic– Since my kids were little, they've loved pressing garlic through our garlic press.  If you don't have one, you should get one!  They are great for adding flavor to any roasted veggies.
Make their own lunch!  I have been a big proponent of kids making their own lunches from the time they are in kindergarten or even before!  I've had parents complain about lunch making in the mornings, and I just have to say, "Why are you making 5 lunches every day? Your kids can do that!  We have specific foods they can add to their lunch of course, but they do it all themselves.
Make rice or hot cereal!  We've done both in the rice cooker, and your kids can do this at age 4, I promise!  You just need to teach them the 2:1 grain principle.  Most grains we make need 2 cups of water, for every 1 cup of grains! You can write it right on your rice cooker. Of course, this isn't always true- but for most of the grains we make, it is!
Cutting! You don't have to give them the big butcher knife, but they really can cut certain things from early on. This is my daughter when she was 8.  I found an old blog post that SHE wrote- lol.  We have a crinkle cutter that my kids have been using to cut veggies for years and years!   They also can use kitchen shears to snip up produce and cut other foods like quesadillas or pizza.
Wash the produce.  Kids can do this as young as 3 years old.  We have a homemade veggie wash that kids LOVE to spray! 
Mash food! I didn't have a picture of this, but mashing bananas for banana bread, or even to help you feed the baby!
Plan meals!  We have a template for meal planning that you can print and fill out with your kids! Meal planning is a skill that most parents don't realize is important to teach, yet it's a skill that will help them eat healthy foods when they are independent.  We have this four day template that I've used to teach in schools and scouts that remind kids to choose foods from each food group, to ensure they are eating a balanced meal (print here) .
Clean the kitchen! How can you teach cooking skills without the most important part, cleaning up when you are finished!  Kids can set the table, clear the table, fill the dishwasher, rinse dishes, recycle the scraps, wipe the counters, etc!
What kitchen skills did I miss?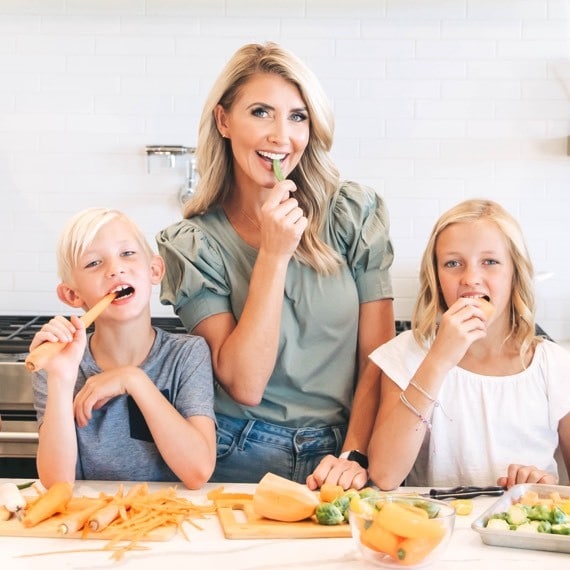 Natalie Monson
I'm a registered dietitian, mom of 4, avid lover of food and strong promoter of healthy habits. Here you will find lots of delicious recipes full of fruits and veggies, tips for getting your kids to eat better and become intuitive eaters and lots of resources for feeding your family.
Learn More about Natalie