Yoga and Meditation with Kids
Within the realm of yoga, there is something for everyone. A yoga session can consist merely of deep breathing, or it can incorporate simple or complicated poses depending on what the person is looking to get out of the practice. Yoga is non-competitive and incorporates meditation, which adds to its power to relieve stress. For children and adults alike, yoga is a wonderful exercise that feels less like exercise and more like loving and respecting one's body. Yoga is a fantastic choice of exercise for kids of all ages because it has so many benefits and can be done almost anywhere. Through yoga, kids can learn to live in the moment and focus on what they are doing at that moment.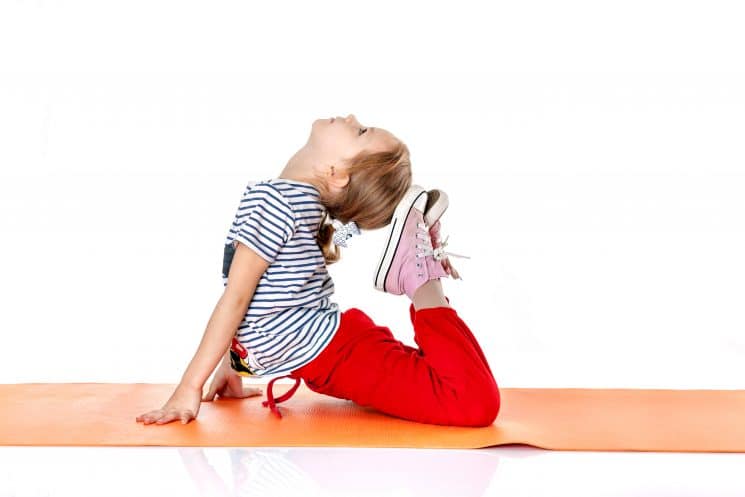 ---
Benefits of Yoga for Kids:
Stress reduction through breathing.
When practicing yoga, you aim to focus on and control your breath, which helps you to be present in your yoga practice while also focusing on the present moment rather than all of the thoughts that can flood your mind. Cosmic Kids Yoga has a post titled Five Fun Breathing Exercises for Kids with ways to teach kids how to breathe deeply and focus on the breath. The hot air balloon technique is a wonderful way to incorporate a child's imagination into the practice. Another visual is to imagine the flow of the breath that is entering your body. Picture wonderful, clean, life giving air entering through your nose. Next, picture it going down your windpipe. Then it slowing fills your lungs with air to send to the rest of your body. Envision the reverse for the exhale.
Exposure to mindfulness/meditation.
Mindfulness is achieved by focusing awareness on the present moment while acknowledging other feelings and releasing them. When children are focusing on their breaths and poses, they are able to release other thoughts and simply focus on the present. Mindful breathing is a form of meditation, which is a wonderful relaxation method.
Practicing yoga helps to stretch and strengthen the body as well as improve balance and coordination.
Provides confidence building.
As a child practices yoga and sees and feels changes, such as mastering a new pose or being able to hold one's balance longer, confidence is fostered and a sense of achievement is felt.
____________________________________________________________________________________
Yoga typically consists of breathing, meditation, and poses, and it can be practiced at any time of the day. You and your child can wake up and practice yoga in bed to start the day. Your family can do a night time routine before bed to calm the mind. And you and your child can practice anytime in between in short bouts or in longer sessions. Yoga is just as beneficial for adults, so making it a family event allows for exercise and time spent together.
The following graphic is a guide through a yoga sequence that uses garden imagery to make the flow even more child friendly. If you follow the link, you can get a printable PDF of the graphic.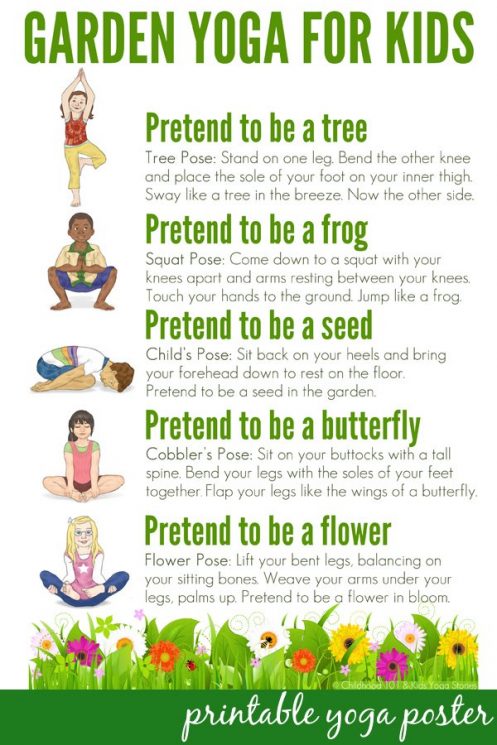 Other wonderful resources are available for leading children in a yoga practice, such as
Cosmic Kids Yoga. Kids enjoy a story and scenery while breathing and practicing yoga poses.
YouTube Yoga Roundup. So Much Yoga has a roundup of what they determined to be the 7 best yoga videos for kids on YouTube.
5 tips for doing yoga with kids. These tips are a great reminder to keep the yoga age appropriate as well as fun, consider the time of day that you choose for practice, and incorporate relaxation and meditation.
Books, studios, videos and more. Super Healthy Kids lists where you can find yoga for kids, including specific books to check out.
Yoga can fit into any schedule and can be used as a wonderful tool to promote health and relaxation in children and adults alike. Giving your child tools, such as deep breathing or various poses from yoga, to promote relaxation and reduce stress is an amazing tool to have in your child's toolbox for life.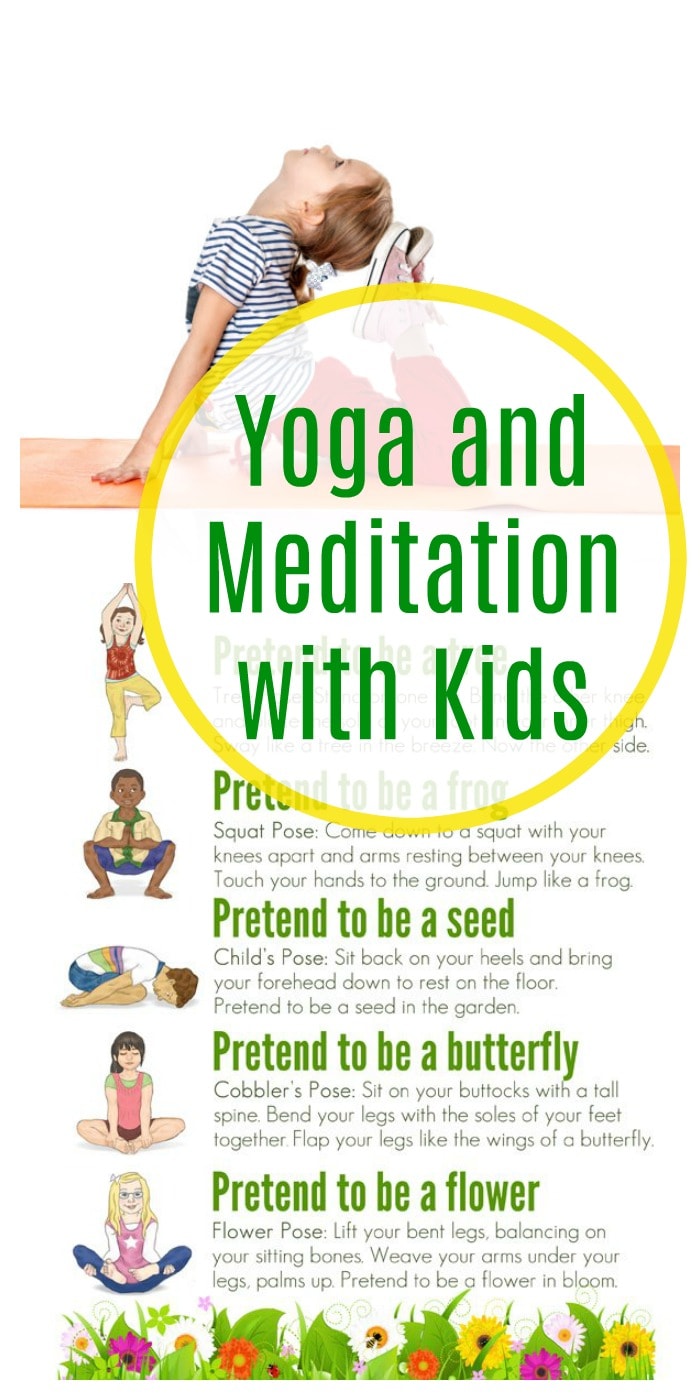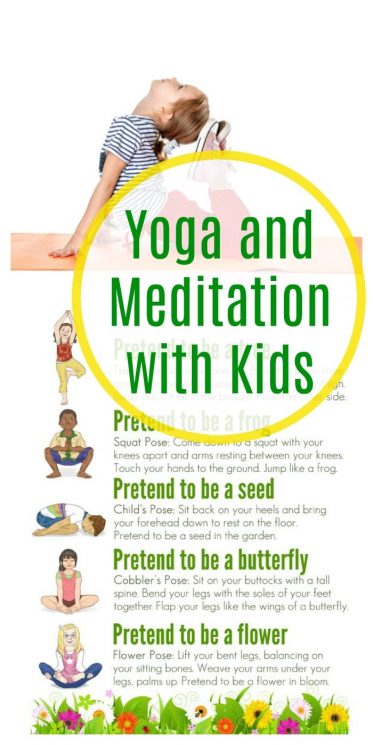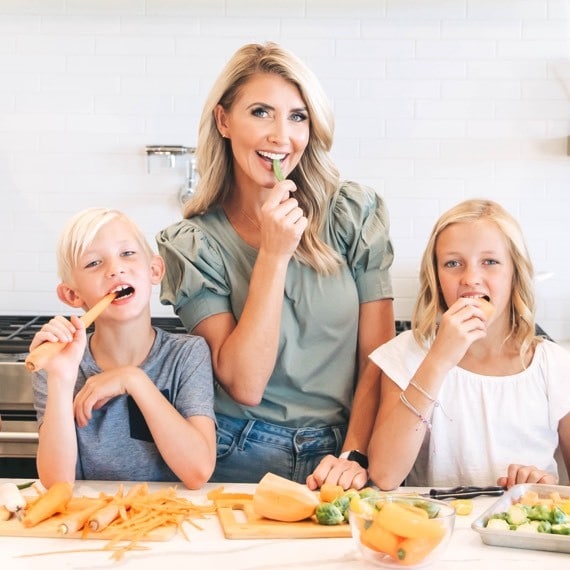 Natalie Monson
I'm a registered dietitian, mom of 4, avid lover of food and strong promoter of healthy habits. Here you will find lots of delicious recipes full of fruits and veggies, tips for getting your kids to eat better and become intuitive eaters and lots of resources for feeding your family.
Learn More about Natalie