We typically think of crepes as a fancy breakfast around our hours, but this whole grain mini chocolate crepes recipe is a breakfast we could make everyday!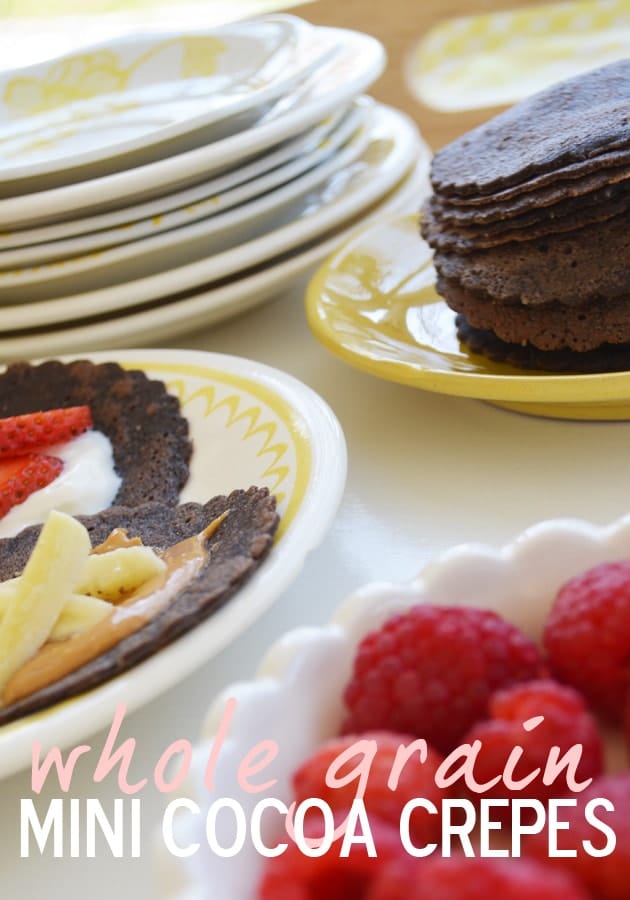 Crepes make my kids run to the table. I love how easy the batter comes together and the combination of toppings is endless. Cocoa crepes are perfect for a decadent breakfast where you don't have to break a sweat. You can also munch on these for dessert or a special surprise in a lunch box. I used coconut oil and white whole wheat flour in the batter to make it full of healthy fats and fiber.
The great thing about mini crepes is that you can make up to 6 at a time on your griddle. Just pour 1/8 cup (or 2 tablespoons) of batter onto a hot griddle in little puddles and smooth them out into circles with the back of your measuring cup. They cook up quick, about 30 seconds per side, and you'll have a mountain of adorable mini crepes for your hungry crew.
Are you feeling fancy? Dress up your crepes with a round scalloped-edged cookie cutter. Just make a stack of about 6, and cut them all at the same time.
OUR LATEST VIDEOS
Crepes can be rolled up or folded into dainty envelopes. When you're filling them try different combinations like:
Greek yogurt with raspberries
cottage cheese with strawberries
or peanut butter with bananas.
Enjoy the applause after serving this healthy breakfast. Although the applause might sound like kids chewing or asking for seconds.
Alli blogs at Don't Panic Mom where she writes about trading her panic for a fun, positive approach to family health. She's living the dream with her three kids, hunky husband, and eight chickens in eastern Colorado.