An Asian classic the kids will love, Veggie Stuffed Chow Mein bowls! Complete with noodles, cabbage, bell peppers, carrots,  snow peas and more!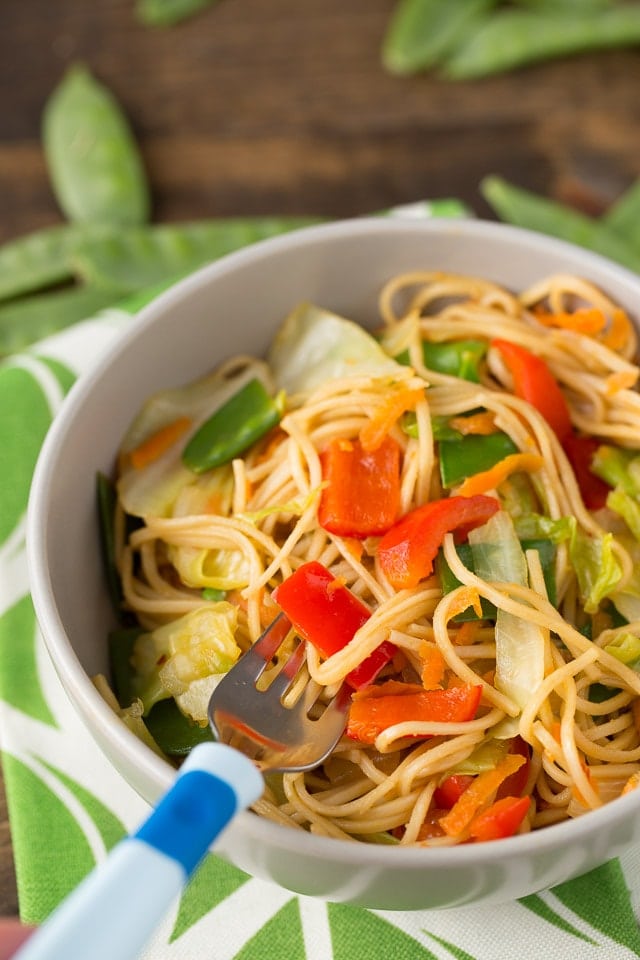 Kid Friendly Chow Mein
This is a seriously fast meal to whip up!  Make the pasta, cook the veggies, add then throw together with some sauce and you're done!  We'll get to all the veggie details later but for now this is a recipe you're going to want to have on hand when the kids all come home from school and ask "What's for dinner?" The only item on the ingredient list you may not have have in your pantry/fridge is oyster sauce.  There are all natural versions readily available so I suggest you get one of those for you pantry so you can make this whenever you want!  The kids will love this Veggie Stuffed Chow Mein because it's yummy noodles and veggies with a delicious sauce! How can you go wrong with that?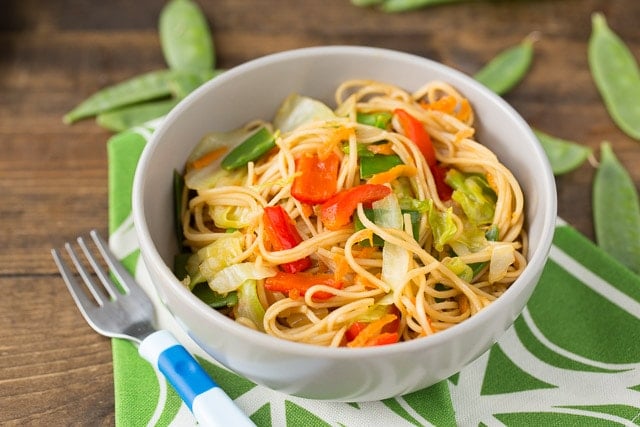 Easy to Make Chow Mein
Like I said, this is super easy to make!  But let's go through each step with a few tips along the way.  The first thing to do is to cook your noodles! You can use Chow Mein like in the photos here, or you can use Udon noodles which I love!  You can see what those look like from my Chicken Teriyaki Noodle Bowls. The Udon noodles are just bigger and softer which some kids prefer, and so really it comes down to which texture you like the best.  You'll cook your noodles according to the box instructions and then rinse them with cold water to help them not stick together too much.
Next up are the veggies!  Throw all your veggies in the pan to cook them until they're soft! I would stir the pan occasionally to make sure nothing gets too done on the bottom but you don't need to micromanage it.  Up next is add the garlic. Since garlic burns easily you only want to let it really cook for about a minute until you can smell it, then add all the other ingredients.  The oyster sauce and the soy sauce is where the flavor for the dish comes from.  Sometimes kids like a little less intense flavor than adults.  After the dish is finished, you can always add more of the sauce to your own portion.
OUR LATEST VIDEOS
Veggie Bowls
Bring on the veggies!   Some delicious veggies that go well in this type of recipe are broccoli, bok choy, mushrooms and celery.  But just about any veggie can be swapped in and out according to your families preferences which is why I love this Veggie Stuffed Chow Mein so much!  If you have some leftover chicken in the fridge, well you can chop that up and throw it in there too!  No measurement in this recipe is strict, so if you want to add a few more veggies or even a protein it will still all come together in 20 minutes.  Dinner in 20 minutes, you read that right.