A few months ago, I brought my 12 year old, Erica to a cooking show.  She watched the gals from Pantry Secrets make a "dessert braid" and literally went home and made her first braid that night.  Since the cooking show, she's probably made them about 12 times, changing up the filling to suit her cravings!  She loves it and she got good at it really fast.  So, today after dance, I had her make a vegetable pizza braid recipe and she made it for us for dinner.   It is quick and easy to do!
First, we started with a regular bread recipe ( we did use the Pantry Secrets recipe), and let it rise for 30 minutes.
Then, she rolls the dough out and fills the center with marinara sauce, peppers, mushrooms, fresh tomatoes, and mozzarella cheese! These are per your preference so add what you like best!
Then, by slicing the sides into 1 inch thick sections, we have the dough ready to braid it.
Then, alternately cross the sections to the middle and overlap.
Then we put it in the oven at 350 for 25 minutes!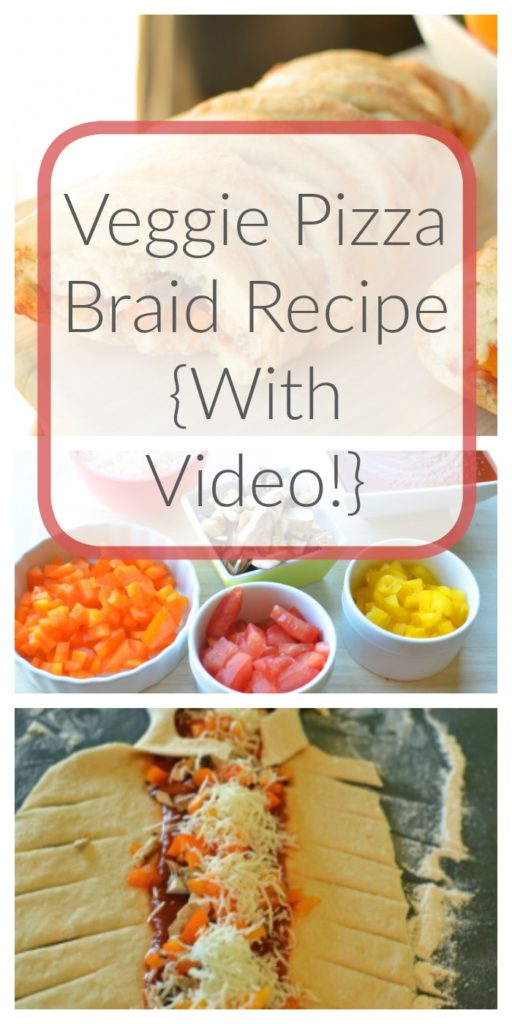 Check out our video to watch Erica making this Veggie Pizza Braid Recipe!