Valentines Cucumber Bouquet
It's easy to dismiss cucumbers as non-essential to kids health. Like celery, the fact that they are so low in calories, gives them just a few nutrients per veggie. But cucumbers are a perfect vegetable to introduce kids to healthy living! Not only are they mild in flavor and appealing to most kids, cucumbers have some unique properties not found in other vegetables.
Researchers have found: lariciresinol, pinoresinol, and secoisolariciresinol—three lignans that have a strong history of research in connection with reduced risk of cardiovascular disease as well as several cancer types, including breast, uterine, ovarian, and prostate cancers.
Fresh extracts from cucumbers have recently been show to have both antioxidant and anti-inflammatory properties.
Cucurbitacins A, B, C, D and E are all contained in fresh cucumber. They have been the subject of active and ongoing research to determine the extent and nature of their anti-cancer properties. (source WH Foods)
So, bring out the cucumbers!
We tried to cut our vegetables into flowers using our clay cutters (mini metal cutters found in craft stores). Our supplies included:
Carrots
Cucumbers
peppers
Green Skewers (I found these by the floral arranging supplies at Walmart)
our mini cutters
A valentines box to put the bouquet in
Because the mini cutters are "nesting"we had three sizes of flowers and hearts, allowing us to cut a smaller shape inside a bigger one.
Then we skewered the finished veggies and posted them into hummus!
Warning: The peppers are not good for this project. The skin wasn't thick enough to be skewered by my stick. Plus, peppers are really tough to get a clean cut out off.
Tips to making it work:
Cut the carrots and cucumbers thick enough to hold the stick, but not too thick that it's too heavy and topples over.
Make your own hummus. Our hummus recipe is here.
Don't get sticks that are too tall. They will also topple over- unless you are just presenting these as "suckers", I guess.
For more healthy valentines ideas- follow our pinterest board!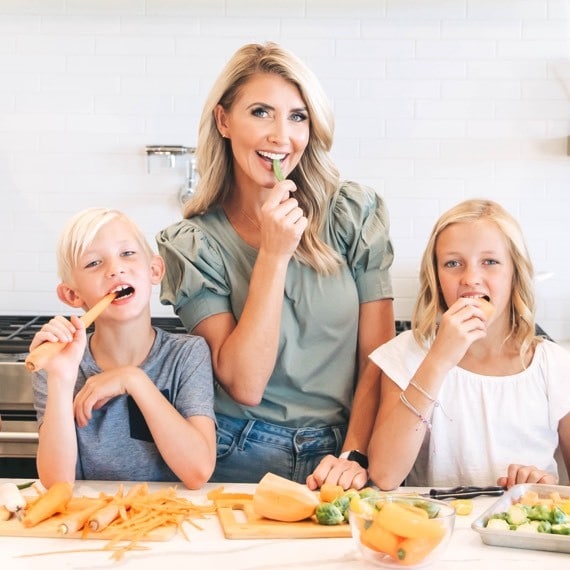 Natalie Monson
I'm a registered dietitian, mom of 4, avid lover of food and strong promoter of healthy habits. Here you will find lots of delicious recipes full of fruits and veggies, tips for getting your kids to eat better and become intuitive eaters and lots of resources for feeding your family.
Learn More about Natalie