Top 12 Adorable Butterfly Food Ideas for Kids
Healthy Butterfly Food Ideas for Kids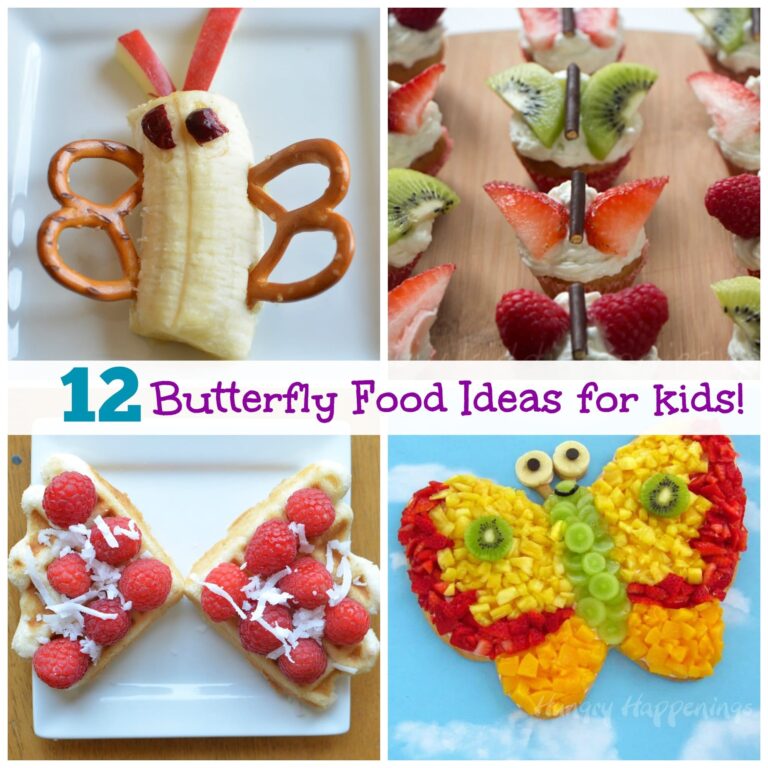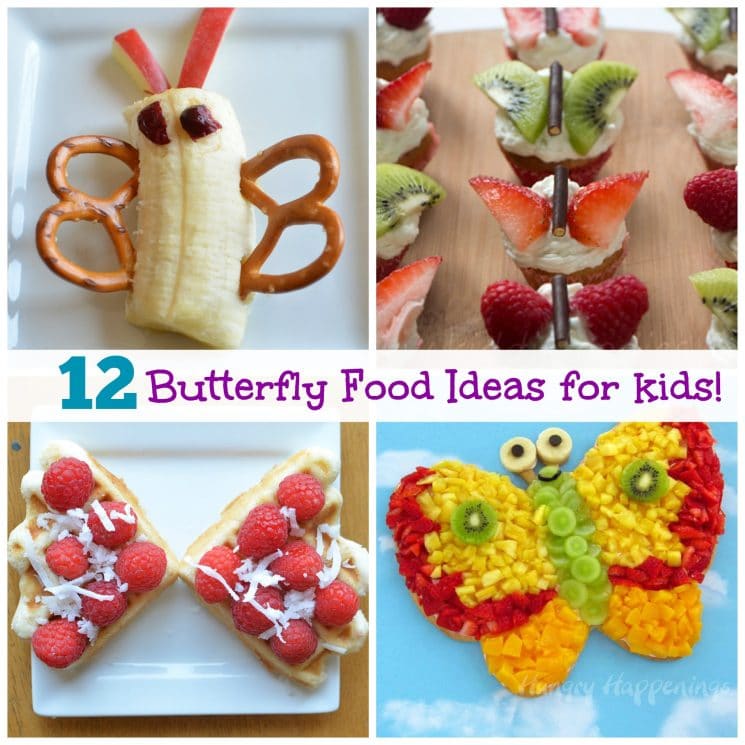 What's not to love about butterflies! They are colorful, delicate, and each one is uniquely beautiful. Butterfly shaped food can be fun too! Whether you are planning a birthday party, or a teaching moment on insects with your kids, we've got some food to support you. These are my 12 favorite Butterfly foods that are also healthy! These ideas are meant to do as projects WITH your kids, not for them!
1- The Butterfly To-go Snack Bag
The first snack is a fun on-the go, or take it home idea that you can customize to meet your needs. You just need a clothespin, and a ziptop sandwich bag. The kids can draw a face on their butterfly body (the clothespin) and you can fill either side of the wings with fruits, nuts, or other small snacks.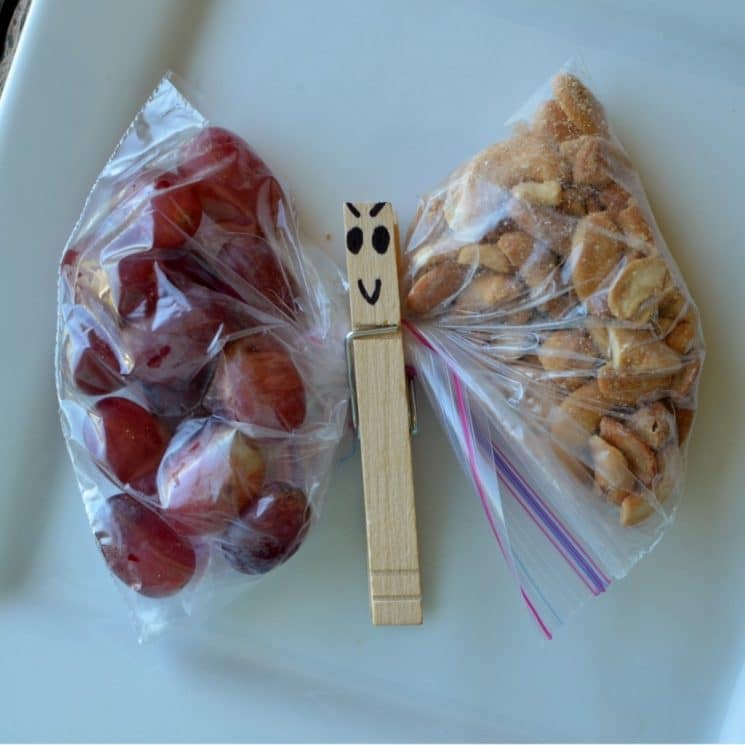 2- The Bagel Butterfly
It's simple to create a butterfly by slicing a bagel in half, and turning the two edges towards each other. For a super tasty breakfast, we added yogurt cheese! Get the recipe and instructions for yogurt cheese here.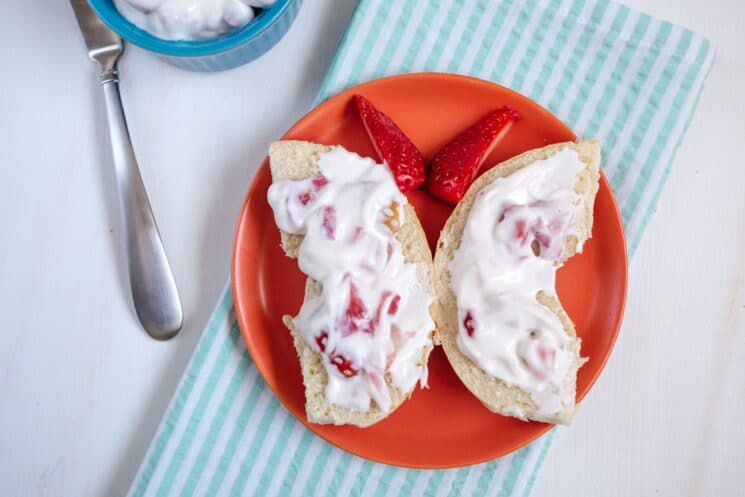 3- The Hungry Caterpillar Party
We took the regular snack bag idea, and turned it up a notch with googly eyes, antennae pipe cleaners red and green grapes to match the party theme. Get more ideas for this party here.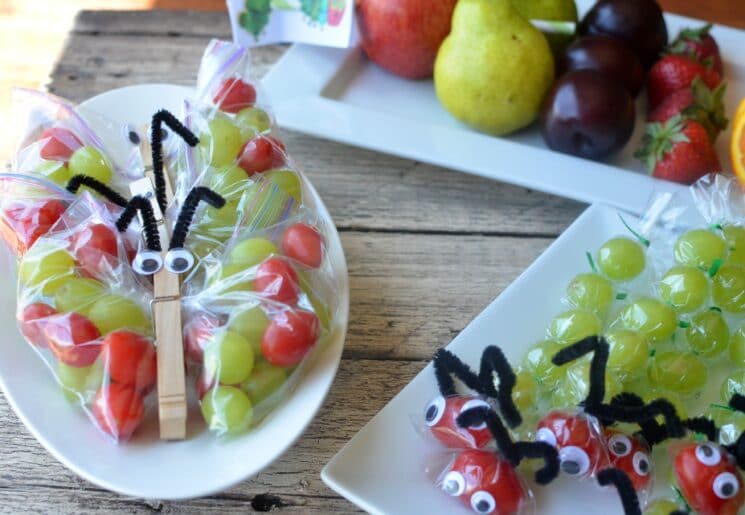 4- Sugar Snap Pea and Hummus Butterfly
The kids actually had a blast making these! Opening up some sugar snap peas surprised us every time! Sometimes, there were big fat juicy peas, and other times, they were teeny tiny! It was fun to design and create insects based on what they found inside. For more on our Sugar Snap Pea Project, head to this post! We have other bugs there too!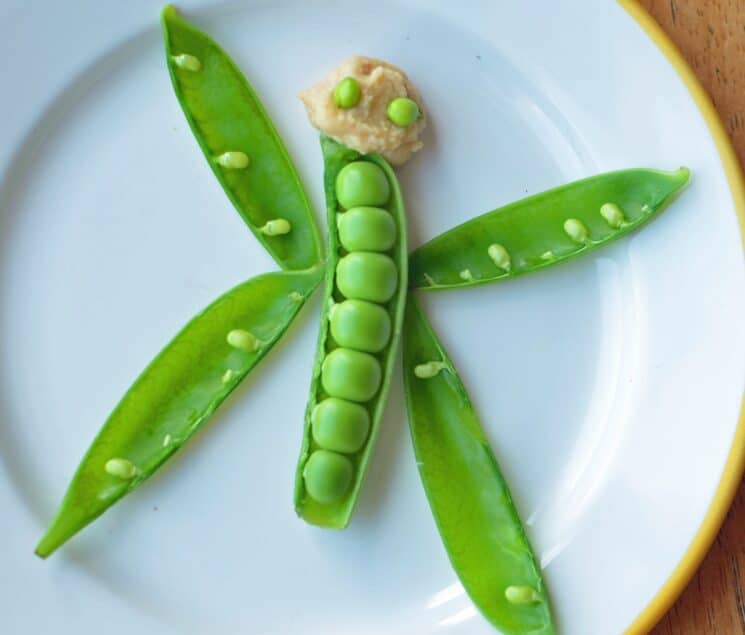 5- Banana Butterfly Snack
This idea started as a snack for our meal plans, but quickly turned into a favorite on our Instagram account! We just used a slice of a banana, pretzels for wings, dried cranberries for eyes, and some apple slices for the antennae!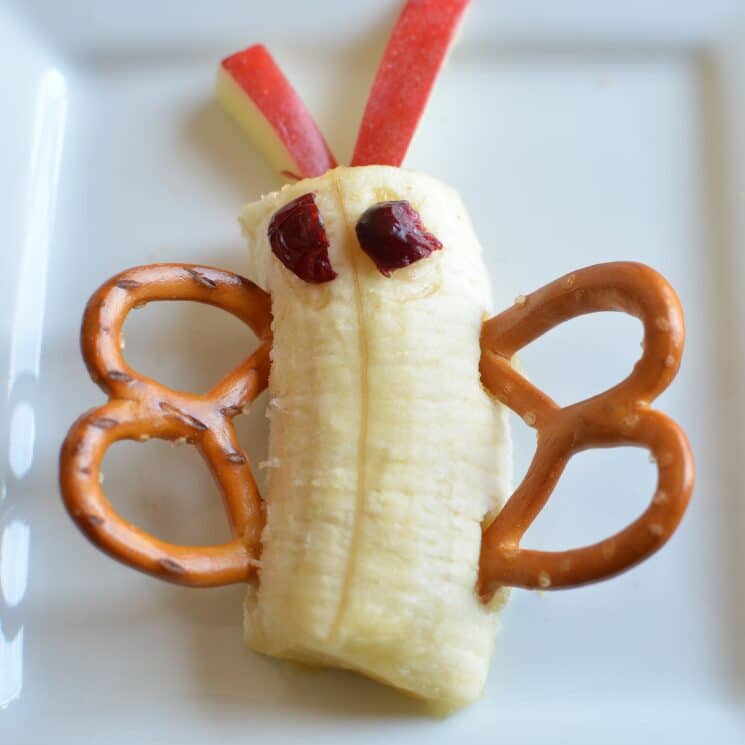 6- The butterfly sandwich
One of my youngest food memories was my mom making butterfly sandwiches! We would stand at the back door and yell into the wind, "ahoy butterflies!" While outside, she would Prepear our sandwiches, by simply cutting the sandwich into triangles, and turning the triangles into wings. Recently, I did the same thing with my kids, but used a butterfly sandwich cutter and let them decorate the wings! Either way, we love butterfly sandwiches!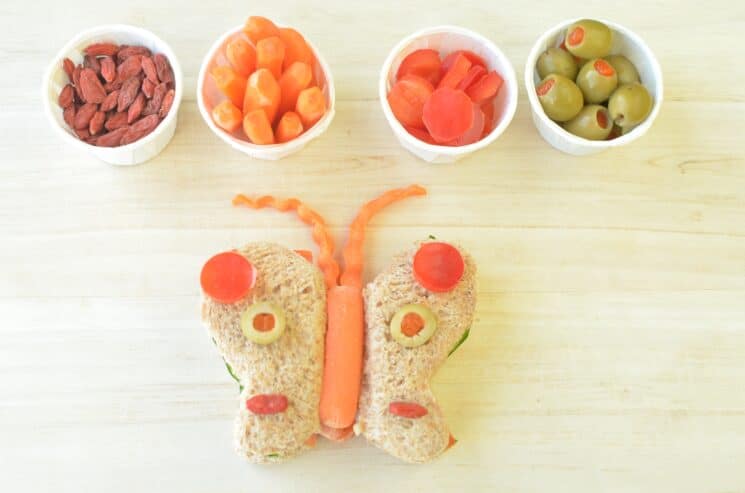 7- Butterfly Lettuce Wraps
This simple idea is so fun for a butterfly dinner wrap! Arrange some Artisan lettuce leaves as your wings. Fill with your wrap filling. Then use some carrots for the body and antennae.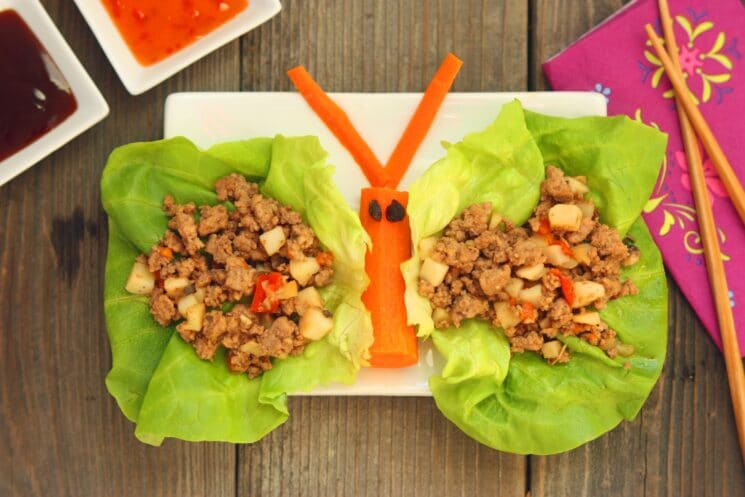 8- Butterfly Waffle Butterfly
This is perfect in a Belgium waffle iron, because you get those nice triangles, rather than a square waffle. Simple bake, and turn two of the waffle pieces toward each other, and top with fruit for color!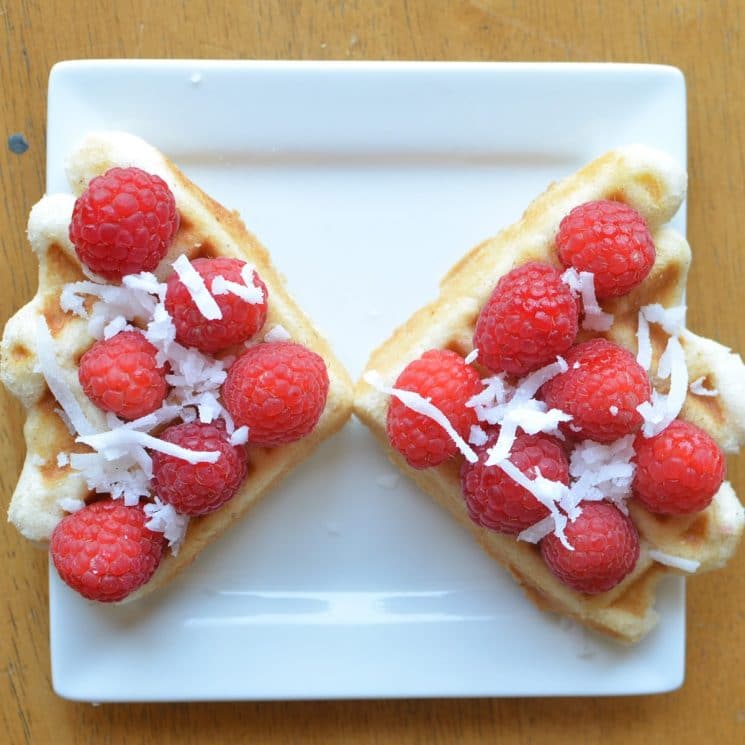 9- Butterfly Quesadillas
Cute idea from Creative Kids Snacks. I love the clever bodies made from grapes!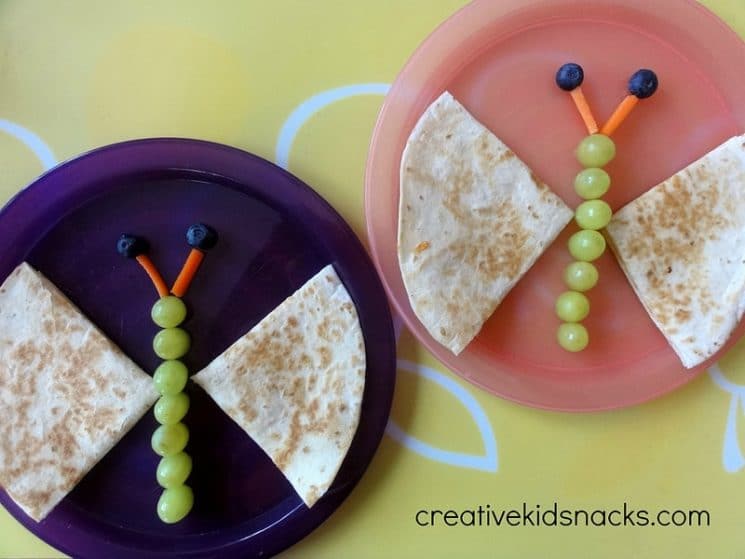 10- Butterfly Fruit Pizza
The base for this could really be anything, it doesn't have to be a cookie! But, if you are hosting a birthday, this butterfly would be fun! You could also just make the entire butterfly just a fruit tray!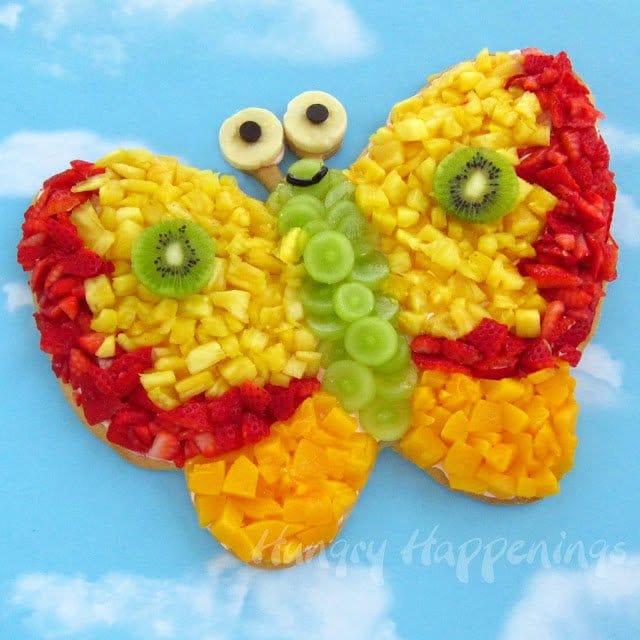 11- Butterfly Muffins
Use one of our healthy muffin recipes, and then top them with fruit to look like a butterfly like these!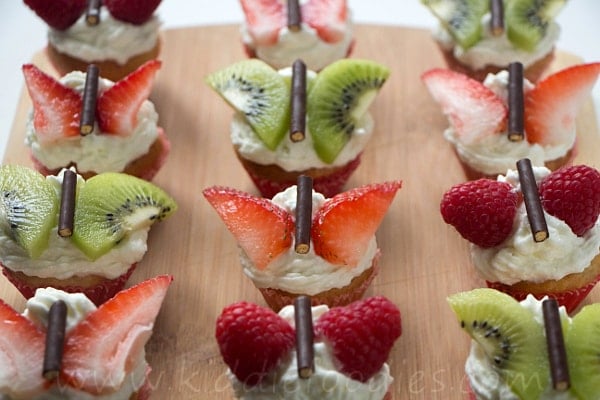 12- The Celery Butterfly
Such a simple addition to turn ants on a log into a butterfly! Check out the celery butterfly here.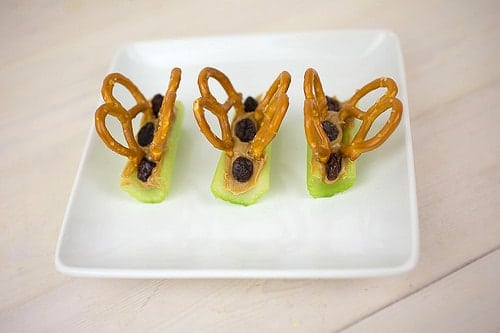 These are my favorite butterfly ideas for fun and healthy food!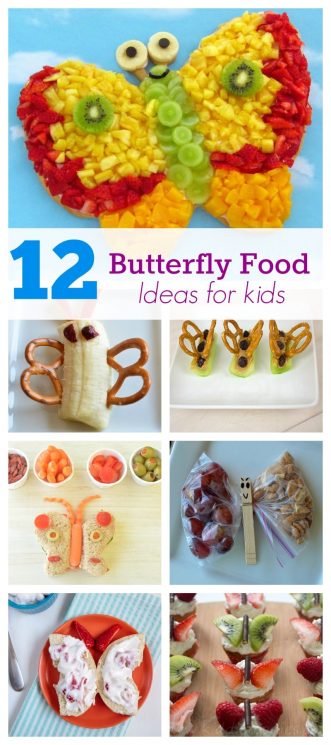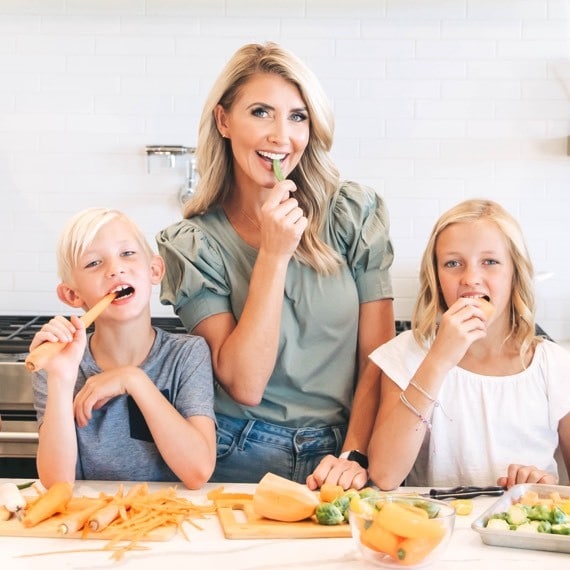 Natalie Monson
I'm a registered dietitian, mom of 4, avid lover of food and strong promoter of healthy habits. Here you will find lots of delicious recipes full of fruits and veggies, tips for getting your kids to eat better and become intuitive eaters and lots of resources for feeding your family.
Learn More about Natalie