Sweet Potato Casserole With Pecan Crust Recipe
We posted our new meal ideas for the week over on the meal planning page – don't forget to check them out!
I fell in love recently with the Sweet Potato Casserole at the very fancy restaurant, Ruth's Chris! We went there for the first time over Christmas, and besides the berries and cream for dessert, the sweet potatoes was my favorite thing to eat there! I wish I could say this recipe tastes just like it- but I'm pretty positive there is an entire cup of sugar and butter in each serving! While the Ruth's Chris Sweet Potato casserole is definitely heavenly, you wouldn't want to eat that every day. Besides, eating something lighter and cleaner is almost more satisfying, and you can have it every day if you wish. So, if you came here looking for a copy cat recipe of the Ruth's Chris Sweet Potato casserole, move on! If you are looking for a sweet potato casserole that's healthy and still delicious, and perfect for eating every single day, you came to the right place.
The superfoods we are using today include:
Sweet Potatoes:
Vitamin A: Each Sweet potato contains 262% of kids daily need for Vitamin A- Which means, they really only need to eat 1/2 of a sweet potato!!
Vitamin C: 26% of the daily need for vitamin C in each sweet potato! GoodbyeCold and flu!
They have twice as much fiber as regular potatoes!
Pecans
Vitamin E=Brain food! Protects neurological processes and may help fight Alzheimers. In other words, supports kids intellectual growth.
Heart protection- Although it may not seem important for kids today, pecans today can help protect future adults from heart disease.
Date Sugar
I'm drinking the Dr. Fuhrman juice right now (meaning I'm reading one of his books and loving it!!). So, I've been adding Date Sugar to things we want to sweeten. Date sugar is made from grinding up the whole date, so you get all the health benefits in dates, and the convenience of a sugar.
Sweet Potato Casserole With Pecan Crust Recipe
For our sweet potato casserole dessert, we first cooked three sweet potatoes. I throw them in the oven, whole, inside a pan and cook at 350 for 90 minutes.
After the sweet potatoes are cooked, we scoop out the flesh and mix the sweet potatoes with spices like cinnamon, ginger, and nutmeg. Plus a little bit of date sugar. Then in a separate bowl, we make our crust with oats, pecans, date sugar, and a tiny bit of butter to hold it all together.
Then we assemble and bake (full recipe below). I love this because it can be side with dinner, it could be dessert, or it could also be a snack! It's comforting, warm, and delicious!
Ingredients
3

medium

sweet potato

3

teaspoon

Date sugar

1/2

teaspoon

cinnamon

1/8

teaspoon

ginger, ground

1/8

teaspoon

nutmeg

1

tablespoon

milk
Instructions
Cook sweet potatoes by adding them to an oven safe dish and cooking for 90 minutes at 350 degrees.

When sweet potatoes are cooked, scoop out flesh into a bowl, and add the date sugar, cinnamon, ginger, nutmeg and milk. Mix with a hand mixer until well incorporated and fluffy.

Scoop into small pie dishes or ramekins.

Mix topping ingredients in small bowl, and sprinkle on top of sweet potatoes.

Bake at 350 for just about 10-15 minutes, or until pecans get toasty.
Nutrition
Calories:
75
kcal
|
Carbohydrates:
13
g
|
Protein:
1
g
|
Fat:
2
g
|
Saturated Fat:
1
g
|
Cholesterol:
2
mg
|
Sodium:
25
mg
|
Fiber:
2
g
|
Sugar:
4
g
Sweet potatoes are a delicious and super healthy food to add to your families diet.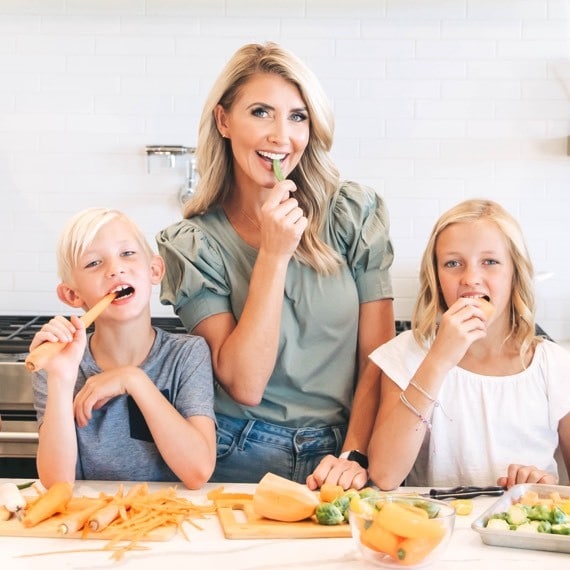 Natalie Monson
I'm a registered dietitian, mom of 4, avid lover of food and strong promoter of healthy habits. Here you will find lots of delicious recipes full of fruits and veggies, tips for getting your kids to eat better and become intuitive eaters and lots of resources for feeding your family.
Learn More about Natalie