I love getting into the kitchen with my daughter! She loves to make ice pops and today we're sharing our Strawberry Watermelon Ice Pops!
This is such a simple recipe that we make from a juice drink recipe into a delicious popsicle. Our Melon Berry Splash Juice is so good! The combination of strawberry, watermelon, and lemon is pure perfection and my toddler loves drinking it as juice or even as an ice pop. We don't buy many ice cream or ice pops since they're so easy to make on your own. In fact, just this past Mini Chef Mondays we made Pineapple Lemonade Ice Pops!  If you like kid made recipes, definitely check out Mini Chef Mondays! We have a new kid made, kid friendly recipe every single Monday. We go live at 12pm EST with several other bloggers sharing their kid made recipes too!
She starts off by squeezing the juice from the lemon over a mesh strainer.

Then she slowly adds in the fruit with the lemon juice. We added a little bit of water as the watermelon and strawberries we had were SUPER sweet. Adding water will make the ice pops a little more icy, rather than smooth, so keep that in mind. It's completely optional.
Then she starts the blender up! Making sure everything gets liquefied.
Things can get a bit loud, so cover your ears! Put into your favorite ice pop molds and they'll be ready to enjoy in just 4-6 hours! She truly enjoys making her own desserts. They're delicious and not bad for you either. 🙂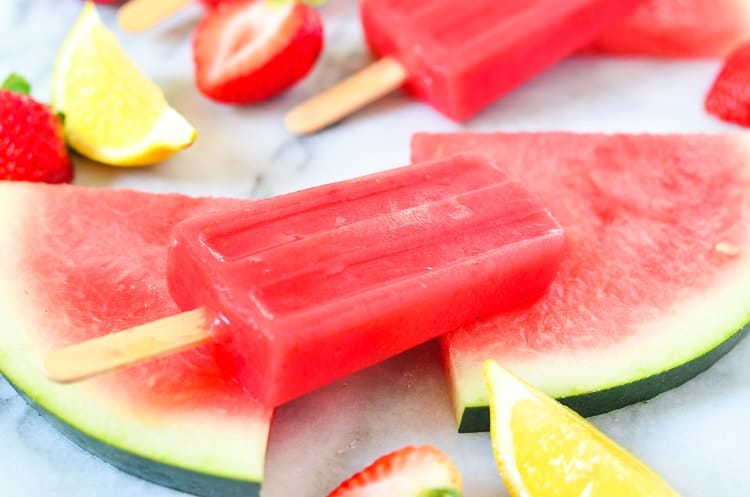 We hope you enjoyed this recipe, as well as every recipe we've shared on Super Healthy Kids! We love taking simple and pure ingredients and turning them into something delicious and nutritious. Some recipes can be overwhelming and we believe you shouldn't need a full shopping list just to make a kid friendly meal. With just 3 ingredients you can enjoy these ice pops in a few short hours. 🙂