Strawberry and Kale Pasta Salad
With 3 grams of protein per cup, and 2 grams of fiber, Kale is a super food! Kids love it in this pasta salad.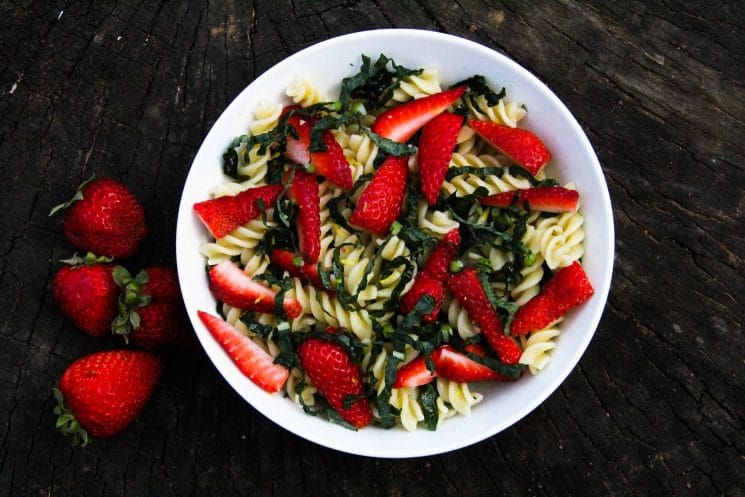 It's Kari from Cooking with Toddlers and today I'd like to share with you one of my favorite ways to incorporate superfoods into my two year old's diet; pasta. My toddler loves a good bowl of noodles and it's one of the most reliable ways I can encourage him to eat several different kinds of vegetables simultaneously and with gusto. He has what we jokingly refer to as "noodle tunnel vision", devouring anything and everything in a noodle dish no matter their earthly origin. There has yet to be a pasta dish he didn't love and this Strawberry and Kale Pasta number is no exception. In fact, it's one of our favorite spring dishes since our backyard strawberry patches and the stands at our local farmers market are overflowing with berries at the moment.
The flavors in this dish are very fresh and simple; perfect for kids who prefer subdued dishes with simple flavors. Strawberries and kale go wonderfully together and the kale really compliments the sweetness in the berries. Both kale and strawberries are chalk full of vitamins, nutrients and antioxidants; extremely important for little growing bodies.
This dish can be put together in mere minutes; perfect for a quick lunch, picnic outing or days that prove too busy for lengthy meal prep. I often keep cooked pasta in the fridge and throw in loads of vegetables on hectic days. It makes for an easy and quick meal that my little ones love. If you're kids aren't partial to kale, chop it extra finely and dice the strawberries a bit bigger to visually highlight them. Even better, give the kale a quick massage with some olive oil and salt prior to adding it to the dish; it softens the texture and reduces the plant's bitterness. Combined with juicy and sweet strawberries it might just be the easiest way to get little ones to happily devour their kale.
Kari writes at Cooking with Toddlers, a site dedicated to sharing the love of cooking and eating wholesome foods with little folks. She has two boys under three that happily assist her in the kitchen.
Strawberry and Kale Pasta Salad
With 3 grams of protein per cup, and 2 grams of fiber, Kale is a super food!  Kids love it in this pasta salad.
Print
Pin
Rate
Ingredients
1

pound

of fusilli pasta

2

cups

of diced strawberries

2

cups

of chopped lacinato kale

juice from 1/2 a large lemon

1

tbs

of olive oil

lemon zest

salt to taste
Instructions
Take the cooked and cooled fusilli noodles and place them in a large bowl. Coat with olive oil and lemon juice. Mix well.

Combine diced strawberries and chopped kale to the pasta and mix well.

Salt to taste and garnish with lemon zest.

Serve slightly chilled.