Folate, vitamin C, beta carotene, antioxidants, phytochemicals, fiber, enzymes… these are just a few reasons why including root veggies in your diet is beneficial! And if there is one way that I think is the easiest to get your kids to eat them, it's sliced thinly and baked, just like chips! These are so delicious, you are going to want to make plenty for everyone.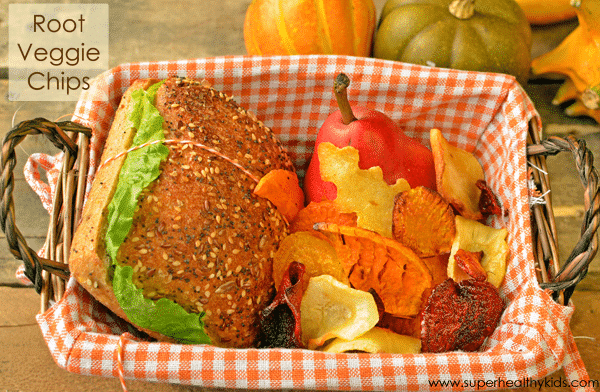 The root veggies we used for our chips included the following:
Yucca
Sweet Potato
Turnip
Rutabaga
Golden Beet
Parsnip
Russet Potato
Root Veggie Chips Recipe
To turn your root veggies into chips is easy.   First, we washed, peeled, and sliced them as thin as we could.  We used a mandolin, which is actually the best way to get uniform thickness.  This helps in baking because you don't want some thin slices and some thick ones. The thin ones become burned while the thick ones never cook through.   However, I hate the mandolin!  As I posted yesterday on Instagram, the mandolin seriously took a huge chunk out of my finger!  I would NOT recommend letting your kids use the mandolin.  I'm totally regretting letting myself use it!
OUR LATEST VIDEOS
After you have your slices, then place all your veggies in a bowl and drizzle with olive oil. Mix it around until both sides are coated with olive oil.
Arrange your slices on a cookie sheet, and sprinkle with salt.  Bake at 400 degrees for about 30 minutes.  Check occasionally. You want the slices to be dry and crispy, but not burned!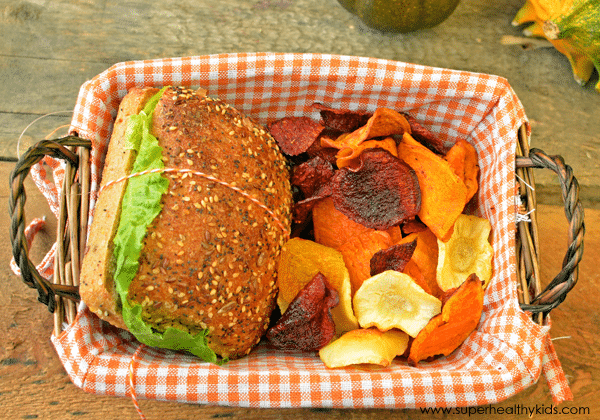 Then, serve with lunch!  This is a great way to get some vegetables in your kids at lunch, or even as a healthy snack. They pack well, so you can send them to school too!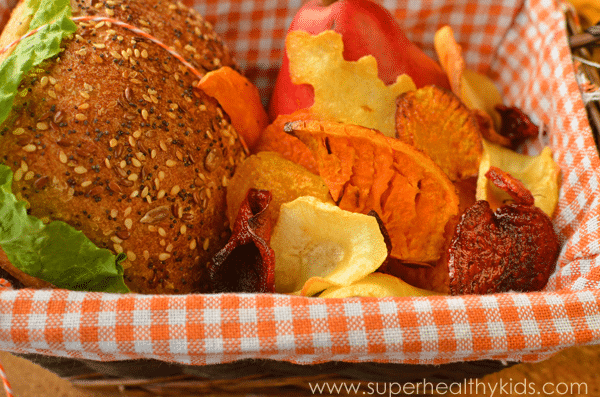 As always, we love your feedback!
Let us know if you try these and what your kids thought of it! Someday, we will compile a "kids favorites" list, and I have a feeling this will be on it!