I have read and heard lots of times that in order for your picky eater to accept a food, you have to introduce it to them 7 to 10 times………or something around that. Our philosophy is that you have to prepare a food 7 to 10 different ways in order for your picky eater to accept a food.
I love carrots. I love them plain, dipped in something, shredded, in a smoothie, julienne, baby, sticks……….but I do NOT like cooked carrots. Believe me I have tried to like cooked carrots. My mom said that when I was 2 years old we were going to go somewhere fun and she wouldn't let me go unless I ate one bite of cooked carrot. So I popped it in my mouth. On the drive home a couple of hours later I fell asleep and my mom could see something in my mouth. It was the carrot! Cooked carrots are just not going to happen for me. But that is ok because I can eat carrots prepared so many other ways.
I love most vegetables. Broccoli is one of my favorite vegetables. For years I just ate it steamed, until I realized how delicious roasted broccoli is. Now we eat it almost exclusively roasted. So what I am trying to say here is that if your picky eater doesn't seem to like a certain fruit or vegetable, try giving it to them prepared differently. Preparation methods change the texture, flavor and color. It can really make a difference as far as acceptability!
Roasting broccoli is so easy. Really – you will probably want to make this every day. This is the same method I use for roasting almost any vegetable.
I start by rinsing my broccoli and then putting it in a bowl. You don't have to put it in a bowl first it is just easier to toss it and get all of your seasonings evenly dispersed.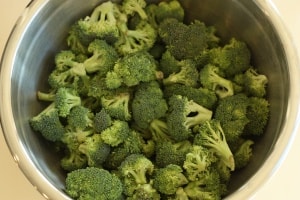 Next I drizzle a little olive oil and seasonings. Our favorite on broccoli is Lawry's Garlic Salt. Toss in the bowl and make sure everything is coated.
Then spread evenly on a baking sheet. Place in the oven at 400 degrees F for about 20 minutes or until the broccoli is tender.
This step is the secret ingredient that will blow your taste buds. After you have roasted your broccoli in the oven, take it out and squeeze a lime over the top. This brings out so much flavor, and you use less sodium this way because you don't need to add as much to get the same flavor.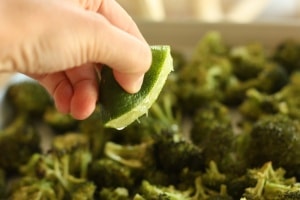 We eat this as a side dish with dinner, but we also eat it as a snack or even as our lunch! Sometimes I will sprinkle Parmesan cheese on top and let it melt a little. If you haven't tried roasting broccoli, you definitely need to try this!!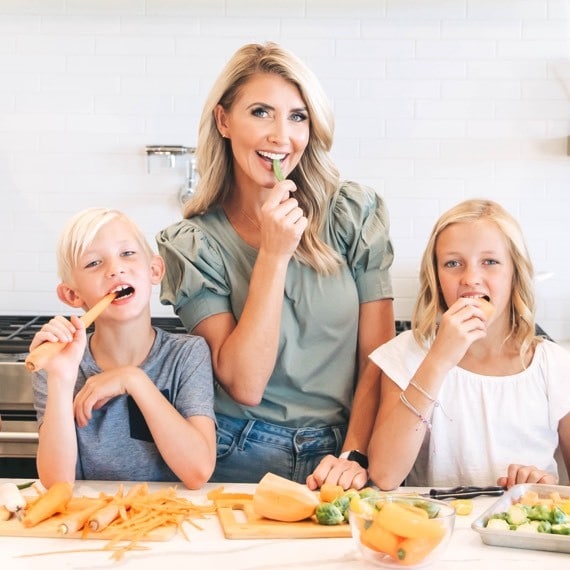 Natalie Monson
I'm a registered dietitian, mom of 4, avid lover of food and strong promoter of healthy habits. Here you will find lots of delicious recipes full of fruits and veggies, tips for getting your kids to eat better and become intuitive eaters and lots of resources for feeding your family.
Learn More about Natalie