Veggie Stuffed Pizza Twists
Veggie Stuffed Pizza Twists – The funnest way to eat vegetables ever! Whole wheat pizza crust stuffed with veggies and cheese and dipped in pizza sauce. Kids will love this healthy dinner!
Hello! It's Tiffany from Feel Great in 8 again and I'm excited to be back with another easy healthy recipe!
This recipe for Veggie Stuffed Pizza Twists is one I know your kids will absolutely love. Seriously, who doesn't love eating their veggies twisted in pizza crust and dipped in pizza sauce?
My kids especially love helping pick the veggies and piling them all on the pizza dough. This time we used spinach, mushrooms and yellow and red bell peppers. Use whatever veggies you and your kids love and pile on as many as you can! We also added a mix of cheddar and mozzarella cheese.
You'll also need your favorite pizza dough for this recipe. My favorite is our whole wheat pizza crust (link below) made with whole wheat flour, ground flaxseeds and no refined sugar. You only use half the dough recipe for these twists, so I either make twice as many pizza twists, or save the other half for homemade pizza another day.
Once you've stuffed the dough with veggies and cheese, just pinch the edges to seal and twist. My kids love helping with this part too. Then I just brush them all with a melted butter and herb mixture. Don't skip this step, the added flavor is awesome!
And of course you have to finish them off with a sprinkle of fresh parmesan cheese! Then just dip them in your favorite pizza sauce and you have the perfect fun healthy dinner. Serve them on a pizza stone. I guarantee your kids will love this one!  We love having pizza night on Friday night, and this is a great way to mix it up!
100% Whole Wheat Pizza Crust Recipe
Tomato, Basil & Mozzarella Pizza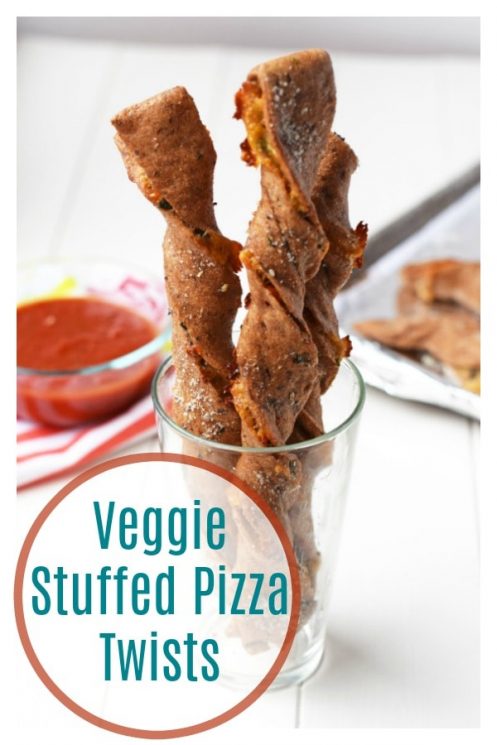 Ingredients
1

pound

pizza dough, whole wheat

1/2

cup, pieces or slices

mushrooms, white

1/2

cup

spinach

1/2

medium

bell pepper, yellow

1/2

medium

bell pepper, red

1/2

cup

colby-jack cheese, shredded

3

tablespoon

butter, unsalted

1

clove

garlic

1/8

teaspoon

basil, dried

1/8

teaspoon

oregano, dried

1/8

teaspoon

parsley, dried

2

tablespoon

Parmesan cheese, grated

1/2

cup

pizza sauce
Instructions
Preheat oven to 425 degrees F.

Roll the pizza dough into a rectangle on a lightly floured cutting board. (You can make your own 

whole wheat pizza dough

!)

Use a pizza cutter to cut the dough into 1 1/2 inch strips. Pile the chopped vegetables and shredded cheese onto half of each strip of dough. Fold the other half of dough over and pinch the edges to seal. Hold each of the edges and twist. Place on a lined baking sheet.

Melt the butter in a small saucepan. Add the minced garlic and cook for 2-3 minutes. Remove from the heat and stir in the basil, oregano, and parsley.

Brush half of the butter mixture onto the twists. Bake in the preheated oven for 10-12 minutes or until twists are golden brown.

Remove from the oven, brush with the remaining butter mixture and sprinkle with parmesan cheese.

Serve with pizza sauce or marinara for dipping.