10 Mistakes You Make When Ordering Groceries Online
Feeling like online grocery shopping is going to change your life? Well, I'm with ya' there. You are absolutely right. But you gotta make sure you're not making some of these common mistakes that could ruin your experience.
Hey ya'll! It's me again, Holly from Happy Food Healthy Life, and I'm here talking to you today about something I'm super passionate about.
I mean, really. I'm talkin' life-changing!
First, let's talk a little bit about grocery shopping and why I absolutely hate it.
Why Grocery Shopping is the Worst Thing Ever
Total Time-Suck. I don't know about you, but when it comes to grocery shopping, time just flies. And it is NOT because I'm having too much fun. Quite the opposite, in fact. For some reason, I go in the store thinking I'll be in and out in no time. Before I know it, two hours have passed and I'm feeling like I could use a nap!
Impulse Buys. This one requires no explanation. I know you know exactly what I'm talking about. Items on sale that suddently end up in your cart. Items you swear you meant to put on your list so they end up in your cart. Discounted cupcakes that are just calling your name. The magazine, gum, and candy bar that get thrown in at the last minute during checkout. Basically, the impulse buys kill both your health goals and your money goals. It's no good.
Kids + Grocery Stores Don't Mix. That's just a horrible combination right there. My kiddo is always asking for things he wants, no matter how big of a lecture I give him before we ever enter the store. Even the bribery doesn't work most of the time.
All.the.People. Ok, maybe I'm just too much of an introvert or people just drive me crazy sometimes, but trying to navigate the grocery cart around seemingly-billions of other people trying to navigate their own carts is just a nightmare. Heaven forbid there's a cart with a massive kiddie-car on it in the aisle I want to go down. Talk about a nightmare full of chaos!
Your Solution for Never Grocery Shopping Again
Oh, my friend. Online grocery ordering. Have you done it yet? Please tell me you've heard of this amazing service that will change your life.
No more impulse buying
No more having to drag your kids to the store
No more dealing with other customers
No more spending money on things you don't need
No more wasting your time
There are three grocery stores in my area that offer this service, and two of them will actually deliver right to my home for a small fee! I actually have chosen to do most of my online grocery shopping with Walmart for a few reasons:
affordability
product availability
best overall service
Look around and call the stores in your area to see if pre-ordering your groceries is an option. I honestly didn't even know this was an option in my area until I asked local grocers when it would be available in our area. Turns out it already was!
Here's the thing though. There is definitely a right and a wrong way to buy your groceries online. As amazing of a service this is, there are definitely some things you can do the wrong way. Obviously, I want you to be able to get the most out of online grocery ordering, so I'm going to share with you the mistakes that a lot of people make so you don't make them too!
10 Mistakes People Make When Ordering Groceries Online
Being Afraid of the Imperfections
One of the very first things I heard from others when talking to them about online grocery shopping is that they were nervous about how foods would be picked. They thought they'd end up with fatty bacon. They worried that the person who shopped for them would pick bruised, imperfect, or small produce for them.
BELIEVE me girl. I get it. I'm pretty much a control freak, and I couldn't imagine anyone else picking produce the way I would.
How would they know that I buy my bananas slightly green since my family doesn't like ANY spots on them and they needed to last the whole week? How would they know the avocado trick where I pop off the stem to see if it's ripe or not.
Truth of the matter is this.
The convenience of someone else picking my produce is so worth it. I can handle things not being perfect if it means I don't even have to go in the store.
The produce I've received from online ordering has been superb. I feel like the employees take extra care in picking out my produce, which is absolutely amazing.
Of course, with some online ordering systems (like Walmart's), you can leave notes on each item, so you can tell them exactly what you're looking for in your produce if you're a control-freak picky mom like me.
Not Allowing Substitutions
This was a big lesson learned when I first started ordering groceries online about six months ago. I ordered everything I needed, and then when I received my order, the guy packing up my car then informed me that they didn't have about 10 of my exact items in stock when they fulfilled my order. Because I hadn't checked the box or clicked the option that said I would like substitutions if necessary, I just had to go without those items. That sure threw a wrench in my meal planning that week!
If you choose that you will allow substitutions, the person selecting your items will do their best to pick the items you ordered, but sometimes that won't always be a possibility and substitutes will have to be made. Whether it's a different brand or two cans of sauce that equal the larger can you ordered, they will make it all work out. In my experience, you don't have to pay for their substitutions.
For example, if you order the store-brand but they were all out and had to give you a name brand, you will still pay for store-brand. Now that's a deal!
Not Ordering the Right Size
Here's another lesson I had to learn the hard way. Make sure you pay close attention to the size of the items you're ordering.
When I first started, I would type in the item I needed, and quickly just add it to my cart without checking details. Total fail on my part. I'd end up with the wrong size item all the time, which totally didn't work for my meal-planning either.
You can avoid this by reading the description carefully, and sometimes you can even click the picture to see a larger image of it to read all the details of the labels.
Not Making a List
Just because you're ordering online doesn't mean you can just scroll through all the pages and click "add to cart." That's no different than going to the grocery store with no list in your hand and just putting things in your cart because they sound good.
We all know that leads to buying things you don't need and spending too much money.
Instead, plan out your meals for the week and make a grocery list based off the meals, snacks, and anything else you'll need. Then sit down at your computer just like you were going to the store and order right from the list. No more, no less.
And that leads me to my next mistake people make when ordering online.
Buying "Suggested for You" Options
Whether it's called "suggested for you," "you might like this," or something else, it's all the same.
You know those displays at the grocery store? They look enticing, they're on sale, and you totally want to buy them. They're not on your list, but often, they end up in your cart anyway. It's called marketing, and it's sneaky.
Grocers have found ways to incorporate those sneaky displays online as well, and just like you should in the store, you've got to avoid them.
Not Knowing the Right Sizes or Weights of Produce Items
This one can be a little tricky and may require a little bit of research. Every store does it differently, and often it's different for every piece of produce.
Sometimes the ordering system wants you to order produce by quantity and sometimes it's by weight. Obviously, when you're in the store, this isn't much of an issue. You're able to look at the items and know about how much you'll need in size, but online if they're asking for a weight, you may not have a clue.
The first time I tried to order bananas online, it asked me how many pounds of bananas I wanted. No clue. All I knew was that I needed about eight bananas. One of my recipes called for 3 pounds of yukon potatoes, but the ordering system only had yukon potatoes available in bulk, so I had to know exactly how many potatoes 3 pounds would be.
I don't know if I'm just missing out on some common knowledge here, but I'd think that there's got to be at least a few other people that would struggle here as well.
Since I realized the struggle, I have gone to the store just to do a little research. Yes, it took a little extra time. But again, in the long run, totally worth it.
Take a notebook and start weighing produce. Find out how many bananas is in a pound. How many apples in a pound. About how many cups of cauliflower you think you can get from one head. Often a recipe will call for cups of something, but then when it comes to ordering, you may not quite know without looking at it. Do some research and you'll be set.
Not Using Weekly Store Deals
Just because you're not going to the actual grocery store doesn't mean you have to miss out on all the store's deals that week. The website should have the deals posted online. Just make sure you're actually looking at sale items and not the "suggested for you" items like we talked about earlier. You can also check in the weekly paper insert or wherever you would normally find the deals.
So when it comes to meal-planning, make sure you're choosing items that are on sale.
Waiting Until the Last Minute
More than once, I have waited until the last minute, and I've paid the price each and every time. And that price was usually the lack of a healthy dinner because I hadn't planned ahead of time and we were out of anything healthy to make dinner with.
Online grocery ordering is getting really popular, so the time slots for pick-up or delivery are limited, at least in all the stores I've tried. There have been times I'd wake up Monday morning, make my meal plan and grocery list to place my order, only to find out that the first available pick up time wasn't until 4:00 pm on Tuesday. Which meant dinner plans were out the window unless I wanted to go to the store before then (which, obviously I don't).
In this case, it's MUCH smarter to plan in advance. Order at least 2-3 days before you want to pick up your order. It's not like the food will be picked out then, so you won't be left with produce that's not fresh. Your order will be pulled just an hour or two before pickup or delivery, and you'll be all set.
You just don't want to be left high and dry unable to get a time slot for a few days.
Not Using that Newly Saved Time Wisely
Okay, so you just carved out a potential 2-3 hours by ordering your groceries online. Here's the big question. What exactly are you going to do with that time? Don't waste it!
Our lives are busy, and we are wishing for more hours in the day all the time. Well, here they are. Here are your few hours. Use them wisely. Before you place your online order, think to yourself:
"What will I do with this extra time I didn't have before?"
Play with the kids because there's just never time for that?
Plan date night with your spouse?
What have you been putting off and have just been waiting for more time in your day in order to make it happen?
Be intentional!!
Are you ready for the last mistake people are making? It's a doozy!
Forgetting That Online Grocery Shopping is Even an Option
That's right. Online Grocery Shopping is a new thing, so it's going to take some time to get used to, but it's time to start incorporating it into your life.
Do you have a notebook where you normally make your grocery lists? Or an online spreadsheet? At the top of whatever it may be, I want you to write – ORDER ONLINE big and bold so you can't forget. Eventually it will just become second nature and you'll wonder how you ever lived without this amazing service.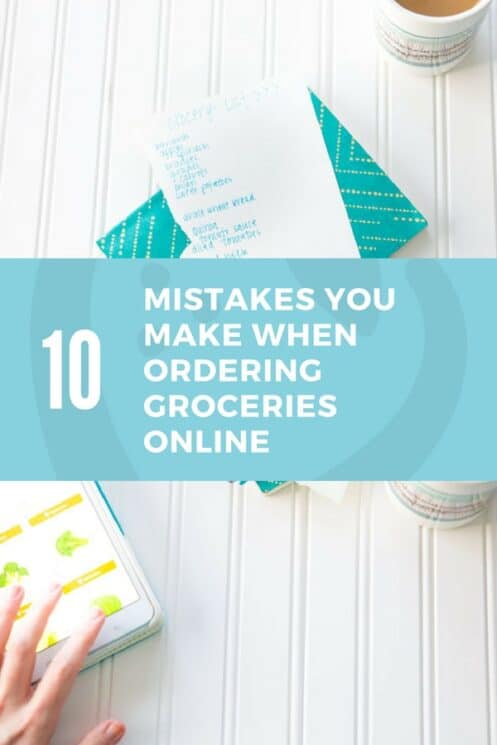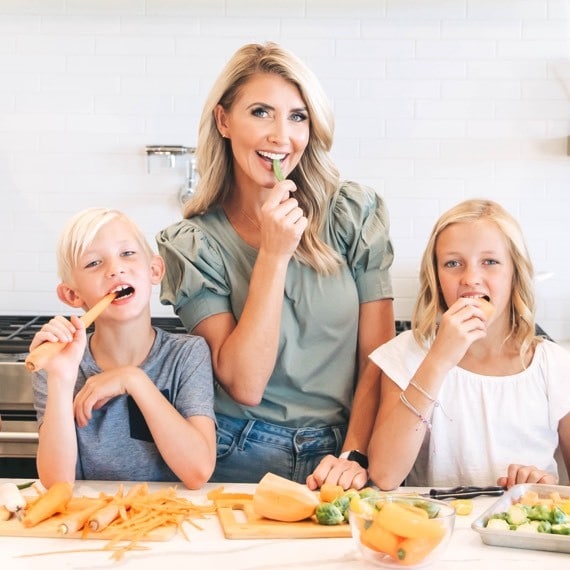 Natalie Monson
I'm a registered dietitian, mom of 4, avid lover of food and strong promoter of healthy habits. Here you will find lots of delicious recipes full of fruits and veggies, tips for getting your kids to eat better and become intuitive eaters and lots of resources for feeding your family.
Learn More about Natalie