Healthy Thanksgiving Salad
Healthy Thanksgiving Salad is a refreshing side to your Thanksgiving menu with cranberries, pecans and an amazing homemade dressing! Serve with leftover turkey for a yummy lunch the next day!
Thanksgiving Salad
Thanksgiving food is about tradition, gratitude and deliciousness! Most families have specific foods that they have eaten for their Thanksgiving dinner for years and continue to serve those, because – tradition! Turkey, mashed potatoes, gravy, green beans, rolls, and pumpkin pie are classic Thanksgiving dishes. We like to add new colorful, fresh recipes to our menu every year and salad is definitely one of those. A lot of Thanksgiving foods can be really heavy, which is why we always like to have a fresh green salad to lighten up the menu. Our Healthy Thanksgiving Salad includes:
Spinach and Lettuce – gives a nice variety of fresh green color.
Red Onion – a bit in flavor and beautiful purple color.
Mandarin Oranges – fresh bright citrus flavor, brings sweet flavors to add to the savory.
Dried Cranberries – Adds sweetness and texture variety.
Pecans – brings a crunch to the salad, nutty sweet flavor, and protein.
Turkey – this is optional but we love the savory flavor and heartiness it adds.
Dressing – beautiful combination of tangy, savory and seasonal flavors.
These are simple ingredients because it just shouldn't be overly complicated on a food-heavy day like Thanksgiving!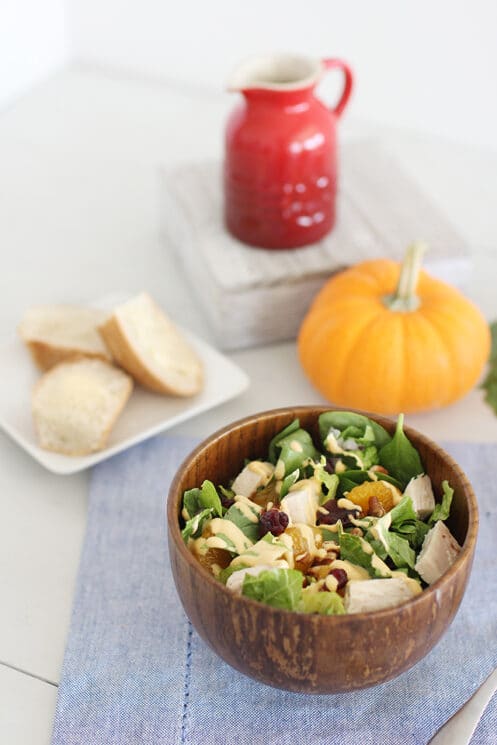 Getting Kids to Eat Salad
One of the most common questions we get is "how do I get my kids to eat _______". Salad is one of those foods that is considered an 'adult' food to many people. Admittedly, salad can be a difficult food for younger kids to eat if you don't pay attention to the ingredients used in the salad and how it is prepared. We have a lot of years of experience feeding our own kids salad, but also have asked all of you also! These are a few articles that have great tips if your kids aren't salad eaters: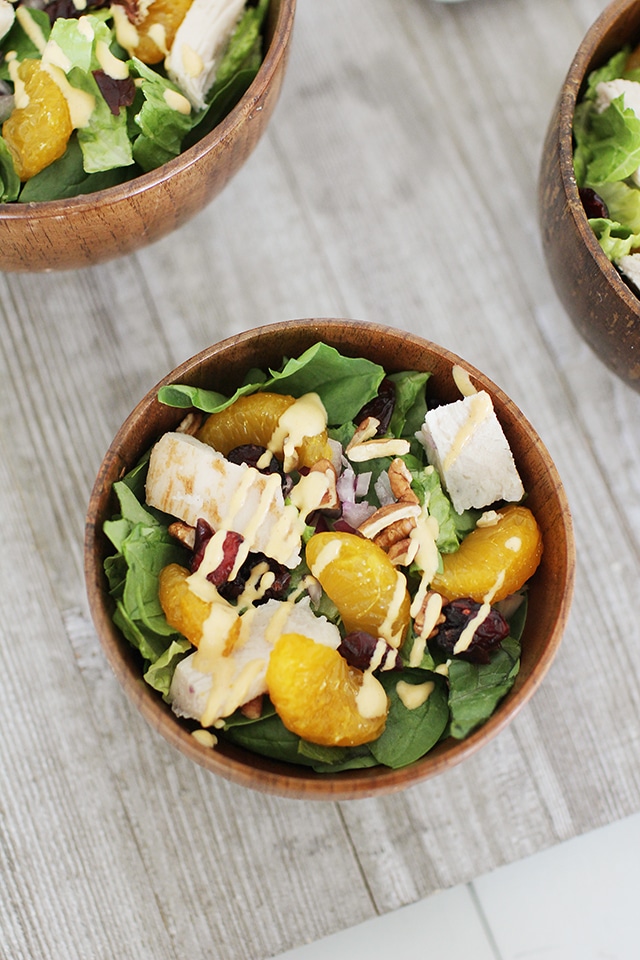 Looking for More Salad Recipes?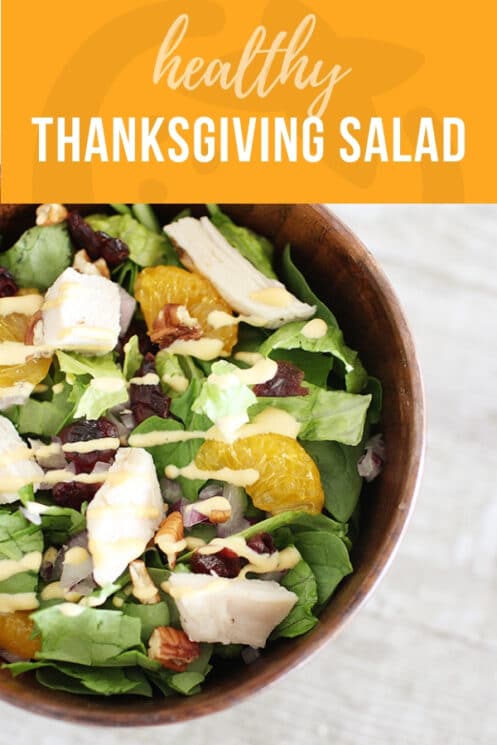 Ingredients
3/4

cup

yogurt, plain

1

tablespoon

vinegar, cider

1

tablespoon

olive oil

2

tablespoon

maple syrup, pure

3

tablespoon

pumpkin, canned

1/2

teaspoon

garlic

1/2

teaspoon

salt

1/2

teaspoon

thyme, dried

1/2

teaspoon

cinnamon
Salad
2

cup

spinach

4

cup

lettuce, romaine

1/4

medium

onion, red

2

cup

turkey breast, cooked

1

cup

mandarin oranges, canned in juice

1/2

cup

cranberries, dried

1/2

cup, chopped

pecans
Instructions
Using a large mixing bowl, add spinach and chopped Romaine. Dice onion and turkey and add to greens along with drained mandarins, cranberries and pecans. Toss to combine.

Divide salad amongst 4 serving bowls; drizzle with dressing, and serve.