Sweet Potato Taquitos Recipe
Your next meatless Monday dinner is here! Sweet potato taquitos with black beans are such a flavorful and filling vegetarian meal that you won't miss the meat.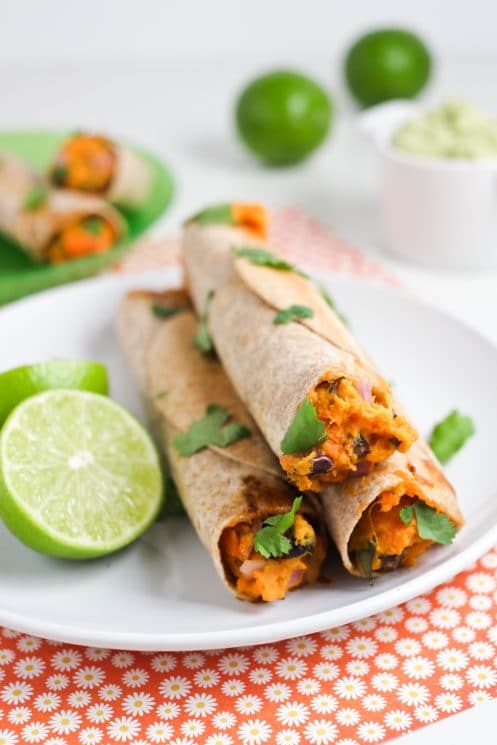 Sweet potato taquitos are a regular meal on my rotation. I love the fresh taste of sweet potatoes and lime together. They're wonderfully tasty and filling, and I love that they are vegetarian!
What we love about sweet potato taquitos
Wanna know why these are a regular at my table? Aside from loving their flavor, they always make me feel good. Sweet potatoes are relatively low calorie but pack in antioxidants and high levels of vitamins and minerals.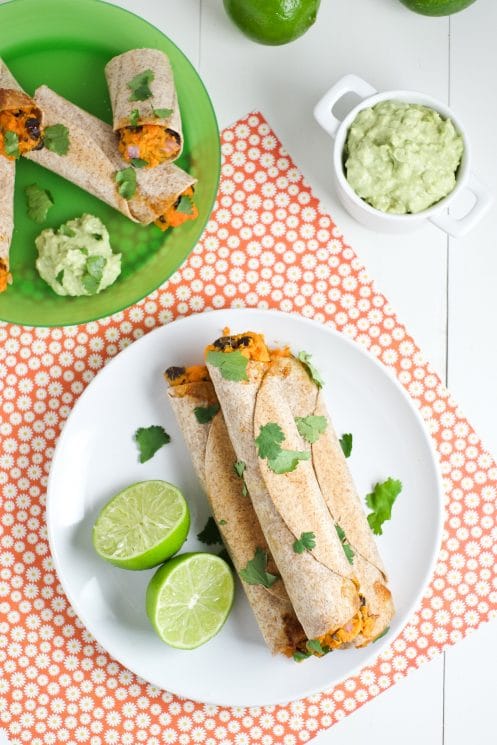 I also add black beans for protein and fiber, but you could easily make these without beans if you don't have any on hand. You could even throw in some corn or chopped up red pepper if you like. But I love beans! Did you know they're a staple in all the places of the world where people live the longest? They're pretty super.
Finally, I used whole wheat tortillas because it's always a good idea to fit in whole grains when you can!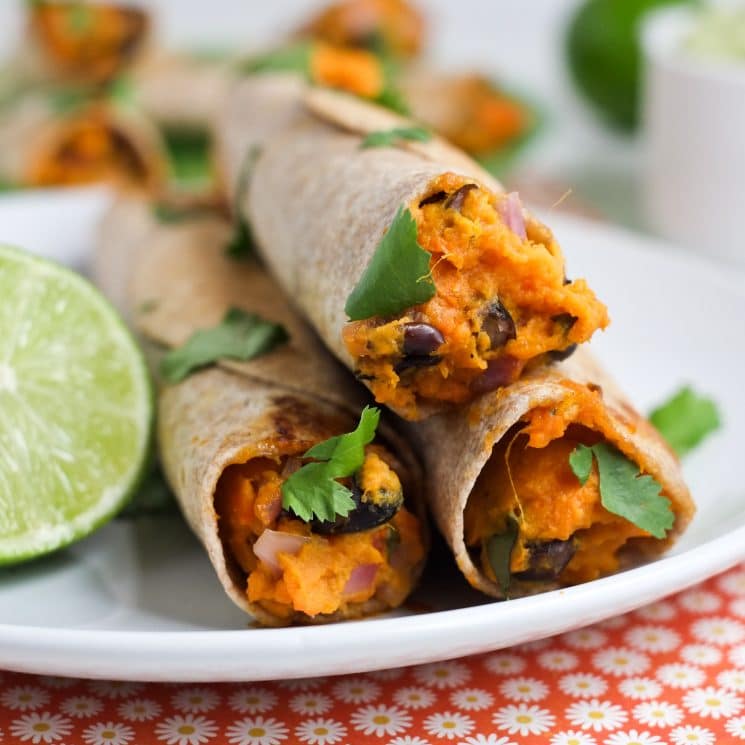 Plus, on a practical note – these are really easy to throw together once the sweet potatoes are cooked. Just mush all the ingredients together, fill and bake. Done!
How to make sweet potato taquitos
First, the sweet potatoes need to be cooked and peeled. There are more ways to do this than I can list, but some are: bake them, microwave them, boil them, pressure cook them, or slow cook them. Here's a great post on slow cooking sweet potatoes.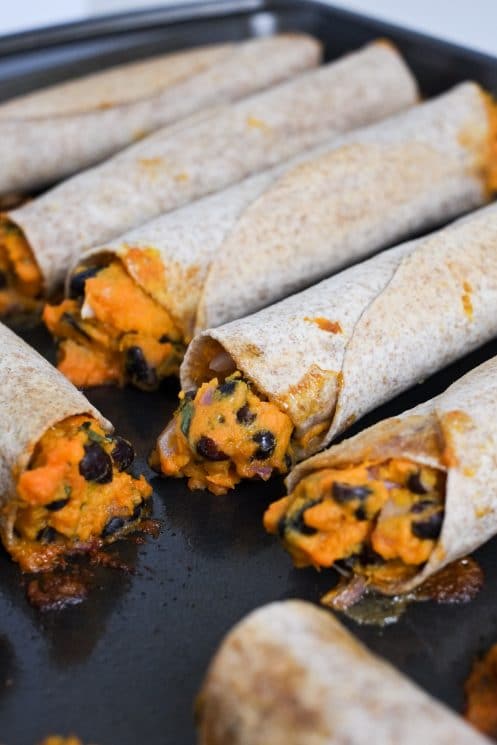 Once cooked, peel your sweet potatoes. If well enough cooked, the skin just peels off. Be careful to let them cool for a few minutes so you don't burn yourself like I tend to do.
Now, dice the onion into tiny pieces and roughly chop the cilantro. Rinse and drain a can of black beans. Throw everything into a bowl and mash with a spoon. Preheat the oven to 425* F and spray a large baking sheet with cooking spray.
Fill 6-inch wheat tortillas with about 1/3 cup of filling each. I got 12 when I filled them with roughly this much, but you're welcome to make them as filled as you want. Roll tightly and place seam-side down on the prepared baking sheet.
Bake for 20 minutes, flipping partway through for a more even bake. The sweet potato is a little sticky, so be careful when removing them from the baking sheet. Parchment paper might work nicely to prevent sticking if this is a concern for you.
Bonus: Avocado Dipping Sauce
No taquito is complete without a sauce, so here's an approximation of the sauce I often throw together for these.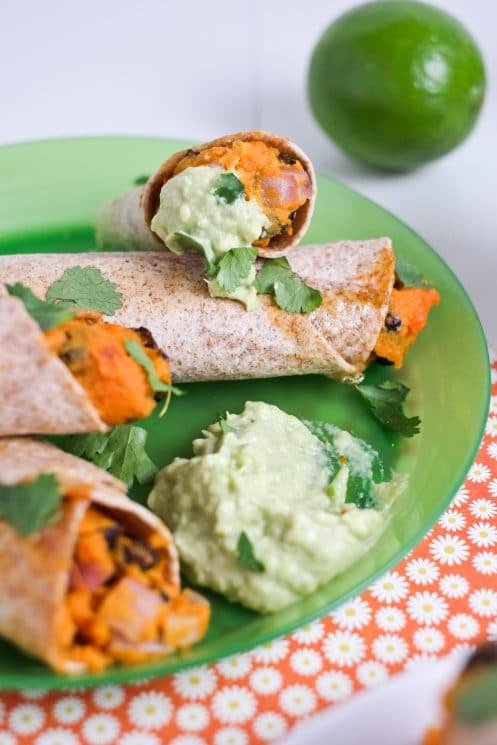 Mash together:
1 avocado
1/4 cup sour cream or plain yogurt
1/2 teaspoon lime juice
1/4 teaspoon cumin
1/8 teaspoon salt
It's a basic recipe, but it matches with the sweet potato flavor nicely. Feel free to dress it up with cilantro or more spices.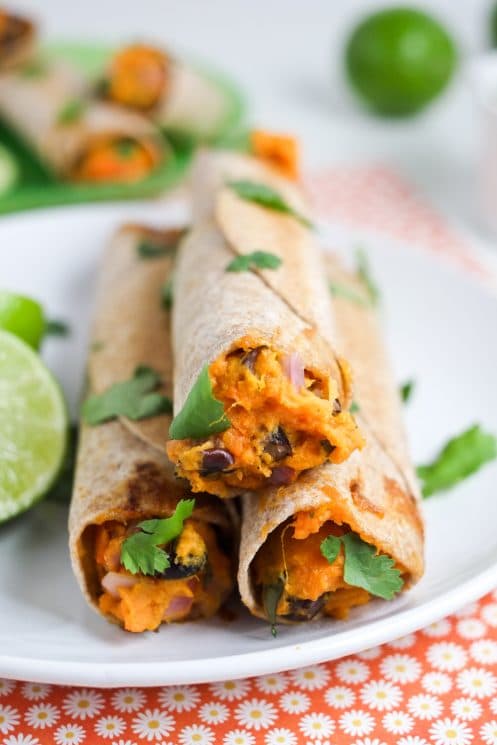 Happy Meatless Monday – or any day you want something healthy and tasty!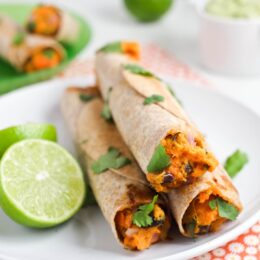 Ingredients
3

cup

sweet potato

1

none

cooking spray

1/2

medium

onion, red

1/2

cup

cilantro

15

ounce

black beans, canned

1

tablespoon

lime juice

1

teaspoon

cumin, ground

1/2

teaspoon

garlic powder

1/2

teaspoon

salt

8

medium

tortilla, whole wheat
Dip
1

medium

avocado

1/4

cup

sour cream

1/2

teaspoon

lime juice

1/4

teaspoon

cumin, ground

1/8

teaspoon

salt
Instructions
Cook and peel sweet potatoes using your preferred method.

Preheat oven to 425* F. Spray a large baking sheet with cooking spray.

Finely dice half an onion and roughly chop 1/2 cup of cilantro leaves. Rinse and drain a can of black beans.

Combine sweet potato, beans, cilantro, onion, and spices in a bowl. Mash together well.

Fill 6-inch tortillas with about 1/3 cup of sweet potato filling. Roll and place seam-side down on baking sheet.

Meanwhile, mash together the dipping sauce: avocado, sour cream or Greek yogurt, lime, cumin, and salt.

Bake for 20 minutes, flipping halfway through. Serve warm.