Sunburst Energy Smoothie Recipe
As parents, a common concern is if our kids are getting enough of the right nutrients. When our kids say they are done eating after just a few bites it can be stressful! There are a lot of reasons kids don't eat what we want them to from texture issues, to varied taste preferences, and just plain old not being hungry at that particular meal. Whatever the reason, we still worry about what our kids are eating, or not eating! Smoothies are a great way to make up the difference of those time when they just won't eat what is on their plate. Smoothies are packed with nutrients, and for some kids it is easier to drink a smoothie packed with spinach than eat a bowl full!
This smoothie can be made with just the fruits, or for more nutrition, we added a big handful of spinach to half of it. You literally can't taste the spinach, but combining the green with the orange makes it a fun 'twisted' smoothie!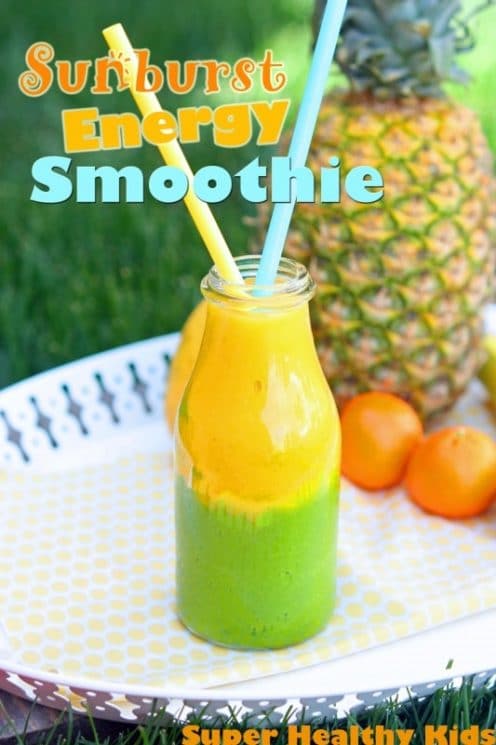 This Sunburst Energy Smoothie Recipe is not only totally tropical and delicious, but the ingredients are specifically chosen for both flavor and a boost of energy.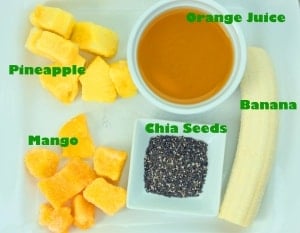 Pineapple
Mango
Chia Seeds
Banana
If your kids are newer to smoothies and you think the green will freak them out, then just do the orange!
Ingredients
3/4

cup

frozen pineapple cubes

3/4

cup

frozen mango cubes

3/4

cup

100% orange juice

1

banana

1

tbsp

chia seeds

big handful of spinach

optional – only add if you want to make it green
Instructions
Blend together until smooth and creamy.

To make half of it green: Pour half of the orange mixture into several glasses.

Mix the remainder with a big handful of spinach.

Pour over the orange mixture and serve!