Sun Dried Tomato Basil Pinwheels
Creamy Sun Dried Tomato Basil Pinwheels are perfect for picnics, potlucks, road trips or snacking at home! No cooking or baking, just a delicious sandwich in 5 minutes!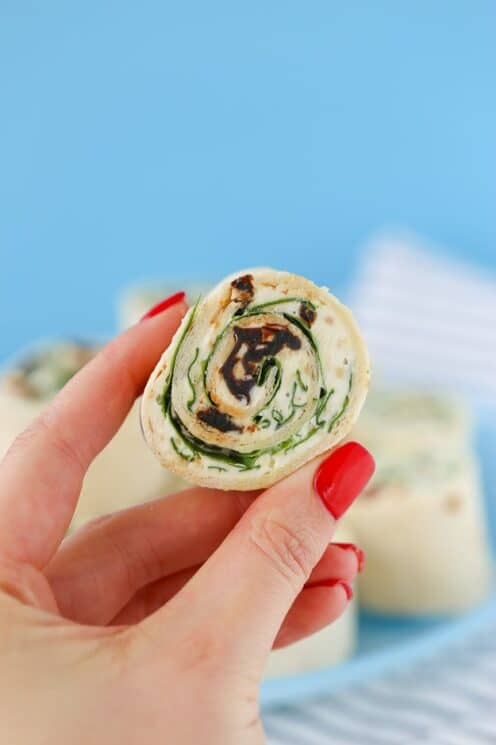 What is a Pinwheel Sandwich?
Pinwheel sandwiches are small sandwiches that are curled up into a roll. We love pinwheel sandwiches because they are very versatile. The ingredients hold up well and so it is a great thing to bring to the park, sports game, on-the-go dinners in the car, and in a lunch box.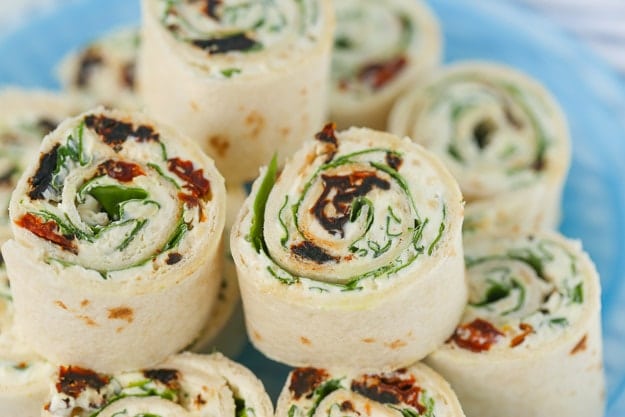 How to Make Perfect Pinwheels
The biggest trick is to spread your filling all the way to the edges. This will help as a "glue" when you start to roll the tortillas. The ends won't start to unroll because the sticky cream cheese seals the edge. My second tip is to use a serrated knife to cut the rolls! This means that the knife has little ripples on the blade that help to cut the roll as you pull back and forth on your way down. Think of it like cutting a tree with a saw! You wouldn't just whack it with a knife, you would go back and forth until it cut through! This helps you to not squish your roll and press out all the filling. You'll get perfect circles! My last tip is that when you're cutting, place the seam-side directly onto your cutting board. This will help the roll not fall apart and the added pressure to the seam with help to seal it!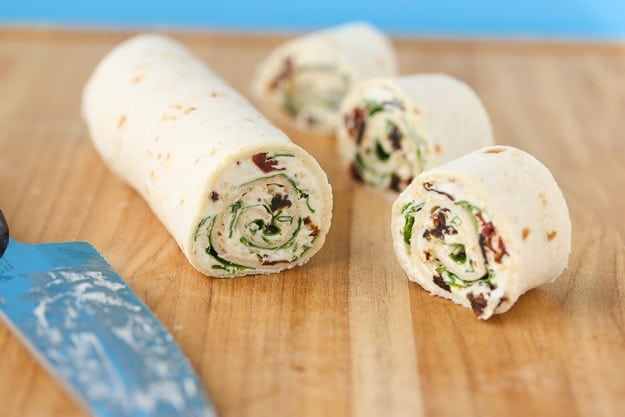 Sun Dried Tomato Basil Pinwheels
We have Mexican Pinwheels with chicken and salsa, classic Ham and Cheese Pinwheels and even Peanut Butter Pinwheels on the blog! But we wanted to do something even more out of the box, Sun Dried Tomato Basil Pinwheels. They're vegetarian friendly but still as tasty as all of our other pinwheels!  These snack wraps are the perfect thing to make for parties because there's no cooking involved and they come together in minutes.  They can be just a snack if you take one roll or an entire meal if you eat a few because there's protein, fruit and veggies! That's right, we snuck some spinach into these!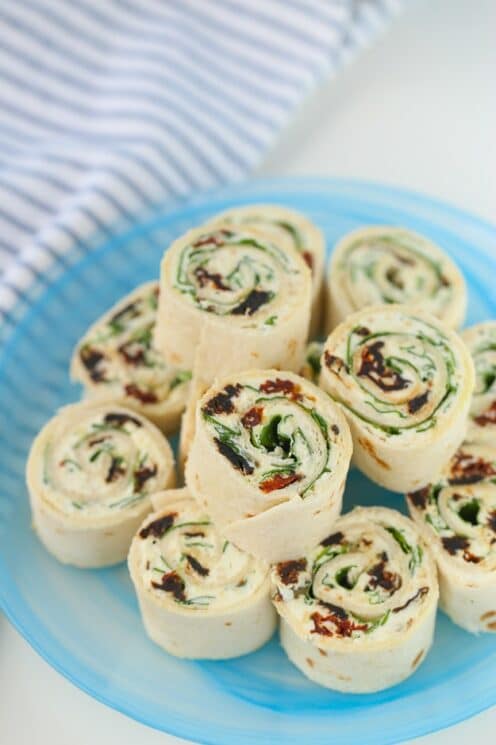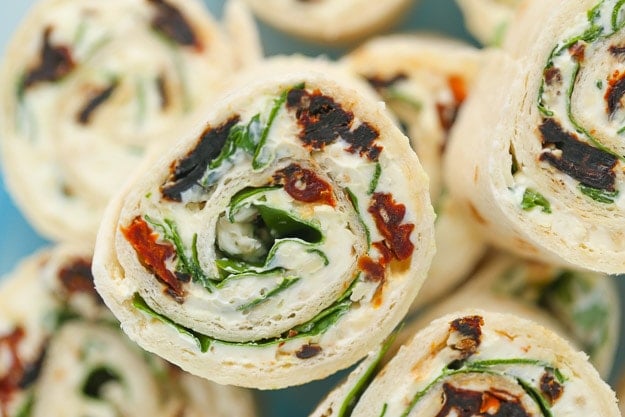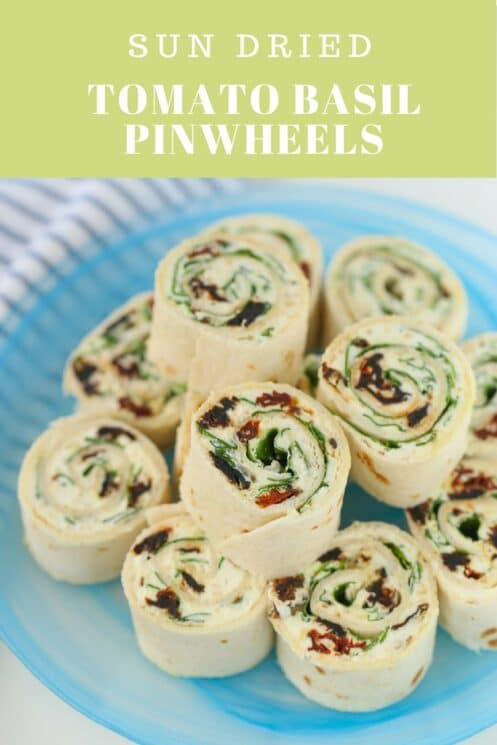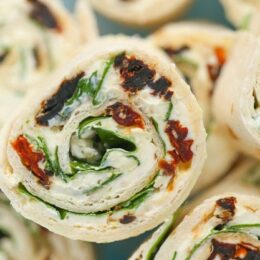 Ingredients
1/2

cup

sun-dried tomatoes

8

ounce

cream cheese, low fat

1/4

cup

spinach

2

clove

garlic

1/4

ounce

Parmesan cheese

7/40

teaspoon

salt

2

medium

tortilla, whole wheat

15

leaves

basil, fresh
Instructions
Dice the sun-dried tomatoes. Add to a bowl with the softened cream cheese, chopped spinach, minced garlic, grated Parmesan cheese, and salt. Stir thoroughly to combine.

Spread filling on tortillas (you can use a third if needed).  Try to spread the filling all the way to the edge of the tortillas.

Top with fresh basil leaves and then roll up tightly.

Use a serrated knife to slice each roll into 1 inch pieces. Cut the roll seam side down to help the pinwheels stay together.  Enjoy!