Slow Cooker Pork Chops with Easy Dried Fruit Sauce
This sweet and savory Slow Cooker Pork Chops with Easy Dried Fruit recipe combines dried fruit in a sweet, tart sauce that's just perfect with hearty chops. And with only a few minutes of prep and minimal chopping, this warm and nourishing dinner can be prepared in just a few minutes!
I love using my slow cooker all year long, but there's just something about fall that makes me want to slow cook everyday. The smell of dinner slowly simmering away is the best, especially upon returning home after a long day. I'm a big believer in slow cooker recipes that use real food ingredients and that require minimal prep. I'm always brainstorming new healthy slow cooker recipe ideas and sharing them on Real Food Whole Life, and today I'm excited to share this recipe for Slow Cooker Pork Chops with Easy Dried Fruit here with the Super Healthy Kids Community!
The only chopping that's required for this recipe is an onion and a handful of dried apple rings. That's it! Add to that a few other simple pantry ingredients and some hearty pork chops and you have a meal that takes just minutes to prepare, yet is amazingly flavorful and absolutely satisfying. The pork chops and dried fruit sauce are fantastic on their own, or serve them over a bed of quinoa or brown rice. Add a simple green salad or steamed broccoli and you have a meal your family will go crazy for.
This recipe uses a combination of unsweetened apple sauce and dried fruit to create a naturally sweet and tangy sauce. Look for dried apple rings in the dried fruit section of your grocery store or in the bulk aisle. When you add the onions, apple sauce and dried fruit to the slow cooker it may at first look a little dry to make a sauce, but don't worry. The long, slow cooking time will create a lovely, thick sauce that pairs beautifully with the pork chops. Feel free to use whatever size pork chops you like here, but use bone-in if possible for the best flavor.
Kid-Friendly Adaptations:
Pull some of the meat off the bone and serve it plain, without sauce. Or serve the sauce on the side for dipping.
If your child doesn't care for the sauce offer some dried apple rings and dried cranberries instead.
Now, on to the recipe!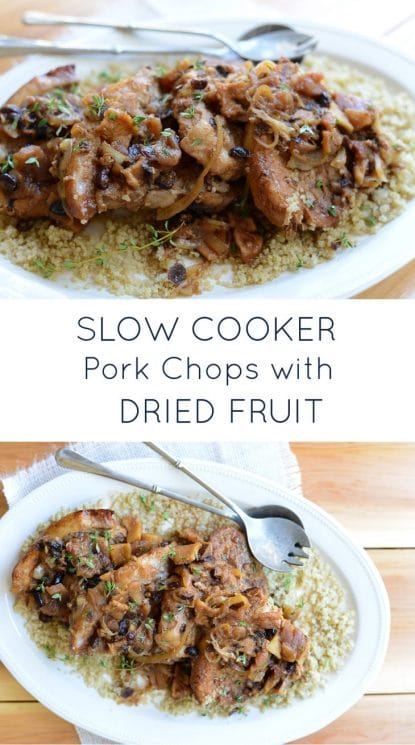 Robyn Conley Downs is the mom behind Real Food Whole Life, a website designed to inspire and simplify healthy eating and living. Visit her there for healthy gluten-free, dairy-free and slow cooker recipes, plus tips and tricks for a healthy life.
Ingredients
1

medium

onion

1

cup

applesauce, unsweetened

1/2

cup

cranberries, dried

1

cup

apples, dried

1

tablespoon

honey

1

teaspoon

cinnamon

1

tablespoon

vinegar, cider

1 1/2

teaspoon

salt

6

each

pork chop, boneless

3

teaspoon

thyme, fresh
Instructions
Stir the onion, applesauce, cranberries, apple rings, honey, cinnamon, apple cider vinegar, and 1 teaspoon salt together in a 6-quart slow cooker.

Sprinkle the pork chops on both sides with the remaining ½ teaspoon of salt, then nestle them into the slow cooker on top of the onion and dried fruit mixture.

Cover and cook on high until the pork is very tender, about 6-8 hours on low or 3-5 hours on high. The total amount of time will vary depending on the thickness of your pork chops.

When tender and cooked through, remove the pork chops from the slow cooker to a platter and skim or remove the fat from the surface of the sauce. Taste the sauce and stir in additional salt, pepper or apple cider vinegar to taste.

Serve the pork chops warm with the sauce on top or on the side and sprinkled with fresh thyme.