Refreshing Pineapple Cooler For Kids
Perfectly simple and quick prep, refreshing pineapple coolers are great for cooling off on busy summer days!
We made it!
I think I say this every year, but we have the *longest* winters where I live. While we have months of fun filled snow days during the winter, by the time spring and summer roll around we are definitely ready for our beautiful fresh water beaches, perfectly warm park days, and lazy summer break days spent around a sprinkler and a kiddie pool.
My kids are always so delighted for their afternoon ice pop snacks to cool them off after a long morning of summer play! I keep nutrient dense popsicles around, and usually have hydrating electrolyte popsicles within reach for those really hot days.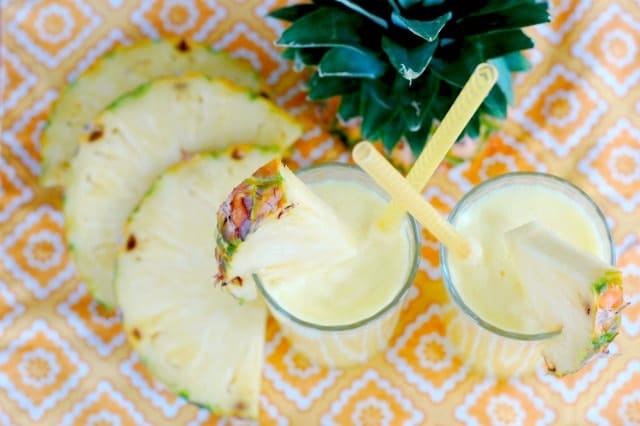 But sometimes the week has gotten away from me and my ice pop stash as dwindled to one or two – which doesn't work when there are 3 kids wanting a snack! Last summer, I ended up making fruit cooler drinks when that happened! They are so fun, just as delicious…and don't need freezer time!
While I love the fact that these pineapple coolers are super quick to prep, I think I love even more that there is no extra sugar or sweeteners. The pineapple itself is sweet enough to make a refreshing, mildly sweet snack. A sugar crashing kid isn't fun to have on my hands for the rest of the afternoon! I even blend in some grassfed collagen sometimes for some added protein.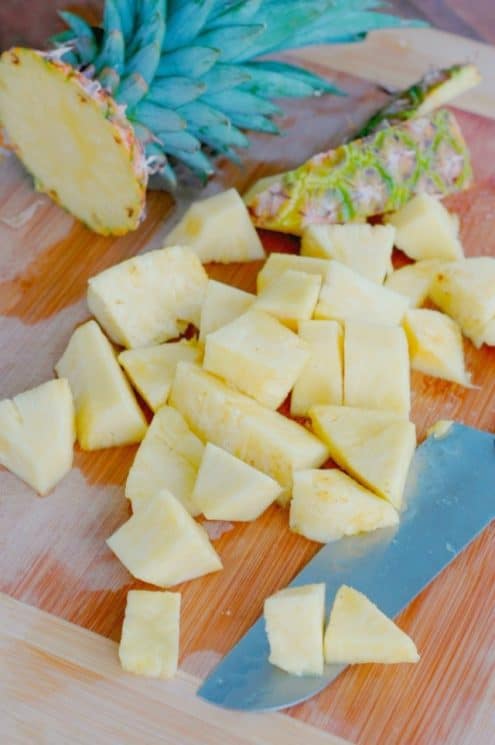 Fresh pineapple is rich in immune system nourishing vitamin C with loads of minerals.
You can tailor your pineapple coolers to your kids texture preferences. My kids prefer it super smooth without ice because they don't like their drinks super cold. Momma blends hers up with ice or pours it over crushed ice to make it more of a slushie feel. Also, if you have older kids that like sweeter drinks, you can either use more pineapple to make it sweeter, or you can use some raw honey to give it a bigger sweetness.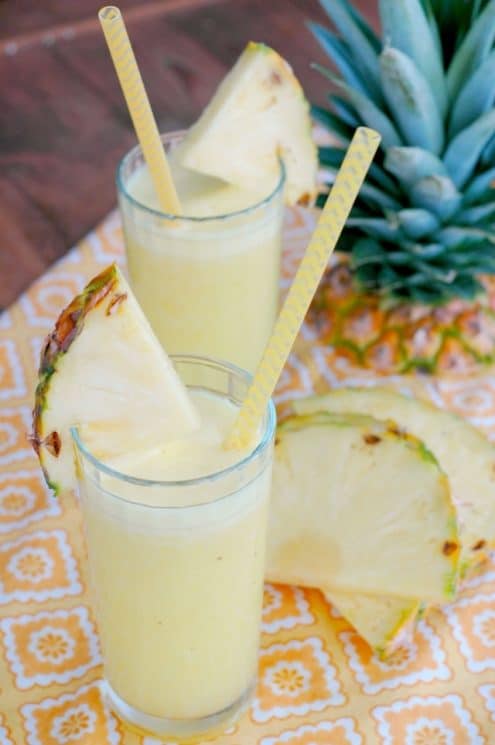 This amount makes enough for 3 small children and 2 adults. I really think this would be fun to serve at a pool party, birthday party, or other family gatherings. Simply double and triple up to feed a crowd. What a fun and healthy punch bowl drink with some sparkling water!
Renee blogs at Raising Generation Nourished, and with 3 girls ages 6 and under. She is passionate about raising the next generation with a better understanding where food comes from and how food affects their bodies.
Ingredients
1

small/medium pineapple, cored, rind taken off, and coarsely cubed for the blender

2

cups

water or combo ice and water if you wish for it to be slushie

1

tsp

almond extract

juice of 1/2 lemon

this is optional – my kids like a little and i like a lot so i tend to use a little bit and add more to my cup!
Instructions
For a Smooth Drink, put everything into a high powered blender and using the juicing option blend until smooth.

For a Slushie Drink, put the pineapple, 1/2 cup of water, almond extract, and lemon juice into a high powered blender and using the juicing setting blend until smooth. Add 1 1/2-2 cups of ice to the blender and pulse until the ice is the size you want for the drink. You can blend a lot for small ice pieces or just pulse a little for more of a crushed ice.