Raspberry Vegan Ice Cream Recipe
Raspberry Vegan Ice Cream will satisfy all your frozen treat cravings without sugar, dairy, or additives.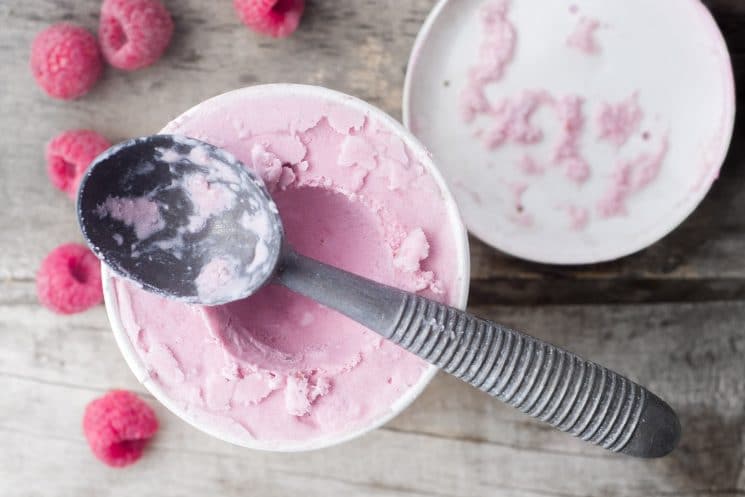 Hey guys — it's Sue from The View from Great Island here with one of my favorite ways to beat the heat. Ice cream is one of the perks of summer, and nobody should have to miss out. But what if you're a vegan, or on a lactose or sugar free diet — or maybe you're just trying to raise super healthy kids — regular ice cream is out of the question. This recipe uses the natural sweetness of fresh raspberries along with the natural creaminess of coconut milk, to make a healthy vegan treat that nobody can (or needs to!) resist.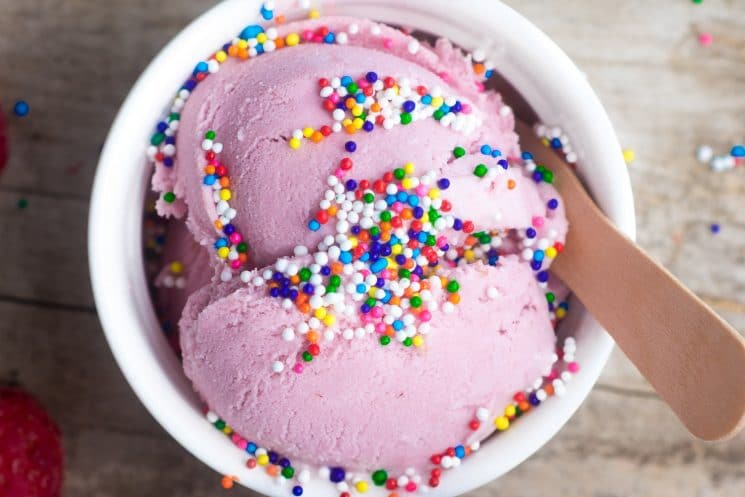 The flavor of the berries is so refreshing and bright, especially if you're used to artificially flavored products. Just one little 6 ounce package of raspberries will flavor the coconut milk. First I puree the berries, and then strain out the seeds, it's such a gorgeous color. You can certainly use other berries for this like blueberries, strawberries, blackberries, or my ultimate favorite — wild black raspberries!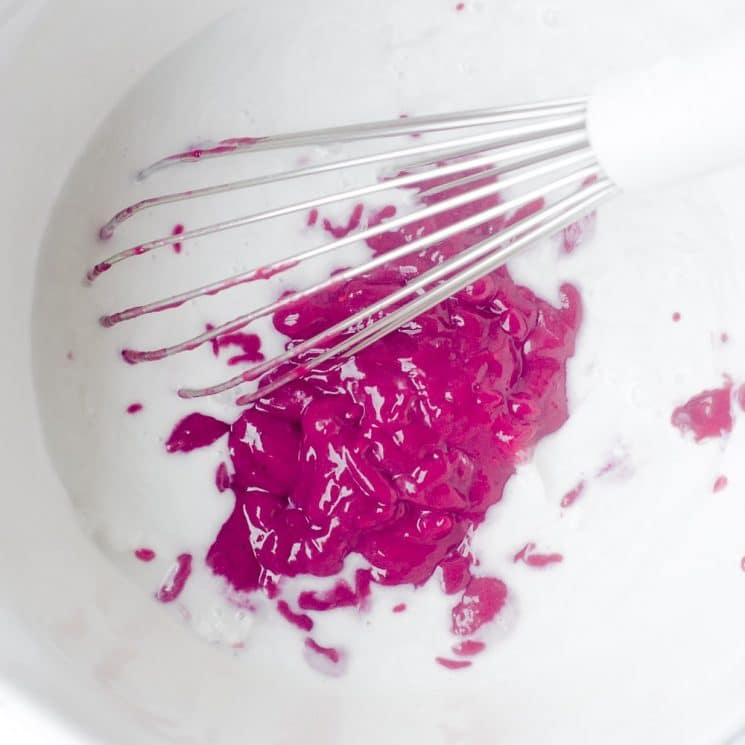 The puree gets whisked together with the coconut milk, along with a touch of honey, and some vanilla extract. The vanilla tricks the taste buds into thinking 'sweet' even in the absence of sugar.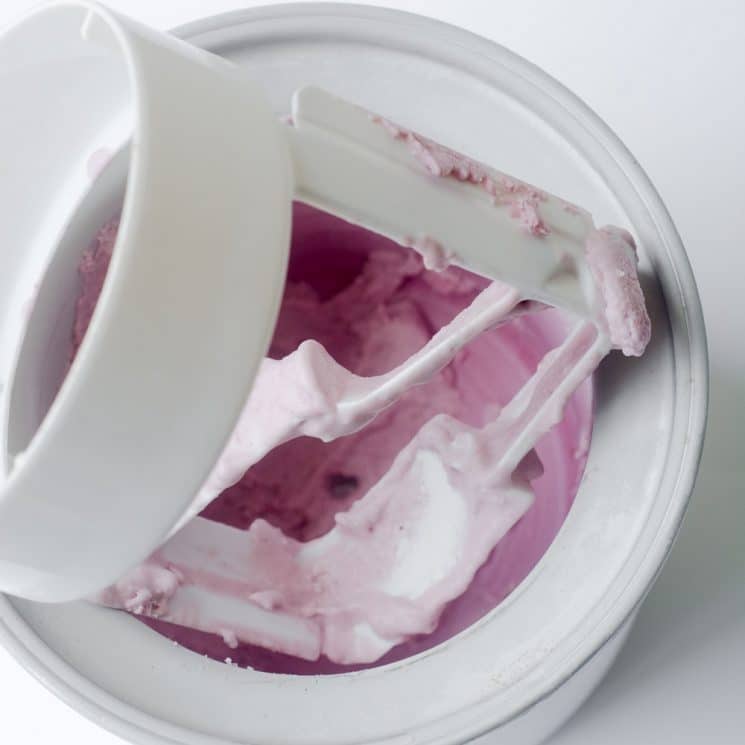 Then I process it in my ice cream machine according to the directions. Mine takes just 20 minutes. An ice cream machine can be a healthy investment when you get creative with your ingredients. In addition to coconut milk you can also use yogurt as a base to create any number of delicious flavors…one of my favorites is Nectarine Frozen Yogurt. Once again there's no sugar added, and it bursts with the fresh flavor of juicy nectarines.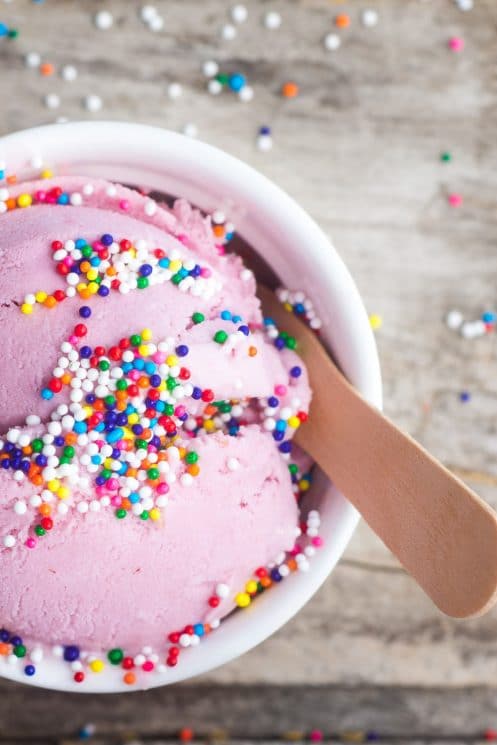 Since this is a no sugar recipe, feel free to add a touch of festive sprinkles to the top.
DON'T FORGET TO PIN IT!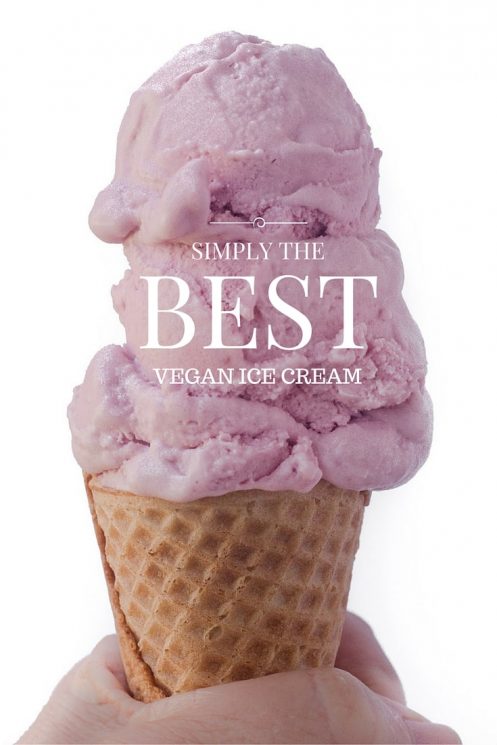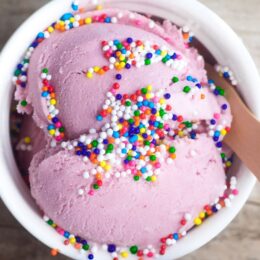 Ingredients
6

ounces

fresh raspberries

14-ounce can

full fat coconut milk or coconut cream

3

tablespoons

honey

1

teaspoon

vanilla extract
Instructions
Puree the raspberries in a small food processor. Push the puree through a strainer leaving just the seeds behind.

Whisk the raspberry puree into the coconut milk, and add the honey and vanilla.

Process the mixture in your ice cream machine according to its directions.

Eat the ice cream immediately or put it into a container and freeze until firm. It is best eaten the same day. If it gets to hard in the freezer leave it out on the counter for a few minutes to soften.

Makes one pint