Quinoa with Fresh Peas Recipe
Nothing says springtime quite like peas. This quinoa with fresh peas recipe is just the side dish you need this season. It's light, tasty, and high in protein!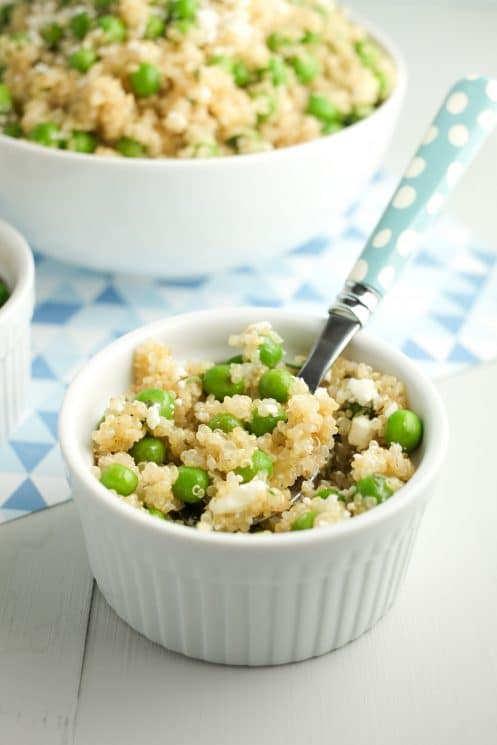 It's springtime and peas are coming in season. I love peas! Behind their sweetness they're packed with amazing nutrition. What welcome news!
Plus, I feel like the small size of peas is something that kids love! Maybe it's because they feel like less work to eat? My 11 month old loves to squish her peas individually before eating them. Whatever works!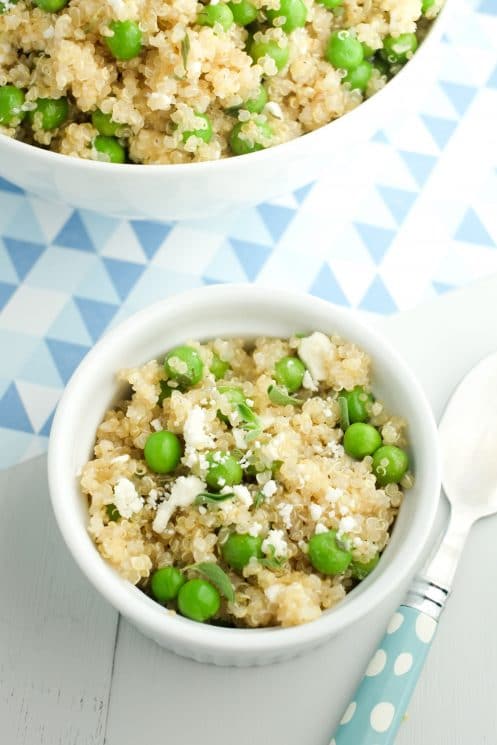 Though small, peas are mighty! They are a great source of fiber, vitamins K and C, folate, iron and protein. Iron and folate are important for growing bodies, and the fiber and protein will keep your family full. And we all need kids who stay full!
Pairing peas with quinoa adds even more protein. Did you know quinoa is a complete protein? This makes it a great vegetarian option. Quinoa is also mineral dense and has a good amount of healthy fats. It's a great whole food to feed your family!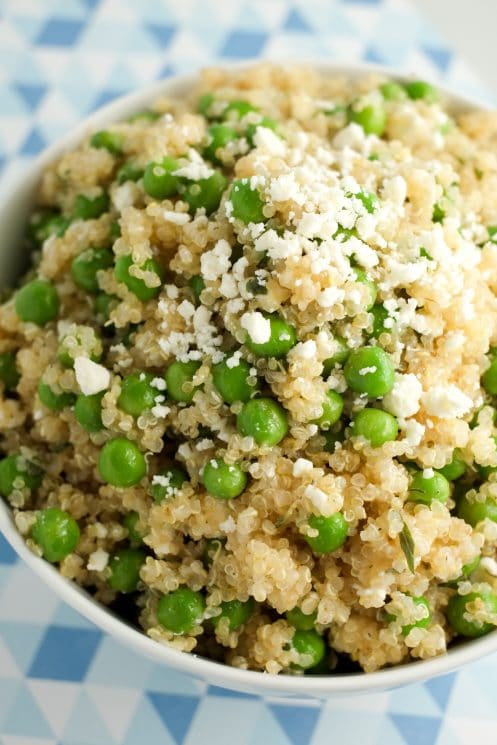 One Pot quinoa and Fresh peas
This recipe is great because it can be made in one pot!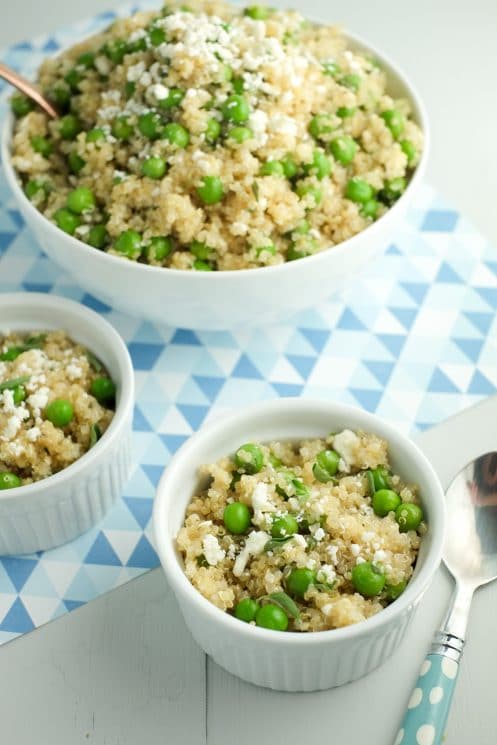 First, you'll cook the peas. Select a medium-sized pot and boil a few cups of water. Once boiling, dump 2 cups of peas in and remove from the heat. Once the peas are bright green, drain them into a colander and rinse with cold water. Keep them aside.
Next, boil your chicken broth in the same pot. Once boiling, add quinoa, cover, and reduce heat so that it stays at a gentle boil. Once all the liquid is absorbed and the quinoa is cooked, remove the pot from the heat and allow it to sit for 5 minutes.
Meanwhile, whisk together the vinaigrette: lemon juice, olive oil, garlic cloves, oregano, and salt and pepper.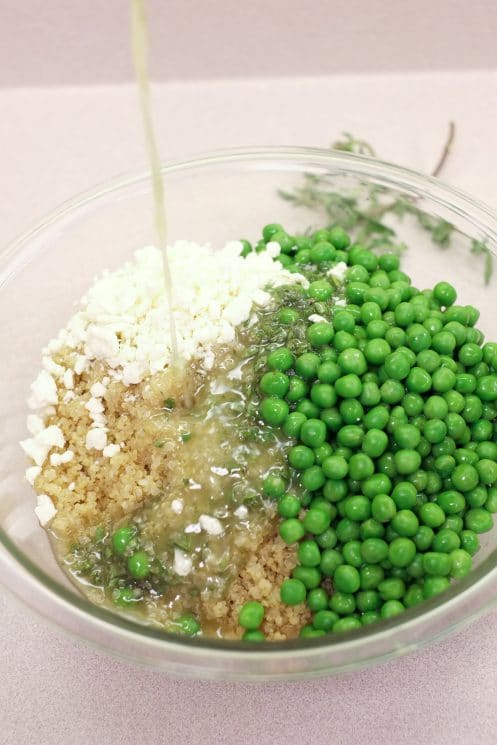 Once the quinoa has rested for 5 minutes, fluff it with a fork. Add peas, vinaigrette, and feta cheese. Stir until evenly combined and serve warm or cold. It's great for a potluck!
A note on fresh and frozen peas
This recipe works for either fresh or frozen peas – so whichever you prefer is fine!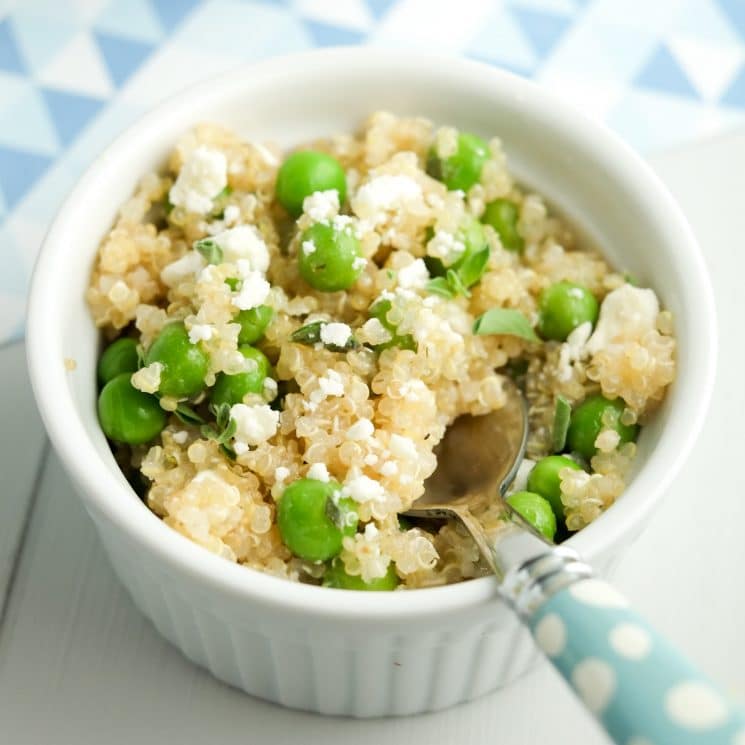 Fresh peas will need to be shelled, and it will take somewhere around 2 pounds of peas to yield 2 cups shelled. Pick smaller and brighter pods for best results. Shelling peas is more work, but it can be fun and older kids might enjoy helping.
I've made this with frozen peas and it turns out great! Since fresh peas are only available for short periods of time, frozen peas are often an easier alternative. Plus, that means this fresh meal can be whipped up from your pantry without having to grab fresh peas right before making it.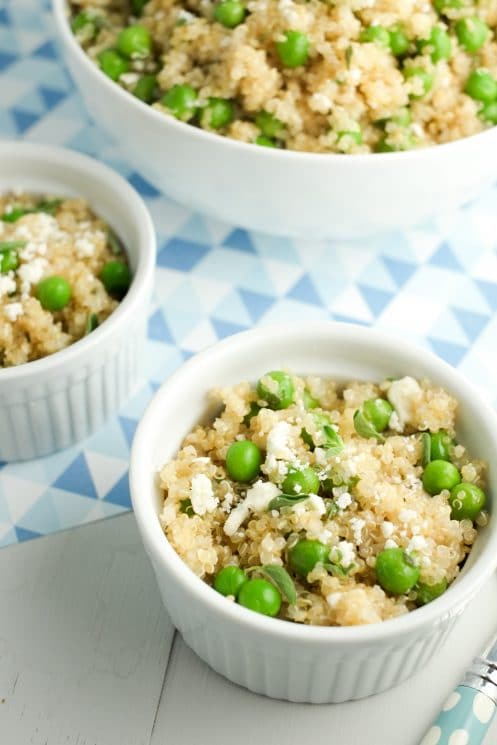 Do your kids like peas? How do you like to prepare them?
Ingredients
2

cup

Peas, green, raw

1

cup

quinoa, uncooked

2

cup

chicken broth, low-sodium

1/2

cup

feta cheese crumbles
Dressing
1/3

cup

lemon juice

1/4

cup

olive oil

2

clove

garlic

1/2

teaspoon

oregano, dried

1/4

teaspoon

salt
Instructions
In a medium pot, boil a few cups of water. Once boiling, add peas and remove from the heat. Once the peas turn bright green (maybe 1-2 minutes), rinse them in cold water, drain, and set aside.

Rinse quinoa (if desired). In the same pot, bring 2 cups of chicken broth to a boil. Add quinoa, cover with lid, and reduce heat. Keep the pot at a low boil for about 15 minutes, until quinoa is fully cooked. Remove from the heat and allow to rest for 5 minutes.

Meanwhile, whisk together lemon juice, olive oil, minced garlic, oregano, and salt.

Fluff rested quinoa with a fork. Add peas, vinaigrette dressing, and feta cheese and stir together.