Parmesan Ranch Game Day Chex Mix
Football season is here! Reach for a healthier version of a classic snack… Parmesan Ranch Game Day Chex Mix in the cutest DIY football cups!
Everyone loves to munch!  Why not serve your kids one of their favorite snacks made a little healthier with coconut oil!  You can even make it with all Wheat Chex! Pack this snack up in a plastic bag for watching soccer games on the sidelines or bring it to after game parties in these adorable DIY cups!  Either way, team Mom wins!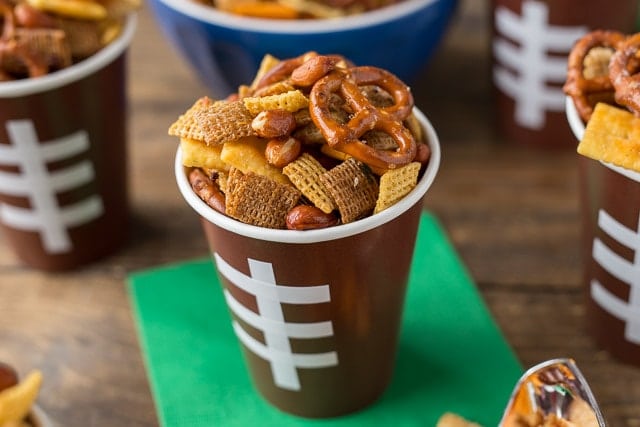 Stir and Bake
Chex Mix is great because all you have to do is dump the ingredients into a big pan (I love my jelly roll pan below), pour the liquids over and stir.  Bake for 30-40 minutes and you have yourself the perfect cozy munching snack!  I'll make a big batch for me and my husband and store it in a tupperware so he can grab a handful when he gets home from his long day.
Touchdown for DIY
Let's talk about these cute football cups! I picked up some plain brown cups from my local party store (Zurcher's), and decided to cut a name tag up for my football "string"! I clipped little strips and stuck them onto the cups! So need to fuss over making them the same width or getting them straight on the cups, the personality makes them look better!
A little tip: Peel back the backside of the name tags before you cut them!  I couldn't get mine off when I waited after I cut the strips…
Obviously, you can serve this Parmesan Ranch Game Day Chex Mix in any cups, cupcake liners, or just a big bowl.  It doesn't have to be for a football game either!  It's just a perfect savory snack that's been lightened up with coconut oil.
To perfect finish off this football theme, I served my Chex Mix with green napkins like grass! Eeek! They're just so cute! You could also use back and white napkins like they're referees.  Enjoy this Parmesan Ranch Game Day Chex Mix with your family! If you need another snack option, try our Homemade Gold Fish Crackers!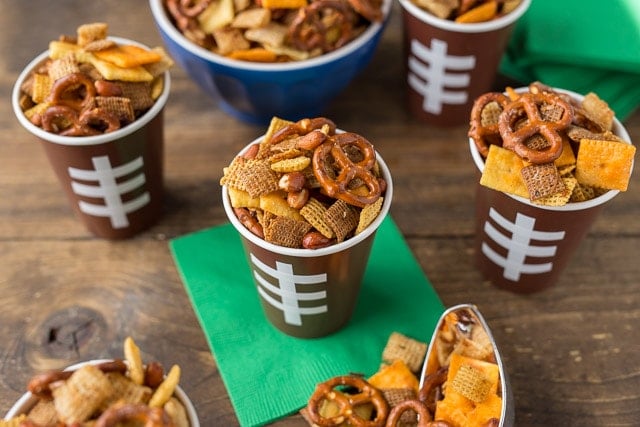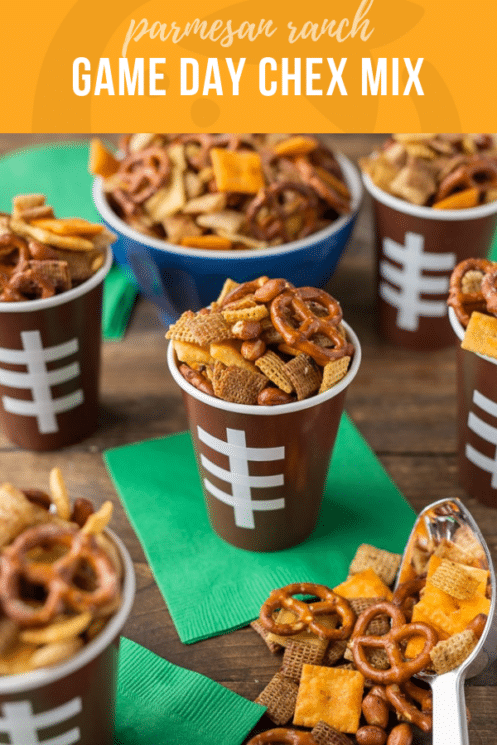 Ingredients
5 1/2

cup

cereal (like Bran Chex)

1/2

cup

peanuts

6

ounce

pretzel sticks or twists

1/4

tablespoon

coconut oil

2/3

cup

Parmesan cheese, grated

1

tablespoon

Ranch Dressing Seasoning Packet

1 1/2

tablespoon

Worcestershire sauce

6

oz

crackers, whole-wheat
Instructions
Preheat oven to 300 degrees.

In a large roasting pan combine Chex cereal (I used 3 types), peanuts and pretzels.

In another bowl melt butter and then add parmesan cheese, ranch seasoning and Worcestershire sauce.  Whisk until smooth and then pour over pan Chex cereal and fold until coated.

Bake for about 40 minutes and stir the pan every 15 minutes.

Add cheese crackers and serve when cooled!