One Pot Tuscan Ziti Recipe
A family favorite meal that can be thrown together quickly with whatever veggies and noodles you have on hand! Using only one pot for this Tuscan ziti makes for quick clean up too. This is just the simple and tasty recipe you need to add to your family's rotation.
I've been making a variation of this recipe ever since a college roommate served it to me and I fell in love. It's the perfect combo of creamy, zesty and healthy. It's versatility makes it super easy to throw together! You're going to love it.
So I have a caveat: you may have already noticed, but I don't usually use ziti noodles for this recipe. I've used them and they're great, but they're a little hard to find sometimes. This time I used campanelle, but "Tuscan campanelle" is just a mouthful. Rotini and penne also work well. So basically any medium-sized pasta you have on hand will be great. But no matter what I use, I always call this ziti. I guess it's just catchy!
Making one pot Tuscan ziti
Start by boiling your noodles in the pot you intend to use for the finished recipe. Boil according to package directions until al dente (you want them on the less-cooked side because they'll soften more in the sauce). Drain, rinse, and leave in your colander until you're ready for them in ten minutes. If you're short on time and don't mind using an extra pot, you can also boil these simultaneously with the next step.
Next, saute onions in olive oil over medium-high heat until softened and going translucent. Add garlic and veggies, mixing over the heat until spinach wilts. It will totally fill your pot at first and seem like waaaaay too much, but it will shrink like magic. Think of all that spinach you're getting in! Score.
Pour in your sauce ingredients next – diced tomatoes, tomato sauce, Italian seasonings, Greek yogurt and sour cream. You can use all Greek yogurt if you want, but you'll get a sourer flavor that is a little harsher than when you add in sour cream. But the Greek yogurt is great because it adds some protein, so if you're game to use it, go for it!
Note: If you're in a pinch, just use a jar of spaghetti sauce in place of the tomatoes, sauce, and Italian seasonings. This makes it easy when you're running low on pantry supplies. It's so versatile!
Finally, add your pasta back in, as well as 1 1/2 cups of cheese. I prefer using Italian blend because it has an array of delicious cheeses, but I've used mozzarella with some Parmesan as well and it works splendidly. Again, most any shredded cheese you have on hand should work. Experiment and find out what combination your family likes best!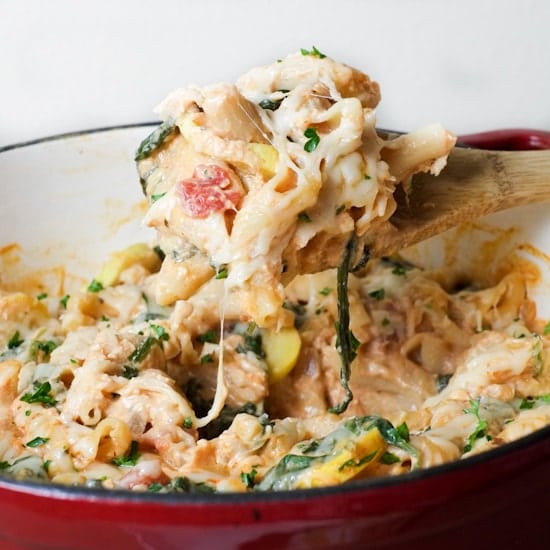 Mix the pot well and make sure the cheese is melted, then remove from the heat. Sprinkle with the remaining 1/2 cup of cheese and serve! If you want to go the extra mile, you can bake the pasta at 350* F for 10 minutes to give it a little extra umph (and help you keep it warm if you aren't serving it right away!). If you're planning to bake it, make sure to use a cast iron pot from the start, or transfer it to a 9×13 baking dish (but then it's not one pot…).
Your family is sure to love this deliciously creamy pasta – and you're sure to love how easy it is to make and clean up! Enjoy.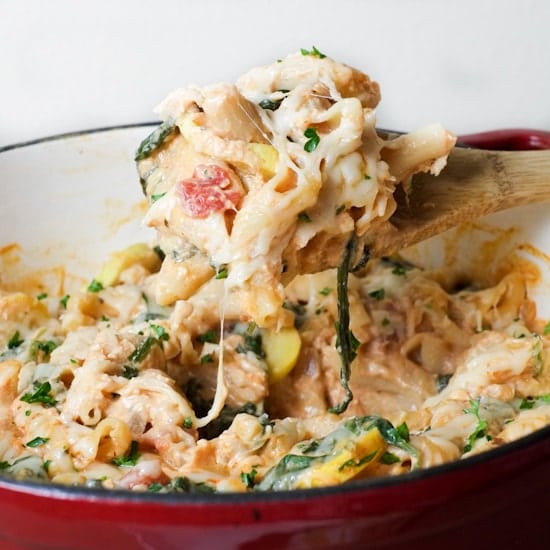 Ingredients
16

ounce

pasta, shapes

2

tablespoon

olive oil

1

cup, chopped

onion

2

clove

garlic

2

medium

squash, summer

16

ounce

spinach

28

ounce

diced tomatoes, canned

28

ounce

tomato sauce

3

teaspoon

Italian Seasoning

1

cup

Greek yogurt, plain

1

cup

sour cream

1 1/2

cup

mozzarella cheese, shredded

1/2

cup

Parmesan cheese, shredded

1/8

teaspoon

salt

1/8

teaspoon

black pepper, ground
Instructions
In a large pot, boil noodles according to package instructions until al dente. Drain and rinse and keep aside in colander.

Dice onion and mince garlic.  Slice yellow squash (or zucchini if you prefer!).

In the same large pot over medium-high heat, add olive oil and saute diced onion for 5 minutes, until slightly translucent. Add garlic, squash, and spinach and stir until spinach has wilted, about 5-7 minutes. Salt and pepper vegetables to your liking.

Pour excess liquid out of the diced tomatoes can. Add diced tomatoes, tomato sauce, Italian seasonings, Greek yogurt, and sour cream to the pot and bring to a boil. Add noodles and 1 1/2 cups cheese (mix the mozzarella and parmesan cheese together) and mix well. Keep over heat until cheese has melted.

Top with remaining 1/2 cup cheese and serve hot.