Lightened Cajun Chicken Alfredo with Veggies
Cheesy pasta is always a good idea! This Lightened Cajun Chicken Alfredo with Veggies has just the right amount of flavor to please everyone in the family. Ready in less than 30 minutes!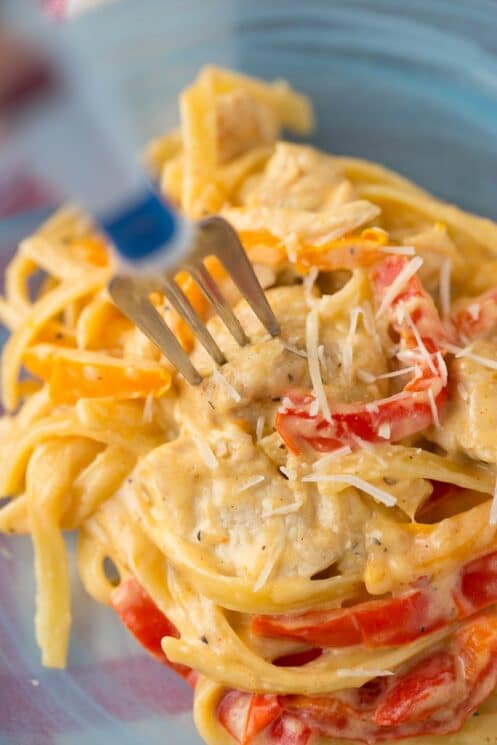 Healthy Cajun Chicken Alfredo
Everyone loves Alfredo sauce! So we kicked it up a notch by adding some cajun seasoning to the pot! This is the perfect addition to make this meal something entirely new. It's not too much to where to kids will find it spicy but it's just enough to give it a new flavor. Add as many or as little veggies as you want and let this cheesy sauce tempt your kids! They'll eat any vegetable that is covered in this sauce… yum. Enjoy our Lightened Cajun Chicken Alfredo with Veggies! Ready in less than 30 minutes!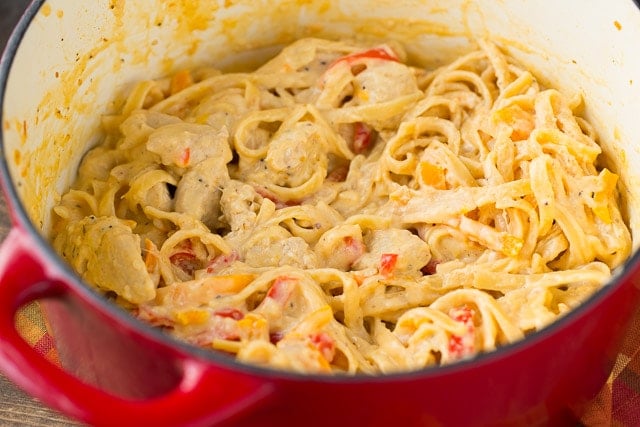 Healthier Alfredo Sauce
The main trick to making this pasta healthier is in the sauce! Yes, you can use wheat noodles which will also help, but regular Alfredo sauce is made with cream or half and half. We used milk and chicken broth instead! You can use whatever percent milk you have in the fridge! But when the sauce has less fat, it will not be quite as thick. So if you decide to thicken it at the last minute, the easiest thing to do is add a few pieces of cream cheese. Just stir that in for an extra creamy sauce. One other thing to keep in mind is that the sauce will thicken as it cools.

Alfredo with Veggies
I used two bell peppers for when I made this delicious Lightened Cajun Chicken Alfredo with Veggies but you can use whatever veggies your family likes. Some other veggie favorites that would work well with this pasta depending on the season are: broccoli, zucchini, cherry tomatoes or mushrooms. The possibilities are really endless and the little bit of cajun seasoning really makes this incredible! It's the perfect twist on a classic. My husband loved this pasta and was super happy to have leftovers for the next few meals.
Need another 30 minute dinner idea? Our Pasta E Fagioli is incredible!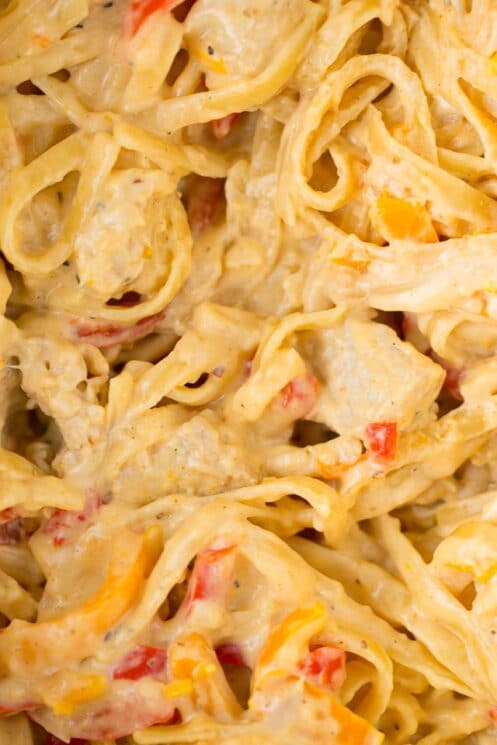 I gave mine a little extra sprinkle of parmesan to finish it off!
Ingredients
1

pound

chicken breast

2

teaspoon

Cajun spice

1

medium

bell pepper, orange

1

medium

bell pepper, red

2

clove

garlic

1 1/2

cup

chicken broth, low-sodium

1

cup

milk

1

teaspoon

salt

1

teaspoon

black pepper, ground

8

ounce

pasta, shapes

2/3

cup

Parmesan cheese
Instructions
Cut chicken up and bell peppers into bite sized pieces.

Place a large pan over medium heat, drizzle a little bit of olive oil and then add chicken and 1 tsp of cajun seasoning.  Stir and let cook for 4 minutes and then add bell peppers.  Cook for 3 more minutes and then add garlic.  Let cook for 1 minute.

Add 1 tsp cajun seasoning, chicken broth, milk, salt, and pepper.  If you're using fettuccini noodles, break them in half so they're easier for your kiddos to eat and add to the pot!  Try to submerge the pasta in the liquid and cook until pasta is done and there isn't much liquid left.

Stir in parmesan. Serve hot!