Kid Approved Healthy Hiking Snacks
If you have taken kids hiking before, you know that snacks are a must! Especially for small children. It can be a great way to help them stay fueled, excited about the hike and motivated to keep going! This is our list of some of our all-time favorite healthy hiking snacks for kids.  These are:
Easy to prep
Taste great on the trail
Need no refrigeration
Travel well (meaning they don't crumble to pieces or totally melt when tossed in a backpack)
Best of all, your kids will love them!
Homemade trail mix:
dried fruit, dried coconut or coconut chips, small animal crackers or cereals, the ever popular Gold Fish crackers, and candy coated sunflower seeds (these look great but don't have as much sugar as lots of candies).
Pro Tip: Put all of the "ingredients" for your trail mix into muffin tins so that little eyes can see all of the options and little fingers can easily fill their own bag.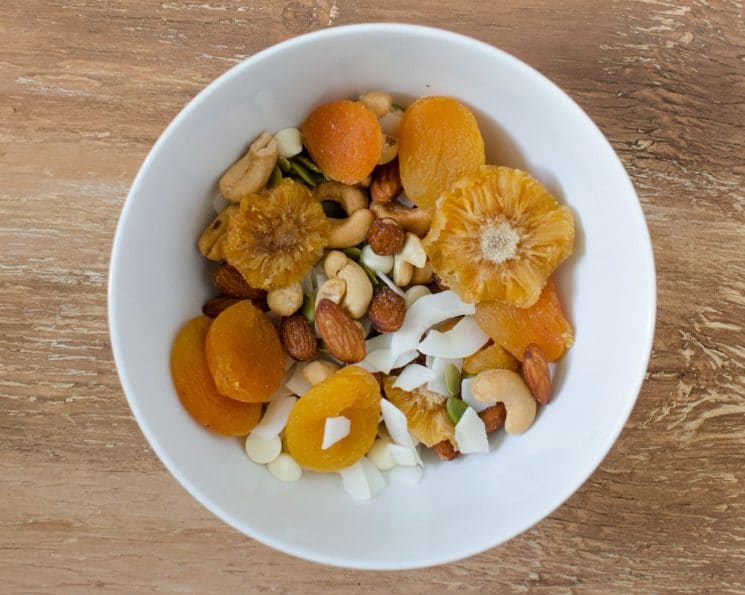 Larabars:
Homemade Date Ball/Energy Bites/snack bars:
Fruit leather:
Dried fruit:
Fresh Fruit:
Freeze-dried fruit:
Veggie Sticks:
Nuts:
I live in the gorgeous Southern Utah just outside of Zion National Park; we do lots and lots of hiking with our little people! As a mom of five who hikes regularly with my kids I've definitely packed a few hiking snacks. If you're headed on the trail you're going to find all kinds of success with these snacks in your bag. Don't forget your water, take it slow, and enjoy the little people as much as the hike!
---
Melissa cooks, confesses, and corrals chickens and children at Bless this Mess. Here you can find healthy recipes (with some simple desserts included), a peek at her hobby farm, and the joys of raising five little ones, eight years old and younger. She's got a whole lot of mess to bless!