I love summer because my garden is starting to come to life. The best way to save money is to cook what's in season and to grow your own vegetables garden. Did you know that kale is one of the easiest vegetables to grow?
I am already using some of my herbs my from garden. How about you? Do you have a garden? Did you grow lettuce? I know a few of my friends are harvesting their lettuce crops right now. One thing I have heard a few people ask about are ways to use up all the kale from their garden? How do you use kale in your diet?
One way I use my kale is to make kale chips. I love these easy crispy kale chips and I think you will too. If you don't believe me, try them. My kids even love them and have requested me to make more already.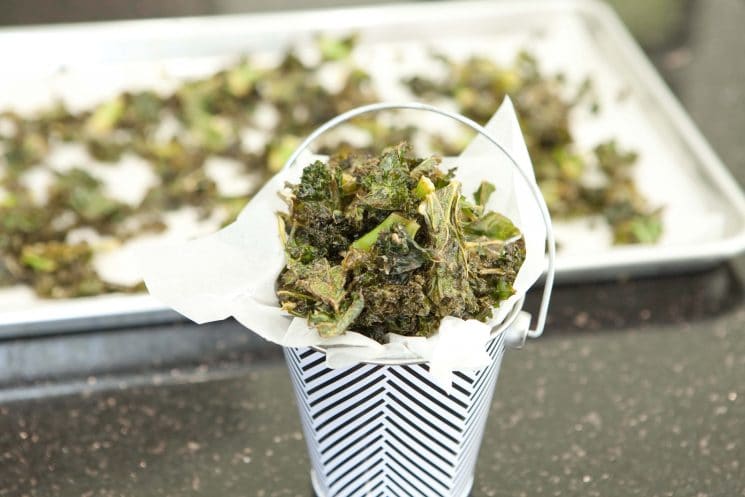 Making the kale chips is extremely easy. Preheat your oven to 350 degrees. Next, cut, wash and dry the kale leaves. Toss all the ingredients into a large bowl.
Massage the oil, lemon juice and sea salt in to the kale using your hands. Place the leaves onto a parchment lined baking sheets and bake for 12 minutes. That's all there is to it. You can get as creative as you would like with these. You can also add some of your own favorite seasonings as well. Some of my favorites are parmesan cheese, garlic salt, or spice it up with some chili powder.
Super Greens
There are so many benefits to adding kale to your die. A couple of them are:
Kale is among the most nutrient-dense foods on the planet
Kale is loaded with powerful antioxidants like quercetin and kaempferol
It is an excellent source of Vitamins C & K
Kale is a good source of minerals that most people don't get enough of
It improves the strength of bone, skin, and hair
I hope you try these amazing kale chips and enjoy them as much as my family did. I am sure glad that I discovered them. Such an easy alternative to chips and they are so easy to bake. Try this super food in a new way!
Ingredients
4

cup

kale

2

tablespoon

grapeseed oil

1/2

medium

lemon

1/4

teaspoon

sea salt
Instructions
Preheat oven to 350°F. Chop 1 head of kale into 1/2 inch pieces (about 4 cups worth).

Place all ingredients in a large bowl; massage the oil, 1 tablespoon lemon juice, and sea salt into the kale using your hands.

Place on parchment-lined baking sheets and bake for 12 minutes or until crispy. Serve immediately.