Homemade Freezer Friendly Taquitos
The perfect solution for nights you don't want to cook! These homemade healthy freezer friendly taquitos are a much better alternative to store-bought frozen taquitos. But they're just as easy to pull out of the freezer in a moment of need!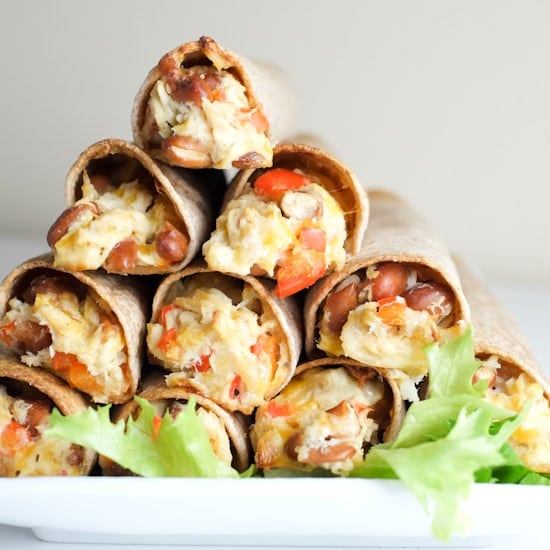 I don't think I'll ever go without having a batch of these taquitos in my freezer again. They've been such a lifesaver!
You know those nights when you just didn't have time to make dinner or completely lost track of time? Grab the chicken and veggie taquitos out of the freezer. Ever feel like a snack of real food but doesn't take time and effort to prepare? Freezer friendly healthy taquitos! They're the solution for everything.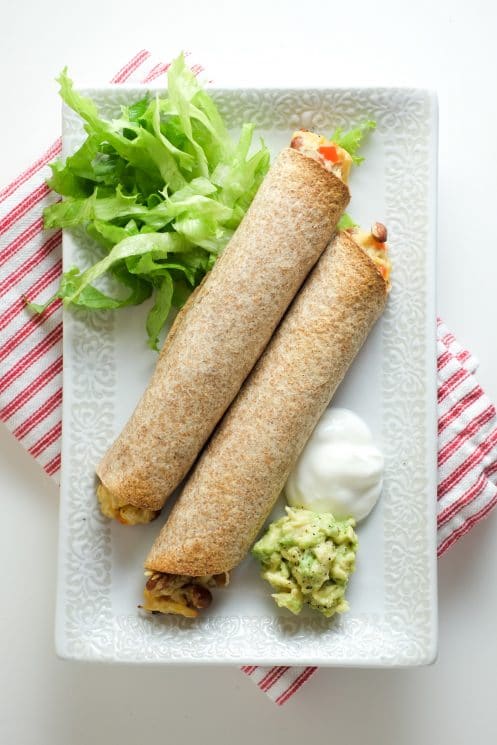 What we love about homemade freezer friendly taquitos
And not only are these taquitos incredibly handy to have on hand, they're super easy, healthy, and versatile. We used ingredients that didn't have to be pre-cooked. That's right – all that will get dirty is a cutting board, a bowl, and a baking sheet. Simple!
Using chicken, beans, red bell pepper, Greek yogurt, and whole wheat tortillas, these taquitos are great for you. They pack in protein, whole grains, fiber, vitamins, and minerals. You can feel good about feeding these to your family, even when you pull them from the freezer!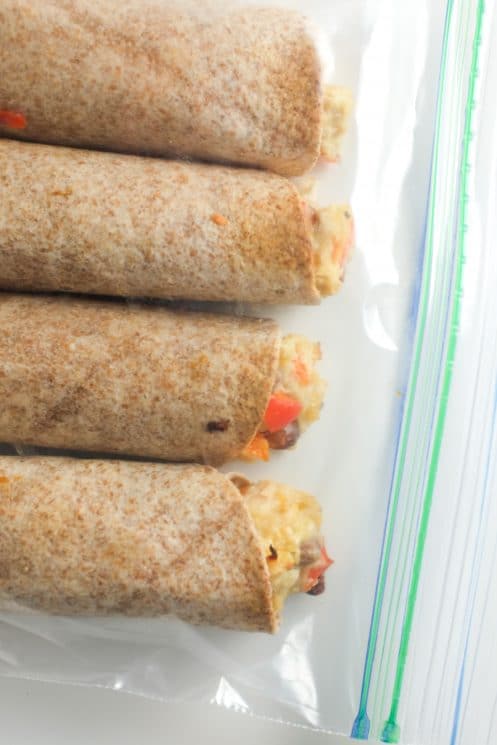 Variations and substitutions
Like we said, these are so versatile! Substitutions are endless.
Don't want to use pinto beans? Sub a different kind of bean, or even use more chicken or veggies. Want to use corn instead of red bell pepper? Go for it! Next time I make these I'm even going to add some chopped spinach to the mix.
In this recipe, we use tomatillo salsa because we love the way it tastes, but any kind of salsa your family loves will work. We also use Greek yogurt because it's nice and high in protein and low in fat, but you could also use low fat sour cream or sub in a reduced fat cream cheese.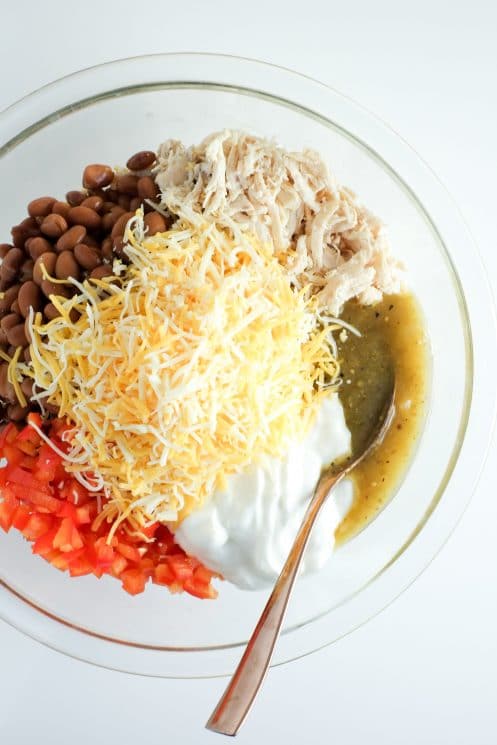 Oh, and tortillas can of course be swapped as well. Corn tortillas would work, they're just harder to work with because they tend to rip. But if you're a fan, try it out and let us know!
Moral of the story – these taquitos can be made to your tastes, so have fun.
How to make healthy freezer taquitos
Okay, to business. The first step is to make sure you have roughly 2.5 cups cooked and shredded chicken on hand, however it is you want to do that. I used a pound and a half raw chicken breasts and slow cooked them for 7 hours with a tiny bit of chicken broth. But you could also shred some rotisserie chicken or cook chicken in some other way. If you're making taquitos for dinner, I recommend doing this the night before or morning of so that dinner is a breeze.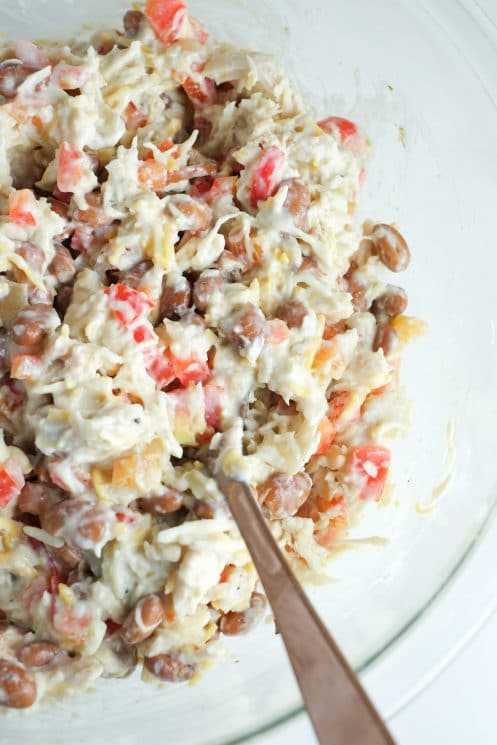 Once you've got chicken ready you only have a teeny bit more prep. Chop the red bell pepper into tiny pieces, and then rinse and drain the beans. Finally, preheat your oven to 425*F and spray a large baking sheet. That's it!
In a large bowl, mix together the chicken, red bell pepper, beans, Greek yogurt, tomatillo salsa, cumin, and cheese. If your mixture seems dry just add a touch more salsa and/or yogurt.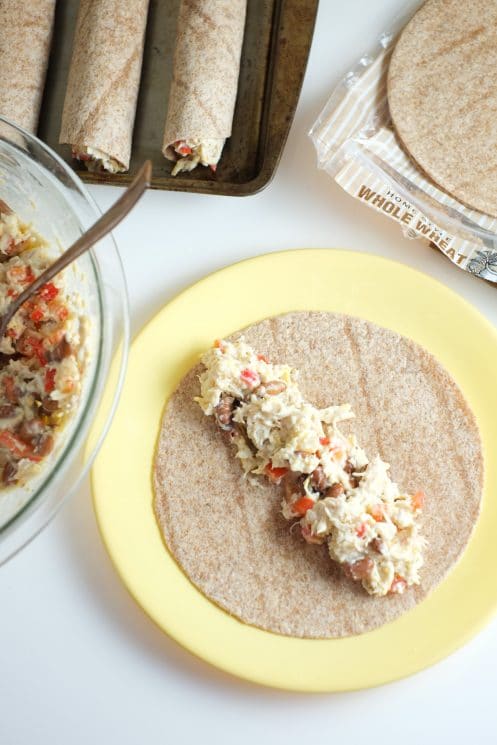 Now fill taquitos by putting a small amount of the chicken mixture in a straight line down the center of the tortillas. Roll tortillas tightly and place seam-side-down on the baking sheet you greased. Try to leave a little room between taquitos so that they bake evenly.
Place in the oven and bake for 20 minutes at 425* F, checking to see when they are lightly browned. Serve warm with avocado, or even some extra salsa and sour cream.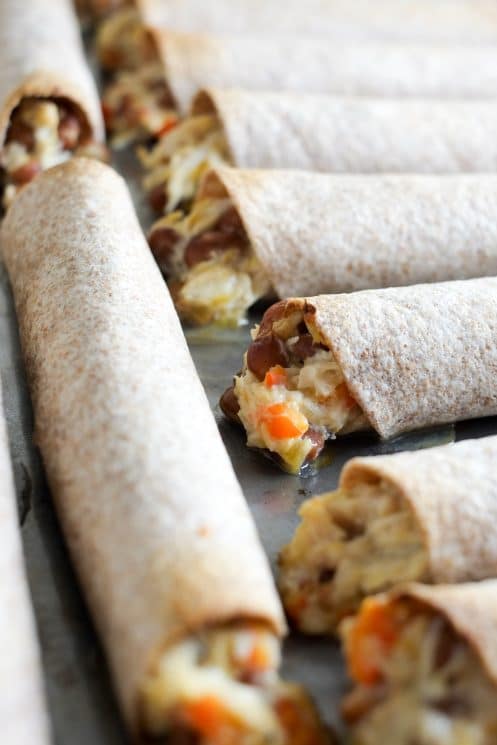 Freezing and reheating taquitos
Before freezing, allow taquitos to cool to room temperature. Then place them in a single layer in a freezer ziplock bag and lay flat in your freezer. Once they're frozen you can move them and jumble them around if you like.
When you're ready for a taquito, remove the desired number from the bag and reheat. You can even package them in smaller bags to grab for lunch if you have a microwave wherever you're headed.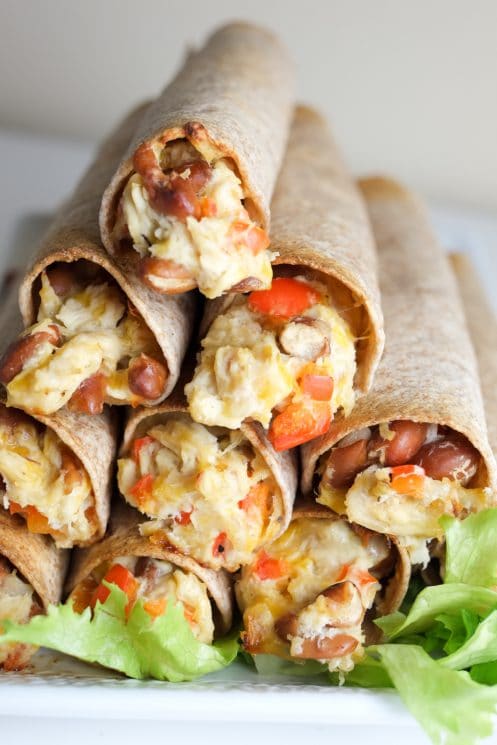 You have two options to reheat. If you're in a hurry, simply microwave the taquitos in small-ish batches (maybe up to 6 at once) for 2-4 minutes. Check them after two minutes and if they're not done in the middle just add another minute until fully heated.
The second option is to heat them in the oven. This option is nice because it helps the taquitos come out crispy. Place frozen taquitos on a baking sheet and bake at 450* for 10 minutes or so, checking every few minutes until they're warmed through.
So what are you waiting for? Throw a batch of these together and you'll thank yourself later!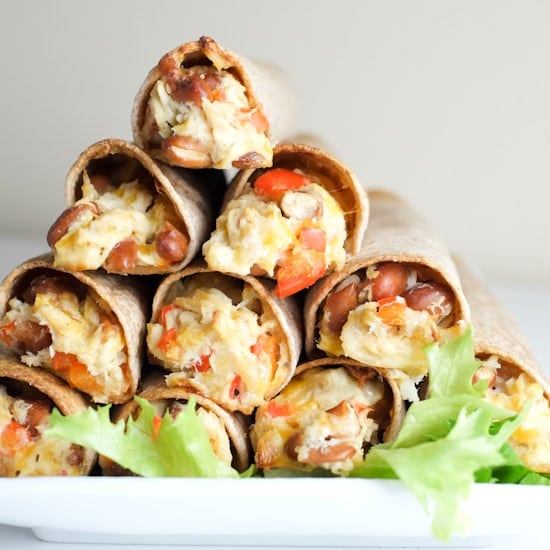 Ingredients
1 1/2

pound

chicken breast

1

none

cooking spray

1

medium

bell pepper, red

1

cup

pinto beans

1/2

cup

Greek yogurt, plain

2/3

cup

salsa

1

teaspoon

cumin, ground

1 1/2

cup

Mexican cheese blend, shredded

14

none

tortilla, whole wheat
Instructions
Cook and shred chicken. I cooked mine in the slow cooker on low for 7 hours with 1/4 cup chicken broth, but you can cook chicken any way you like.

Preheat oven to 425* F and spray a large baking sheet with cooking spray. Chop red pepper into small pieces. Rinse and drain beans.

Mix together chicken, beans, red bell pepper, greek yogurt, tomatillo salsa, cumin, and cheese.

Divide mixture evenly between 14 (6 inch) tortillas. Put the mixture in a line down the middle of the tortilla and roll tightly.

Place seam side down on a large baking sheet. Bake for 20 minutes. Serve with avocado, sour cream, and/or salsa.

If freezing, allow to cool. Then place taquitos in a single layer in a large zip-lock bag (or two) and freeze. To reheat, either microwave for about 2-4 minutes (time varies based on how many are being re-heated), or bake at 450* F for around 10 minutes, checking regularly to make sure they do not burn.