Healthy Soda and Juice Alternatives
G'day everyone- Arman here again! I'm here today to share some delicious smoothies which trump soda and packaged juices!
Even though I clearly didn't show it at the time, many years later- I'm grateful my mum never let me have those 'juice boxes' and tetra packs growing up.
I remember all throughout primary school of how jealous I'd be of all the kids whose lunchboxes contained juice boxes and mini sodas. Mum would send me to school with a bottle of water or a plain milk and tell me that juice was only for the house. She'd try to explain that the juice boxes my friends were drinking were made of fruit juice concentrate and sugar- Not a sign of any fresh oranges, apples or pineapple in sight.
These days? I now appreciate my mum for not letting me go to school with those juice boxes and instead, nourishing my sister and I with 100% options or even better- Homemade! Whenever we had some frozen fruit on hand, my mum would treat my sister and I to smoothies, which resembled ice cream and frozen yogurt!
Smoothies are a great alternative to fruit juices and sodas and in many cases, are a fantastic way to add some extra nutrients in by sneaking veggies! Not only that, with a few unique combinations and additions, you can also create versions which resemble milkshakes, frosty and thick shakes! Smoothies are also simple and easy to make. All you need is a blender, fruits and veggies for your smoothie, tall glass or mason jar, and straw!
Here are 10 delicious smoothie recipes which are the perfect alternative to sodas and fruit juices, which will have kids never looking at a can of the fizzy or boxed stuff again!
Healthy Peppermint Patty Smoothie
The Big Man's World
Carrot Cake Smoothie with Cream Cheese Frosting
1000 Lovely Things
Diethood
Tried and Tasty
Chocolate Peanut Butter Smoothie
Mandy's Recipe Box
Bless This Mess Please
Strawberry Pineapple Banana Lava Float Smoothie
Averie Cooks
Coconut Raspberry Chia Smoothie
Super Healthy Kids
Healthy Orange Cheesecake Smoothie
1000 Lovely Things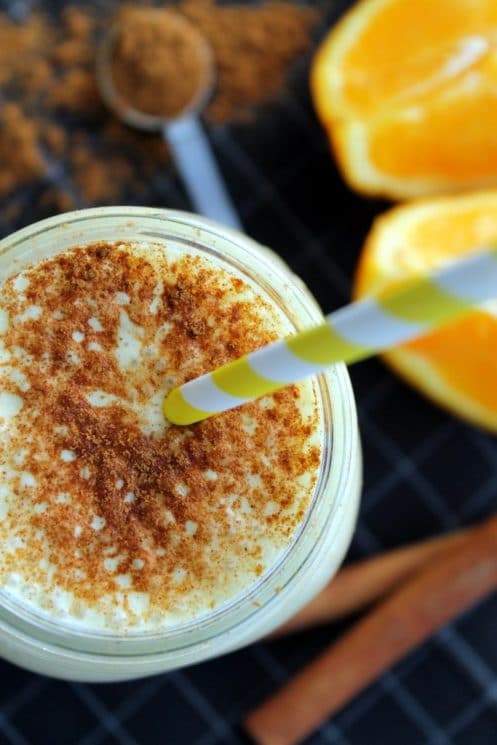 Diethood
Arman is blissfully ignoring the freezing temperatures outside and enjoying smoothies…..wrapped in a blanket and with the heater turned up full blast. His sweet tooth has been rampant lately, as evidenced by his latest creations on his site– Stop on by and say hi!