Fish Tacos with Pineapple Salsa
Fish Tacos are simple to make, loaded with fresh ingredients, and a perfectly mild white fish for your kids to enjoy.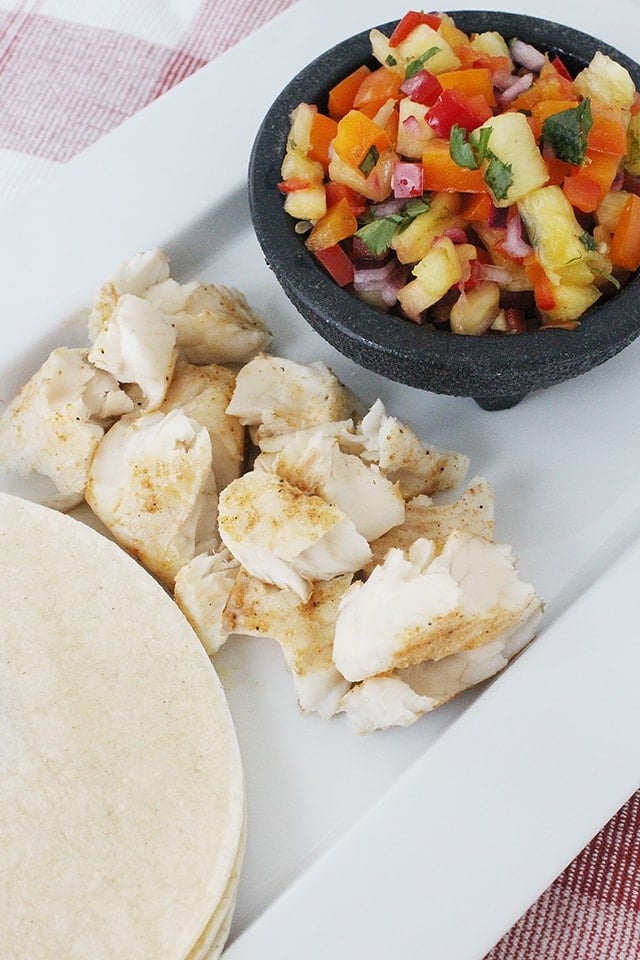 Which Fish is Best for Fish Tacos?
Most kinds of fish can actually be used for fish tacos and turn out delicious.  It really depends on your preferences, and some fish do go better with certain types of toppings.  Here is our take:
White Fish. 
Salmon.
Farmed Freshwater Fish.
What are the Best Toppings for Fish Tacos?
Some of our favorite toppings are:
Shredded white cabbage
Greek yogurt or sour cream
Chopped cilantro
Fresh squeezed lime
Chopped bell peppers
Thinly diced red onion
Pico de Gallo
Chopped pineapple
Chopped mango
Is White Fish good for you?
Fish in general has a lot of nutritional benefits.  Fish is high in omega-3 fatty acids, contains high-quality protein, selenium, Vitamin B12, and and Vitamin D.  White fish is generally a lot lower in calories than other fish and is generally really filling.   Not all white fish is create equal though, so make sure if you are going to eat fish often, you do a little research about the type of fish you are eating. Paying attention to mercury levels is something you may also want to do.
More Fish Recipes
If you want to introduce your kids to more fish recipes, we have some good ones for you!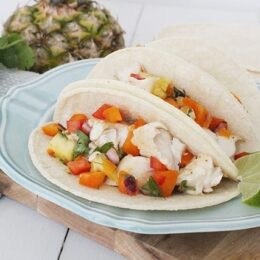 Ingredients
12

ounce

white fish fillet

1

medium

lemon

1

tablespoon

olive oil

1

teaspoon

chili powder

1

teaspoon

cumin, ground

1/4

teaspoon

salt

1/4

teaspoon

black pepper, ground

8

medium

tortilla, whole wheat
Salsa
2

cup

pineapple

1

medium

bell pepper, red

1

medium

bell pepper, orange

1/4

medium

onion, red

2

tablespoon

cilantro

1

medium

lime

1/8

teaspoon

salt
Instructions
Preheat oven to 425° F.

Place fish on a baking sheet and set aside.

In a small bowl, whisk together 1 tablespoon of lemon juice, olive oil, chili powder, cumin, salt, and pepper. Pour over fish.

Turn fish to coat with the marinade, then cover and refrigerate while preparing the salsa.

Dice pineapple, peppers, and onion; chop cilantro. Add these ingredients to a small bowl, along with the zest of the lime (about 1 tablespoon); set aside.

Drain fish of excess marinade and bake for 15-20 minutes or until it flakes easily when pulled back with a fork. (The time will vary depending on the thickness of the fish.)

Transfer cooked fish to a cutting board then cut or flake into 1-inch pieces.

Serve fish wrapped in warmed tortillas and topped with pineapple salsa.

Enjoy!