Tater tots. Classic cafeteria lunch food right? The reality is, they really are not very different from french fries. Potatoes, fried in oil. But kids love them! Our version is made from garbanzo beans which are high in fiber, protein, and B vitamins. We bake them instead of fry and they still turn out crispy, but are healthy and delicious.
Garbanzo beans (aka chickpeas) are so versatile, and really make great kid food. They are super nutrient dense, which we love because sometimes kids don't eat a lot at a time. If you can pack in the nutrients in a smaller amount of food, then you definitely don't stress as much about how much your child is eating. These tots are a great way to do this. They literally have at least double the nutrition that a regular tater tot would have. This is how they stack up against potatoes.
| | | |
| --- | --- | --- |
| | Chickpeas (1/2 cup)  | Potatoes (1/2 cup)  |
| Calories | | |
| Fat | 2g | 0.1g |
| Fiber | 6.5g | 2.4g |
| Protein | 7.2g | 2.2g |
| Potassium | 238mg | 448mg |
| Vitamin A | 22 IU | 2 IU |
| Vitamin C | 1g | 21mg |
| Calcium | 105mg | 13mg |
| Iron | 2.4mg | 0.85mg |
| Vitamin B 6 | 0.22mg | 0.3mg |
| Magnesium | 39mg | 24.5mg |
Seriously a powerhouse food. And there are so many kid-friendly ways to prepare chickpeas! Some of our other favorite recipes using them:
This Crispy Bean Tots Recipe is super easy to make. Combine your ingredients in food processor until relatively smooth. Then form the dough into a long roll. Slice it up into small pieces and shape into tots by rolling them between your hands, and then flattening the ends. Spray generously with oil. I LOVE my Misto oil sprayer. You can fill it with any kind of oil you want, and then use it as a spray! Genius. Bake and then serve warm! My kids like to dip in ketchup (every kid loves ketchup right?) We like the Trader Joe's brand.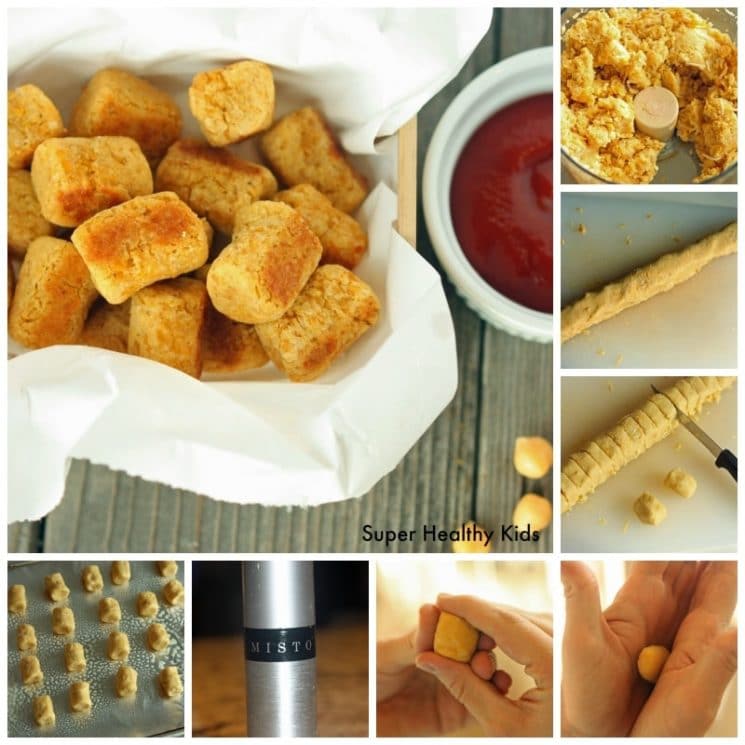 Serve these with a sandwich and some veggies as a yummy lunch, or a fun after school snack!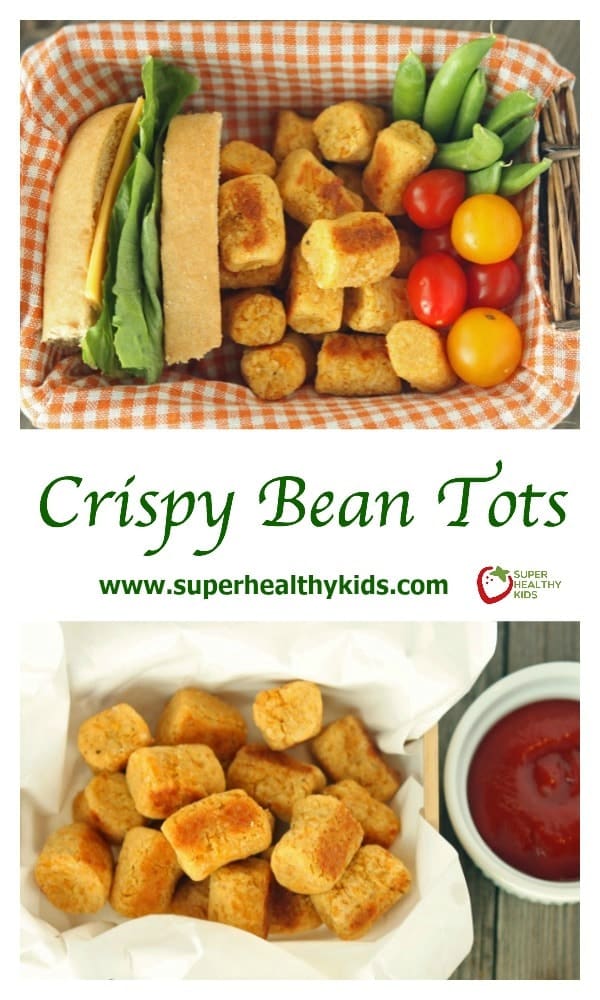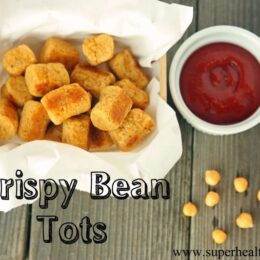 Ingredients
2

can drained

chickpeas (garbanzo beans), canned

1

large

egg

1

clove

garlic

1

cup, crumbs

panko (Japanese bread crumbs)

1/3

cup, chopped

onion

1/2

tsp

salt

1/4

tsp, ground

black pepper, ground

1/2

cup, diced

cheddar cheese
Instructions
Pre-heat oven to 450 degrees F.

Drain and rinse beans. In food processor, combine all ingredients. pulse until smooth.

Remove from food processor, and form into a roll. Slice into small pieces. Form tots by rolling into between your hands, and then flattening the top and bottom.

Spray the tops with cooking spray or a little bit of oil. Bake tots for 10 minutes on one side. Turn the tots over and bake for an additional 5 minutes, until they are golden and crispy.

Serve with your favorite dipping sauce.