No more boring stove-top oats! Warm, chewy, sweet baked oatmeal is bursting with berries, bananas, and walnuts. Slide this simple concoction into the oven and earn some hands-off time before breakfast.
Oatmeal is fast. It's easy. And it's one of our best last-minute breakfasts. Now we've found a way to add a laid-back weekend vibe to oatmeal. We think you're going to love it!
This Baked Berry Oatmeal tastes like a lightly sweetened oat muffin: crisp and golden on top, and moist and chewy inside. Fresh berries and crunchy walnuts add a fancy flavor and texture. And kids will love the familiar cinnamon-laced oats and custard-like baked bananas at the bottom of their bowl.
Baked Oatmeal for Healthy Kids
Ahhh, what's not to love about oats for kids? This whole grain is loaded with 6 grams of fiber per serving, plus vitamins and minerals kids need to grow and thrive. If you establish an oatmeal habit in your kids now, they'll enjoy healthier blood sugar levels and a lower risk of heart disease down the road.
The berries and bananas in these oats provides an antioxidant boost, and we've kept the added sweeteners to a minimum: just two tablespoons of pure maple syrup.
Walnuts add healthy omega-3 fats and a little plant protein. Altogether, a serving of this baked oatmeal provides 9 grams of protein! Dig in, kids…
Why Baked Oatmeal?
If your kids are iffy about the texture of oats made in a pot, Berry Baked Oatmeal offers something that looks and feels a little different. The oats are drier and less "gloppy" when baked. This might prove more appealing to kids, and less messy for toddlers.
Baking your oatmeal lets you have much-needed hands-off time before breakfast. Slide the baking dish in the oven and do what you like. You're free from having to stand at the stove, stirring, wondering whether or not your oatmeal is going to fire off a molten bubble (you know what we're talkin' about…)
Lastly, baked oatmeal feeds a crowd with a touch of elegance that's missing from the stove-top variety.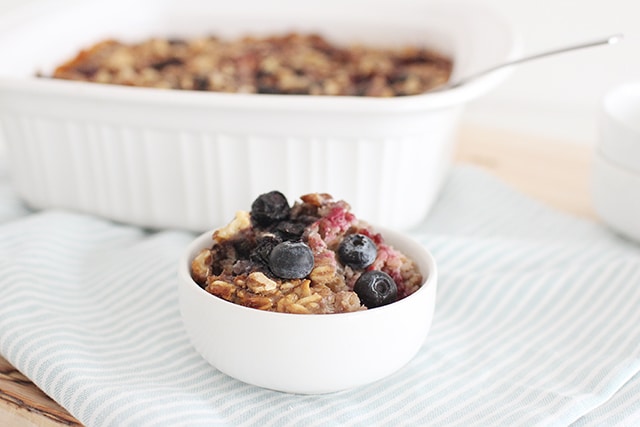 Looking for more creative ways to serve oats? Try Instant Pot Steel Cut Oats or the super-decadent (but super healthy) Peanut Butter Chocolate Chip Oats.
Berry Baked Oatmeal
Print
Pin
Rate
Servings:
6
1 piece/slice
Ingredients
2

cup

oats, dry

1

teaspoon

baking powder

1 1/2

teaspoon

cinnamon

1/2

teaspoon

salt

1/2

cup

walnuts, chopped

2

tablespoon

maple syrup, pure

2

cup

milk

1

large

egg

1

tablespoon

butter, unsalted

2

teaspoon

vanilla extract

2

medium

banana

1 1/2

cup

mixed berries, frozen
Instructions
Preheat the oven to 375°F. Spray the inside of an 8-inch square baking dish with cooking spray.

In a bowl, mix together the oats, baking powder, cinnamon, salt, and half the walnuts.

In another bowl, whisk together the maple syrup, milk, egg, butter (slightly melted), and vanilla.

Slice bananas in 1/2-inch pieces and arrange in a single layer in the bottom of the prepared baking dish.

Sprinkle two-thirds of the berries over top of the bananas, then cover with the oat mixture.

Slowly drizzle the milk mixture over the oats, then shake the dish gently to make sure the milk moves all the way through the dish.

Top with remaining berries and walnuts.

Bake for 35 minutes until the top is nicely golden and the oat mixture has set.

Remove from the oven and let cool for a few minutes before slicing into 6 pieces.