Baby Burgers: Toddler Friendly Finger Food
We asked you on Facebook the other night what type of recipes you wanted to see more of- and many of you wanted Toddler Friendly Dinners! So, today I've got one for you! Baby Burgers! Plus, if you haven't been over to our meal plan page, we update it every Saturday with new menu ideas!
I love these as an alternative to a regular burger because
It's small enough for little fingers to hold.
The buns are homemade, to get them the perfect size!
Most of the veggies are inside the patty, so they don't slide off while the kids are trying to eat it!
Plus, we served our burgers with sliced pears, and don' they just look like fries (without all the work!) The kids loved the pears as much as they like fries!
Now, I know this post will seem long and overwhelming, but I'm hoping it will help clarify the steps for you! So, here we go!
First: The mini burger buns!
Making hamburger buns is easy! I don't mind buying buns, I can usually find them without too many ingredients and they aren't too expensive. BUT, if I don't want to travel to the store, or I want the mini kind, or I just want to make bread and hang out in the kitchen with my kids, I make these! (I'm trying to convert our Sunday baking from cookies to breads, and I'm loving it!!)
I first had to grind some whole wheat- My husband bought me a wheat grinder for Christmas!
But then, I combined my 2 cups flours with 1 Tablespoon yeast (full recipe below)
In a small saucepan I warmed 1 cup of milk, 1/4 cup sugar, 1/3 cup butter, and 1/2 tsp salt, just until the butter melted and no longer.
Then, I poured the liquid into the dry ingredients and mixed.
Then, in a high powered mixer (like a kitchen Aid), I added 2 cups of whole wheat flour, 2 beaten eggs and kneaded for about 5 minutes. You can also knead by hand if you don't have a mixer.
I added about 1/2 cup more of flour to keep the dough from sticking to the sides (you may or may not need this).
Then, I sprayed a large bowl with cooking spray, and dumped the dough into it, covered, and let rise for one hour.
After dough rises, we dump it onto a floured surface and roll out. This is a great job for the kids!
then, another job for the kids, we cut out our buns using a small circle cutter (like a doughnut cutter, without the center)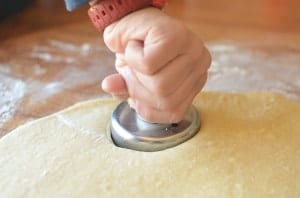 Then, once we have all the circles cut out (it makes about 18), we brush the tops of the bun dough with an egg white wash. (another great job for the kiddos)
Then, we baked them. You can also sprinkle sesame seeds on the buns if you have some!
Second: The Baby Burger
First, we added our veggies to the meat mixture to keep the veggies from falling off our little burgers.
And one of my husbands co-workers gave us some meat to try from his farm. He has some pasture raised, grass eating cows, but apparently, he's not ready to sell just yet. Maybe in a few months.
Then, to avoid standing over a hot griddle and get the right size patty, I pressed the patties into a muffin tin. Make sure not to fill the muffin cups to high, or you'll have a tall patty (not exactly the easiest thing to eat if you have a little toddler mouth!)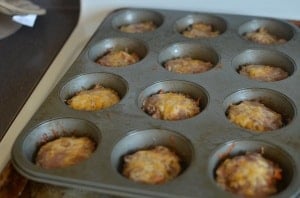 Then, we baked these till they were cooked all the way through (15 minutes)
And that was all! Well, I do realize those are quite a few steps, but they were fun to make, and once in awhile, makes a great, toddler friendly meal. Of course to save loads of time, you could use store bought dinner rolls for your buns!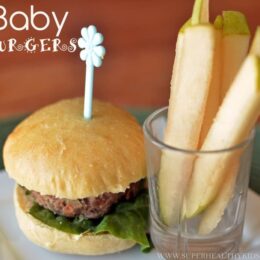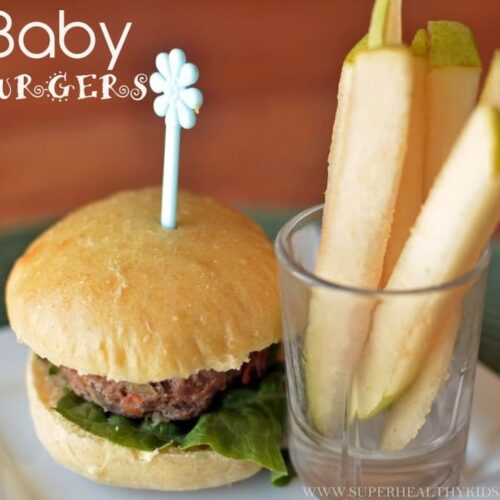 Ingredients
Homemade Hamburger Buns
2

cups

flour

2

cups

whole wheat flour

1

tablespoon

yeast

1

cup

milk

1/4

cup

sugar

1/3

cup

butter

1/2

teaspoon

salt

2

beaten eggs
Hamburger Patties
1

lb

ground beef

1

egg white

we used the rest of egg white from our rolls

1

carrot, grated

1/2

onion, chopped finely

1/2

cup

mushrooms, chopped finely

1

teaspoon

season salt

1/2

teaspoon

garlic powder

1/2

teaspoon

onion powder
Instructions
Homemade Hamburger Buns
In a large mixing bowl, stir together 2 cups of flour and yeast. In a small saucepan combine the milk, sugar, butter, and salt. Heat until the butter is just melted, no longer. Add the milk mixture to the flour along with the two beaten eggs. Add the remaining whole wheat flour and knead for about 5-10 minutes. Add more flour if necessary to prevent the dough from sticking to your bowl or work space.

Transfer dough to another bowl sprayed with cooking spray, and allow the dough to double in size, or for one hour. After risen, dump onto floured surface, and roll out with a rolling pin. Cut circles (about 3 inches across) in order to get small hamburger buns.

Transfer circles onto a baking sheet. Crack one egg white into a small bowl, and whisk for 1 minute. Using a pastry brush, brush the tops of the circles with egg white. (optional: sprinkle with sesame seeds if you have them). Allow to rest for about 10 minutes on the pan.

Bake at 375 for about 12 minutes, or until the tops begin to brown. Remove from oven to cool. Slice lengthwise like a hamburger bun. Makes 18.
Hamburger Patties
Combine all ingredients and press small amounts into a muffin tin. Sprinkle cheese on top if you like it. Bake at 375 for 15 minutes. Pop out onto paper towels to blot the moisture away before you put the patties on your buns.
And don't forget to serve your baby burgers with sliced pears!