3-Ingredient Frozen Raspberry Lemonade
Ring in summer with a healthy frozen raspberry lemonade, made with whole fruits and fruit juice instead of sugar.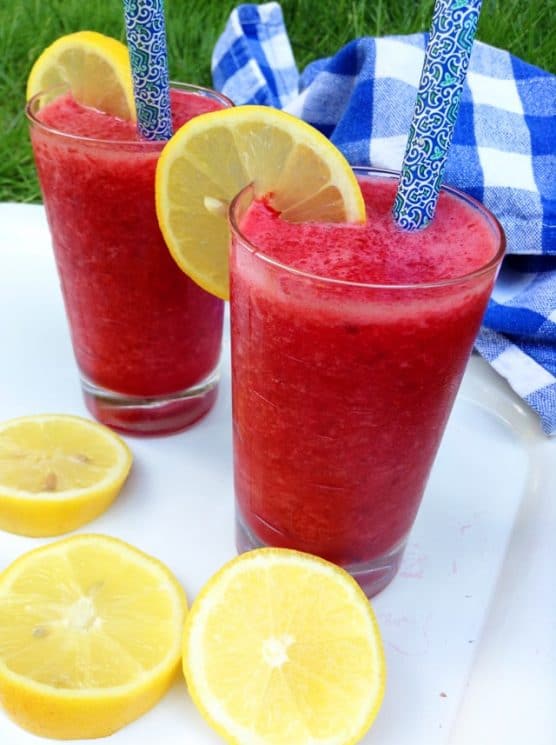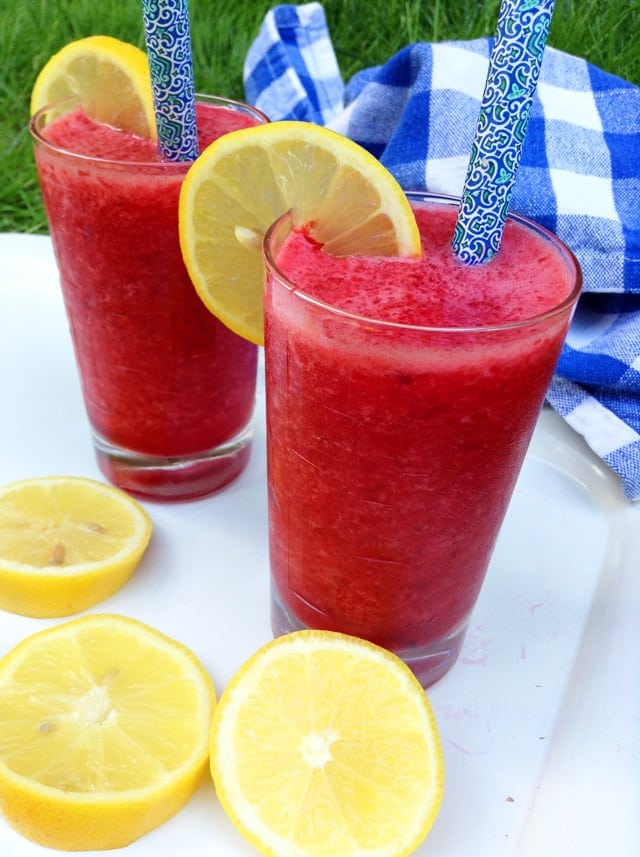 Remember how great it is to be a kid? Playing hard on a hot summer day, then chilling out in the shade with a frosty popsicle or an icy glass of lemonade or punch.
I loved that! And I want my kids to experience those refreshing summer memories for themselves. But can we
please
try it without the crazy load of sugar, and the artificial food dyes?
The answer is YES. And it's easy, too! As easy as freezing leftover smoothies into a popsicle mold. As easy as these
. And as easy as the THREE simple ingredients in this Healthy Frozen Raspberry Lemonade!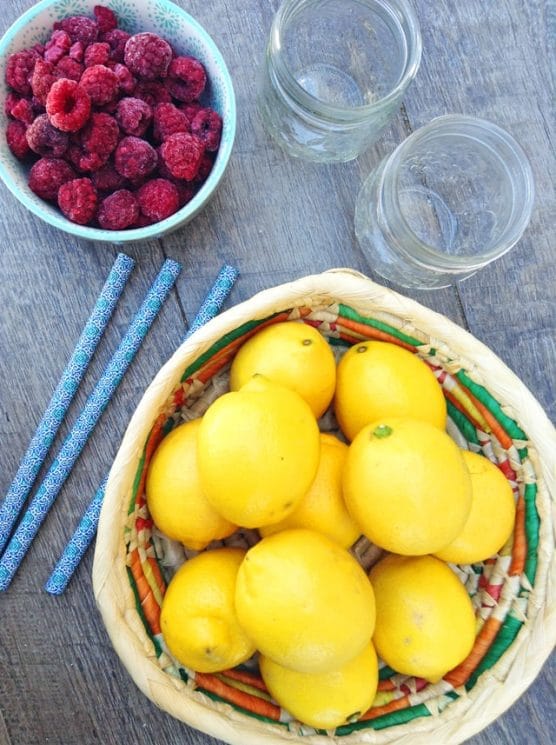 Fruit-Sweetened Flavor
Our fresh take on frozen raspberry lemonade tastes sweet and refreshing, but doesn't fill up kids with added sugars or artificial coloring.
Instead, it's made from three simple fruit ingredients: fresh-squeezed lemons, apple juice concentrate, and whole frozen raspberries, which are packed with fiber and antioxidants.
A quick note about sugar: this lemonade is free of added sugars, but it is not "sugar-free." That's because fruit juice does contain a fair amount of natural sugars.
And we're OK with that. Because for a treat, this lemonade is an excellent swap for corn-syrup-laden, store-bought punch or slushies. Fruit sugars in juice are minimally processed by comparison, and here they're paired with the beneficial fiber of whole berries.
Try it at your next family barbecue or pool party! The kids will love it, and the parents will thank you.
All you need to make this sweet-tart frosty treat is a blender, some ice, and the three ingredients listed above. Just dump everything into your blender and let it fly!
Here's where you've got options, depending on whether you'd like to eat or drink your frozen lemonade. For a sippable drink, pour the lemonade into a glass, stick a straw in it, and serve right away. For a firmer, slushier lemonade that's best eaten with a spoon, pour it into a jar and freeze it for an hour or two (if you freeze it for longer than that, expect a rock-solid block!)
We think it's delicious both ways.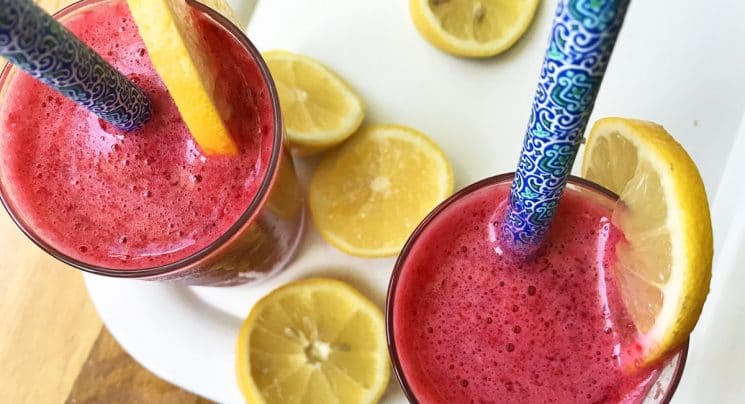 Happy summer!
Ingredients
1

cup

apple juice concentrate

defrosted from frozen

3/4

cup

frozen raspberries

1/2

cup

fresh lemon juice

from about 5 lemons

2

cups

ice
Instructions
Place all ingredients in a blender, and blend until ice and fruit are finely blended and smooth. Pour into glasses and serve immediately, or freeze an additional 60 minutes for a firmer, more "scoopable" consistency.