Adding the super food, sweet potatoes, gives you so much more nutrients in these delicious biscuits!
The weather here in Southern Utah is absolutely perfect. Our high mountain altitude means that the nights cool off but the days still warm up nicely. Soup, stews, and chilis are on my meal plan often and I am always looking for quick and easy sides to go with them.
These quick and easy sweet potato biscuits are a long-time family favorite. They are simple to make, have veggies hiding in them, are a gorgeous light orange, and are always a big hit with the whole family. You are going to love them too, I just know it!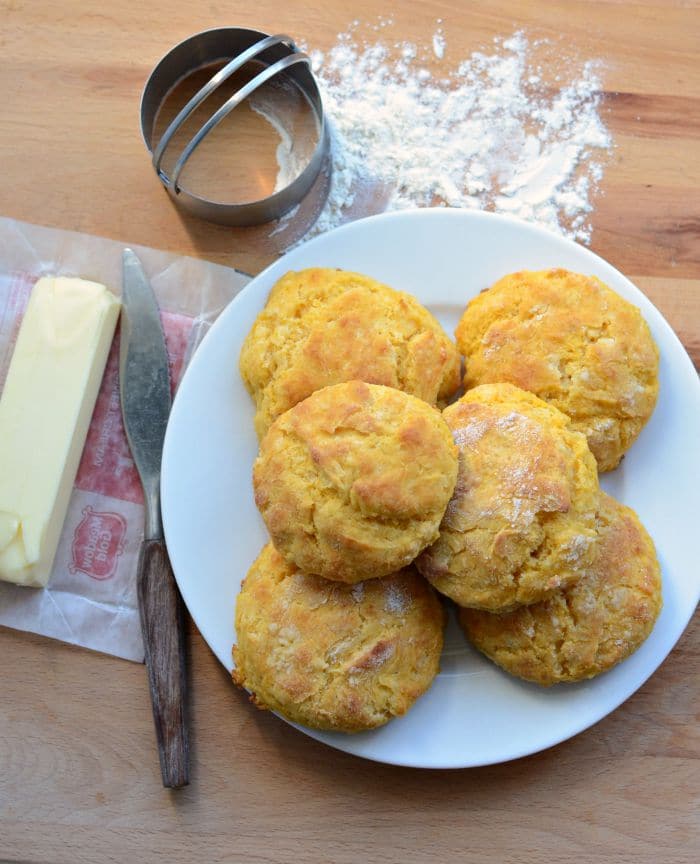 Here are a few thoughts for you on the type of flour that you can use for these. You can use all-purpose flour, a mixture of half all-purpose flour and half whole wheat or all whole wheat flour. If you are going to use 100% whole wheat flour I highly recommend buying whole wheat pastry flour. This flour is very finely ground from soft white wheat berries unlike traditional whole wheat flour that is ground from hard red wheat berries. The whole wheat pastry flour yields to a much softer and fluffier biscuit. You can use traditional whole wheat flour but your biscuits may turn out dense and thick (not typically the goal for a delicious biscuit…).
When it comes to the sweet potato this is a great way to use leftovers. If you baked a few earlier in the week this would be a great use for some of the extras. If you don't have any sweet potatoes already cooked in the fridge then you can peel and dice one up, cover it in a small saucepan with water, and then boil until fork tender. Drain the extra cooking water before mashing or running it through your blender, food mill, or food processor. These sweet potato biscuits are an excellent dinner side (that go perfectly with a little vanilla bean honey butter on top), and I love to make a double batch and save half for the next morning. They are perfect as breakfast sandwiches with a fried egg and melted cheese in between two halves. No matter how you enjoy them they are delicious!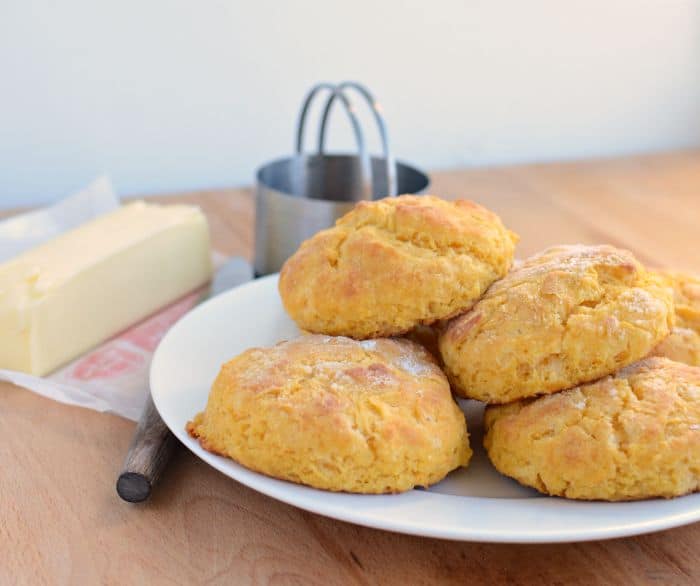 Melissa cooks, confesses, and corrals chickens and children at Bless this Mess, where you can find healthy recipes (with some simple desserts included), a peak at her hobby farm, and the joys of raising five little ones, eight years old and younger. She's got a whole lot of mess to bless!