Potluck Party Pepper Salad
If you want to be sure there will be something healthy to eat at a potluck, you've got to bring it yourself! Last night, out of about 40 dishes, I believe there were more than 30 desserts. Sounds like a childhood dream, right? I'm not sure my kids even noticed my pepper salad sitting on the picnic table, but it was there! Waiting for someone to pass up the cupcakes, and dive into our salad at our annual Welcome party for the students from Japan. My husband teased me all night about how no one was going to eat our healthy offering. But once the treats were gone, and people were still hungry… guess what they ate? My salad!
We started with our traditional pepper salad, but after I was finished I posted it on facebook, and you had some great recommendations! We really pumped it up with yumminess, and I can tell you, the new salad is better than the first!
We started with some bell peppers and red onions:
Then, from the conversation on Facebook, we added black beans. We wanted to add corn, but when I peeled the husk off our corn, the kernels were shriveled and gross, so we didn't add the corn. But, we did include some avocado!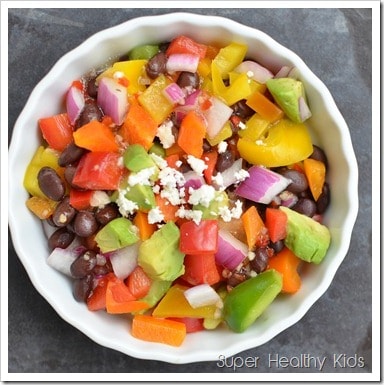 Although the salad wasn't the first thing to be finished off at the party, it did end up getting eaten. 🙂 My sweet friend Mary said it was because the plastic wrap was still covering the bowl, although, I don't think any lids or plastic wrap stopped people from the watermelon shaped rice Krispies, or the homemade bon bons. ha ha.
Here is our final recipe is here so you can take it to your next potluck!! (and if your lucky, you'll take some home too)
Ingredients
6 bell peppers, chopped ( a mix of orange, red, green, and yellow.
1 red onion, chopped
2 cans black beans, rinsed and drained
3 avocados, pitted, peeled and chopped.
1 large tomato, chopped
1/2 cup feta cheese

Dressing

1/4 cup white vinegar
1/4 cup olive oil
2 tsp water
1 tsp garlic salt
1 tsp sugar
1/2 tsp onion powder
1 tsp oregano
dash of black pepper
1/8 tsp thyme, dried
1/8 tsp dried basil
1 tsp dried parsley
1 tsp salt
Instructions
Combine all the vegetables in a very large bowl.
Combine the dressing separately, and pour over vegetables.
Allow dressing to marinate your vegetables in the fridge as long as you choose.
Top with feta cheese
Our other potluck salads: