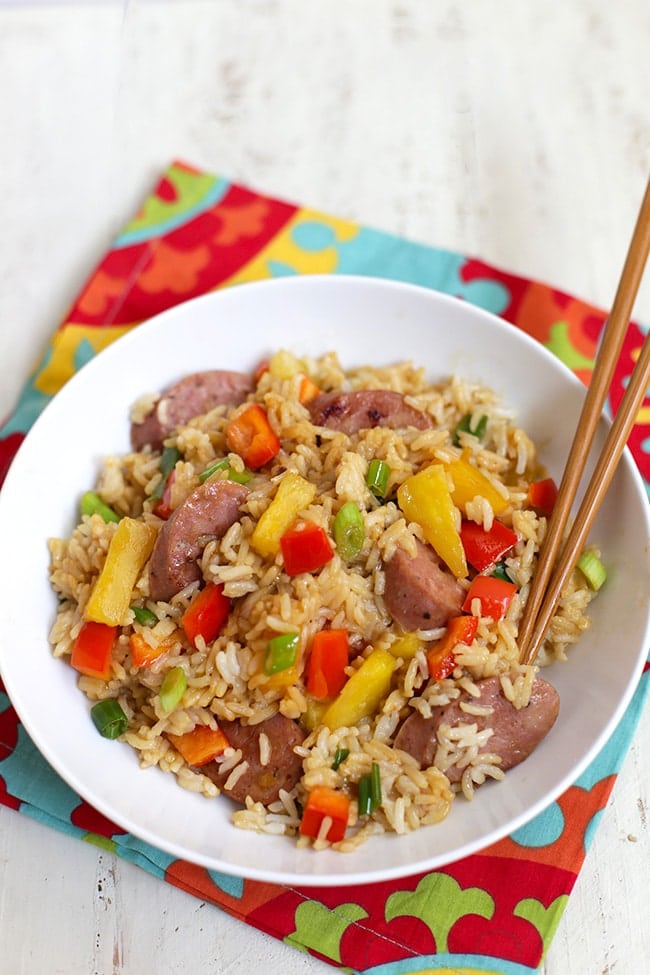 In my experience, getting a healthy dinner on the table every night for my family means that I have to invest a little bit of time and planning to make things happen. Still, we have work, school, church, and extracurricular activities to keep up with, so I need to have a good mix of more time intensive meals (that I can save for weekends or evenings when we have more time) and some quick meals (like healthy slow cooker recipes or one pot dinners) to keep things simple on our busiest nights.
This Pineapple Fried Rice is is one of those speedy dinners that's great when you're short on time but don't want to be short on flavor. It's loaded with color and it's easy to customize with what you have on hand. There are a few elements to fried rice–rice and soy sauce (or tamari or coconut aminos) that are always there, but as for the rest of the add-ins? Well, you can make it your own.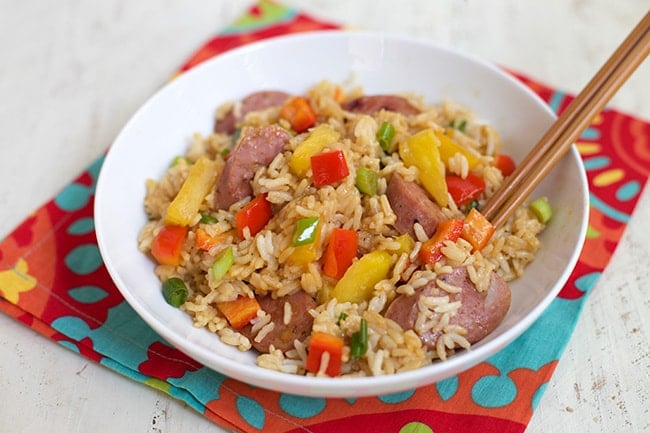 This pineapple version is one of my all-time favorites. We change it up a bit every time we make it–sometimes we keep it a vegetarian meal by adding in some scrambled eggs or a vegan meal by leaving out any meat or eggs and adding in some edamame. Sometimes, we use coconut rice (rice cooked with coconut milk) or brown rice. Other times, I'll stir in a handful of fresh cilantro or basil. You can add different veggies each time–broccoli or peas are nice, or a handful of greens or some purple cabbage all lend color, flavor, and nutrients to this easy meal.
It's easy enough to work into a weekly menu and is a super simple way to use up the half of a bell pepper or those last few carrots in the produce bin of the refrigerator. At the end of the day, I just love that even with the word "fried" in the title, this Pineapple Fried Rice is still a meal loaded with fresh veggies (and fruit!) that I can get on the table in minutes.

What are your go-to quick meals?
Notes on the recipe:
Gluten free tamari or coconut aminos can be substituted for the soy sauce.
You can absolutely use cooked brown rice for extra protein and fiber.
For a vegetarian version, skip the chicken apple sausage. Use 1-2 scrambled eggs in its place, or add 1 cup frozen edamame.
Add in any veggies you like–snow peas, frozen peas, broccoli, spinach, zucchini, etc. You'll want about 2 cups of veggies. The bell peppers, carrots, and green onions are simply suggestions.
Emily eats, reads, lives, and loves over at One Lovely Life where she serves up healthy food and happy thoughts for whole living.