These Peanut Butter Chocolate Granola Bar Bites are quick, easy, and don't require baking. Perfect for on-the-go snacking.
I try. Seriously, so dang hard. I try to make my kid not want sugar. I make all-natural fruity yummy treats that he loves. I make dark chocolate naturally-sweetened yummies that he loves.
I educate him on why we can't eat processed sugary junk. I give him incentives for making healthier options. All these good parental things that I'm supposed to do.
Yet it doesn't seem to do any good when I've got a sweet-toothed little boy on my hands.
In the morning when I'm making his lunch, I get puppy-dog eyes from him while he's practically begging for me to pack a piece of candy.
"Sorry buddy – candy won't help you to learn in school."
And then when he gets home from school, maybe he thinks I've changed my mind, and I'm approached with yet another set of puppy-dog eyes.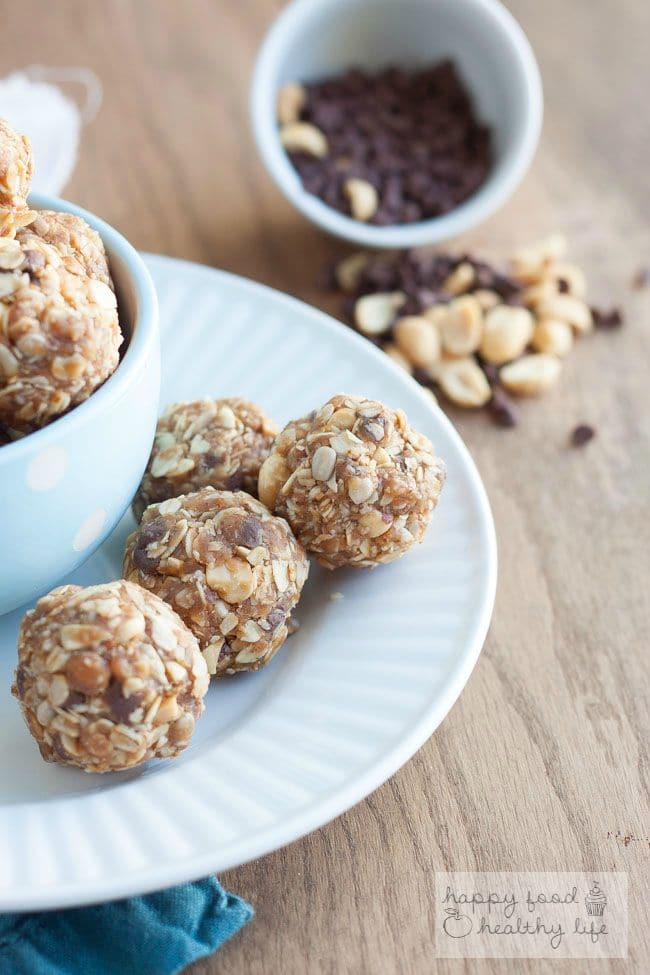 "Sorry buddy – candy won't help you to recharge or keep you full until dinner time."
And then after dinner, those eyes are back, and this time with a puuuhh-lleeeeeaaase a mile long.
Dang, this kid is relentless!
"Sorry buddy – it's close to bedtime, and a piece of candy just isn't necessary for your body."
I have to say, I do know where he gets it. Yup – right here. I have always loved candy. I'm going to lose a bunch of you right here, but black licorice is my all-time favorite. I know, you totally think it's disgusting. But WAIT, it gets back to normal here. My second favorite is any of the Reese's varieties. Trees, eggs, hearts. They're all mouth-watering. They're all calling my name every holiday season.
Yet I know there's a reason I tell my kiddo that candy isn't good for his body, just like it's not good for mine. But I refuse to give up that delicious chocolate + peanut butter combination, which is why I created these super simple and healthier Peanut Butter Chocolate No-Bake Granola Bar Bites, a spin-off of my basic granola bar bites.
In a large bowl, combine oats, flax, sunflower seeds, and peanuts. Top with melted peanut butter mixture and mix until completely combined. Once the mixture has come to more of a room temperature, add the mini chocolate chips and incorporate them throughout the mixture. Roll 2-Tablespoons worth of dough between your hands to form a ball. Place on a parchment paper or baking sheet, Repeat with remaining dough.
Honestly, they are these little morsels of deliciousness that make you feel like you're eating dessert, but are healthy enough for after-school snack packs.
I have to say, the next time my kiddo asks me for a piece of candy, I'm pointing to the fridge where he can grab a couple of these bites, and I can guarantee he won't be complaining.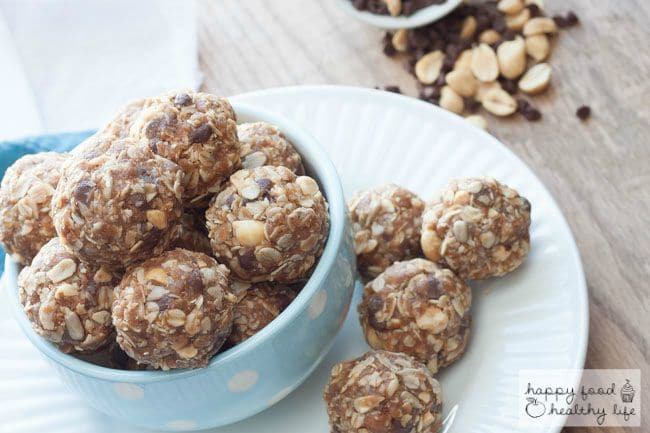 Holly shares healthy recipes, motivation, and fitness tips over at Happy Food Healthy Life.