The classic Shepherd's Pie just got a healthy twist and we made it bite-sized for the kids and perfect portion control for adults!
What is Shepherd's Pie?
Shepard's pie is a classic dinner. People mix in different veggies to the meat filling but it's always covered with mashed potatoes and smells incredible coming out of the oven. It's a healthy dinner that doesn't need a side dish because it has protein, veggies and carbs in one dish! We love that! To make it more kid-friendly (and cuter) we made little Mini Shepherd's Pies with a crust using coconut oil!
If you love Shepherd's Pie, make sure to try our recipe making it in a jar too!
How to Make Healthy Mini Shepherd's Pies
You first need to start out with making a pie crust. To make it healthier we used coconut oil instead of butter and used whole wheat four with the all purpose flour. Make sure your coconut oil is "scoopable" but not melted. This will help the dough to behave like butter crust and it's easier to work with. Once you make your dough, make little dough balls and then roll them out! This is a perfect task for the kids because there's no knives involved and kids love to roll dough. Press each piece of pie crust into the wells of your greased muffin tin.
Is Ground Beef or Ground Turkey Healthier?
Look at that filling……. Packed with carrots, peas, mushrooms and just a few onions. We made this with a lean cut of ground beef to keep it close to the original Shepherd's Pie we all know and love. So does it matter whether you use ground turkey or ground beef? Let's take a closer look at the nutrition information.
Beef has gotten a reputation for being something that should be avoided if you want to eat a healthy diet. A lot of people think that turkey or chicken is the way to go to meet protein needs if you're not vegan. This is not always true depending on how lean the cut of meat is you are eating.
If you choose the leanest ground beef which is about 93 percent lean, and choose the leanest ground turkey which is also 93 percent lean, lean ground beef can be lower in calories and fat. According to the USDA nutrient database, 3 ounces of turkey has 176 calories and 9.7 grams of fat and 3 ounces of ground beef has 162 calories and 7.5 grams of fat. Ground beef does however have more saturated fat than ground turkey but is higher in vitamin B12, zinc, iron and selenium. Ground turkey is higher is cholesterol, total fat and calories, but is higher in vitamin B6.
We believe in varying your protein sources, but its good to know that you can choose lean cuts of either and feel good about that choice!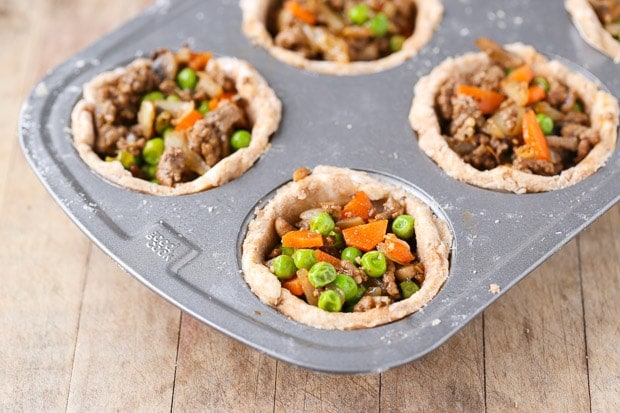 Next, you'll layer in the meat and veggie filling and top it off with the mashed potatoes! Pile it high!
When you bake your Mini Shepherd's Pies, you want the crust to get cooked and heat them all the way through. The meat is already cooked so don't worry about that! This is such a fun meal to make with the kids, so get them in the kitchen and get cooking!
Enjoy our Mini Shepherds Pies with your family!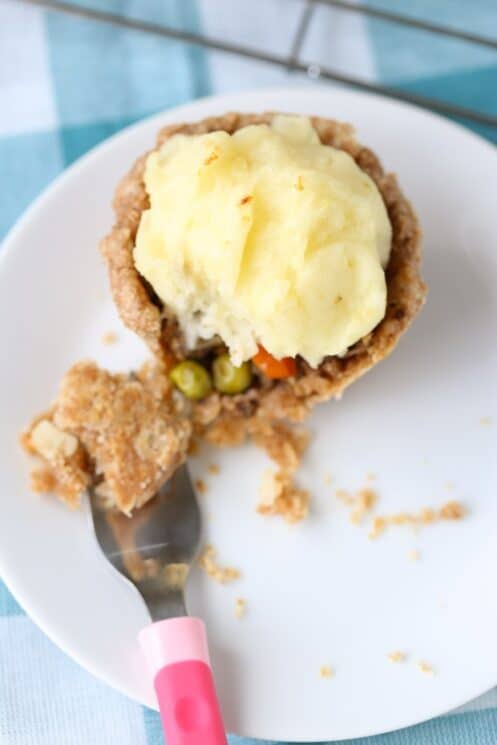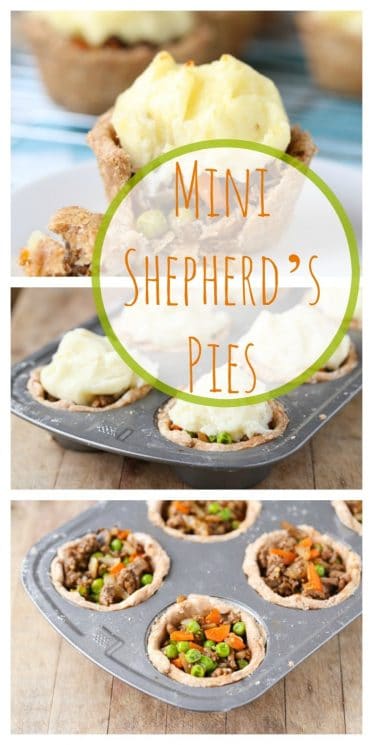 Mini Shepard's Pies
The classic Shepherd's Pie just got a healthy twist and we made it bite-sized for the kids and perfect portion control for adults!


Instructions
Peel and cube potatoes. Add to a pot of boiling water; cook for 10-15 minutes, until tender. Drain and mash with the milk.

Meanwhile, using a pastry blender or food processor combine flours, salt, and coconut oil.  The coconut oil should be soft, but not melted! Add 1 tablespoon of COLD water at a time until the pie crust comes together.

Lightly grease a muffin tin.  Make 12 little dough balls. Roll out each one and press into each well of your muffin tin.

Preheat oven to 375 degrees.

Place a large skillet over medium heat and add ground beef.  Use a wooden spoon to break the meat into little pieces.  Add onions and salt; continue to cook for 3 minutes.

Add ketchup, Worcestershire sauce, peas, carrots and mushrooms.  Stir and let cook until the beef is cooked through.

Distribute meat filling into all the mini pie shells and then top with mashed potatoes.  Since the pies won't rise, you can pile them high!  They may sink a little while baking.

Bake for 15-20 minutes; let cool for 5 minutes in muffin tin before removing. Serve!
Nutrition
Calories:
491
kcal
|
Carbohydrates:
47
g
|
Protein:
15
g
|
Fat:
27
g
|
Saturated Fat:
21
g
|
Cholesterol:
24
mg
|
Sodium:
485
mg
|
Fiber:
4
g
|
Sugar:
3
g
www.superhealthykids.com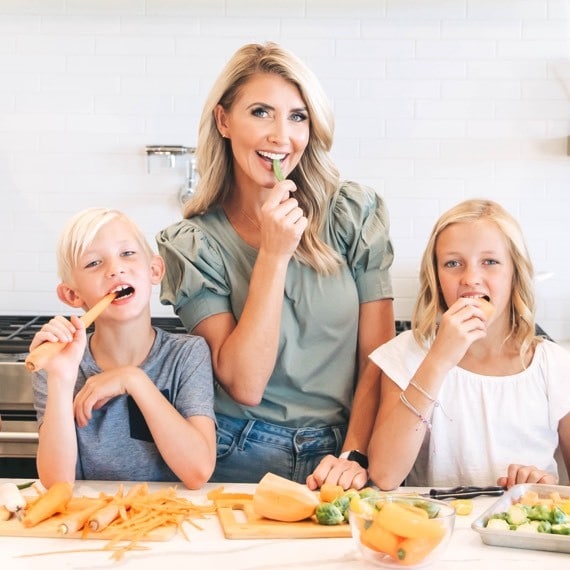 Natalie Monson
I'm a registered dietitian, mom of 4, avid lover of food and strong promoter of healthy habits. Here you will find lots of delicious recipes full of fruits and veggies, tips for getting your kids to eat better and become intuitive eaters and lots of resources for feeding your family.
Learn More about Natalie