October 17 is National Pasta Day.  Sometimes Pasta gets a bad wrap – don't eat it because it has too many carbs.  Do eat it because it is full of whole grains. Is pasta a health food? So what's new in noodle news to share on pasta's big day?
In a study published in 2016, researchers concluded that, as part of a Mediterranean diet, eating pasta "was negatively associated with body mass index (BMI), waist circumference and waist-to-hip ratio and with a lower prevalence of overweight and obesity."

What this basically means is, eating pasta as part of a Mediterranean diet lessened the chance of overweight and obesity. Excellent, right?  But what's a Mediterranean diet?
A Mediterranean diet is a diet traditional to Mediterranean countries characterized by foods with a high content of complex carbohydrates and fiber such as legumes, rice and cereals, as well as a high consumption of vegetables and olive oil and a moderate consumption of protein.
Cereals are the main source of carbohydrates in the diet, and in Italy, cereals are primarily consumed in the form of pasta. Whole grains are promoted in the diet, which would provide more fiber than a more refined counterpart. The foods typical to the Mediterranean diet seem to lower cholesterol and blood pressure and reduce the risk of heart disease through the combination of high fiber, omega-3s, unsaturated fats, low sodium levels, and other essential nutrients.  Other important foods in the Mediterranean diet are shown in the graphic below. Notice that fruits, vegetables, grains, olive oil, beans, nuts, legumes and seeds are lumped together at the base (above exercise), with fish and seafood just above.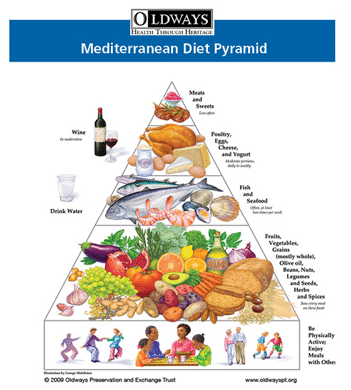 (Image credit: Oldways Preservation and Exchange Trust)
In the study, the people who kept their weight down followed a healthy and balanced Mediterranean diet. They enjoyed their pasta dishes with, for instance, vegetables, olive oil, and fish rather than breaded and fried meat and creamy sauce.
As part of a diet emphasizing balance and variety, pasta offers the following nutritional benefits:
Fiber. Fiber helps to control blood sugars, helps prevent overeating since it helps you to feel full, helps you maintain a healthy weight, helps maintain bowel health, and can help lower cholesterol. Choosing whole wheat pasta over regular pasta increases your fiber intake. A one cup portion of whole wheat spaghetti is 60% higher in fiber than a one cup portion of regular spaghetti. This translates to whole wheat pasta providing up to 25% of daily fiber requirements in a one cup portion.
Low in sodium.
Cholesterol free.
Folic acid, B vitamins, iron. Pasta is a source of all of these important nutrients.
Sustained energy. Carbohydrates, including pasta, provide glucose, which fuel the brain and muscles. Pasta is an excellent source of complex carbohydrates, providing a slow release of energy.
Part of a balanced diet. A balanced diet includes carbohydrates, and whole wheat pasta is a fantastic choice.
What does all of this mean?  Including pasta, preferably whole wheat pasta, as part of a diet emphasizing moderation and variety, as well as characteristics of the Mediterranean diet, has health benefits. The notion of moderation and variety ties back into the message of MyPlate, which also places emphasis on moderation and variety.
In honor of National Pasta Day, we have twelve wonderful pasta dishes to share with you. Use whole wheat pasta instead of regular pasta for added nutrition:
Make this delicious salad as is or make it your own and enjoy. We don't love olives in our home, but we do enjoy red bell pepper and artichoke hearts, so we throw them in with the red onion, cucumber, tomatoes and feta for a delicious side dish.
---
Pasta and shrimp with lemon, basil and parmesan-they make a fantastic combination that is easy to make and delicious to eat.
---
This dish has a bit of every food group except for fruit represented. How amazing is that when putting together a meal? One pot containing a tangy and yummy combination of protein, grains, vegetables, and dairy, and all you need to finish it off is some colorful fruit.
---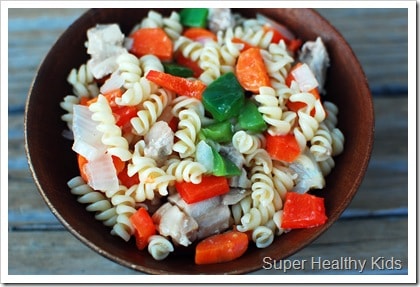 This dish is an easy one to make on a busy night using leftover chicken, and it's a family pleaser with a light but creamy sauce. To get it to the table even quicker, you can chop your vegetables in advance.
---
There can never be too many one pot meals in your recipe stash, and this one is vegetarian with wonderful Mediterranean flavors.
---
---
Easy to make, inexpensive, and yummy for the whole family? Yep, yep, and yep. And with tuna as the protein, fish is able to make a weeknight appearance without too much fuss.
This is a warm, comforting, quick-to-the-table, and veggie filled soup that will be a welcome dinner on a cold evening.
---
Another cold weather pleaser, this Italian pasta and bean soup takes less than an hour to cook.
---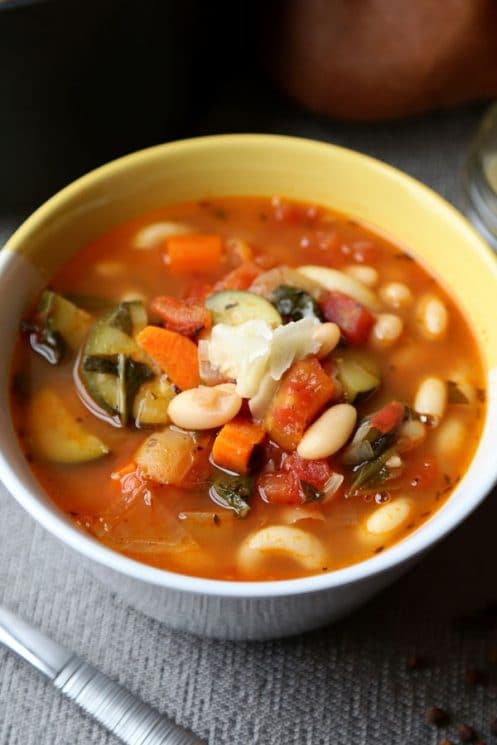 This soup is loaded with vegetables, beans, and pasta to make a filling dish that is full of beautiful colors.
---
A soup made in 30 minutes is a weeknight dream come true. Spinach, white beans, and orzo marry into a hearty bowl of vegetarian fare, though you can add some crumbled Italian sausage if you'd like.
---
(Image credit: The Cooking Jar)
Salmon and pasta flavored with lemon, garlic, capers, basil and parmesan makes me want to rush to the grocery store immediately to buy the ingredients. Salmon, with its heart healthy omega-3 fatty acid, adds beautiful color and flavor to the dish.
---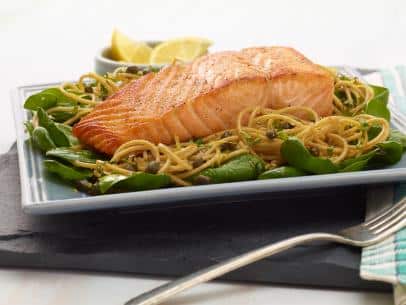 This recipe has similar ingredients as the recipe above, with the addition of spinach. Also, with this one, the dish is served in layers, with bright green spinach plated at the bottom, then the pasta, then the salmon placed on top.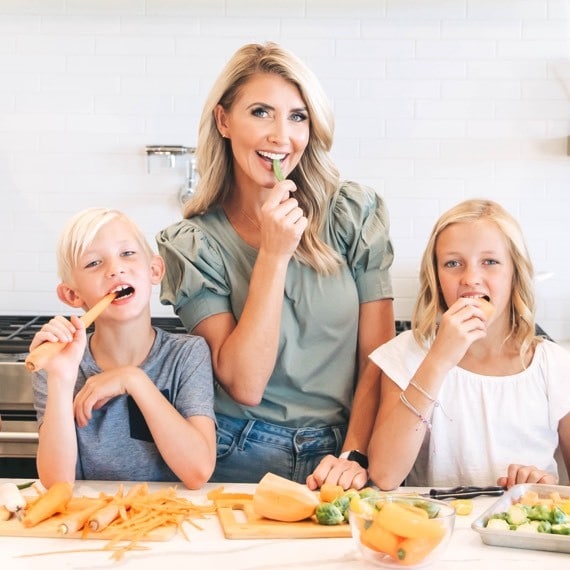 Natalie Monson
I'm a registered dietitian, mom of 4, avid lover of food and strong promoter of healthy habits. Here you will find lots of delicious recipes full of fruits and veggies, tips for getting your kids to eat better and become intuitive eaters and lots of resources for feeding your family.
Learn More about Natalie