Crunchy baked Mozzarella sticks are made with whole grain bread crumbs and oven-baked for an ooey-gooey, high-protein treat.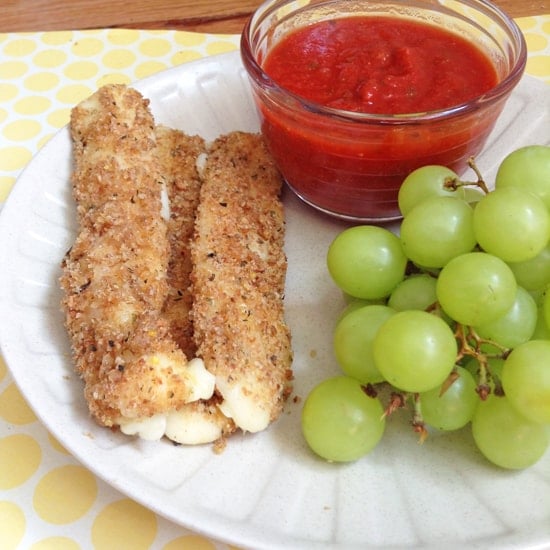 I just love to make over famously unhealthy foods. For one thing, my kids like to eat them. For another thing, it's usually surprisingly easy to transform a recipe into a healthier treat that you feel good about sharing with your kids!

This is one of those recipes. With a breading made from whole, sprouted grain bread and whole wheat flour, and an oven-baked cooking method that avoids the deep-fryer altogether, we've turned the ultimate crunchy/gooey appetizer into a healthy snack you can make at home, any time you've got hungry kids, and 20 minutes to spare.
OUR LATEST VIDEOS
Set out a dish of marinara for dipping, a little fresh fruit on the side, and you're ready to snack.
Is Cheese Really Healthy?
Cheese has an undeserved reputation among adults as a fattening indulgence. But when you're feeding your kids cheese (perhaps it feels like even more cheese), there are two things to remember.
The first is that kids really need fat… it's essential not just for growing bodies, but for growing brains, too. (Did you know that your brain is composed of 60% fat? It's true!)
Secondly, cheese counts as a good source of protein and calcium, just like milk.
So go ahead and enjoy serving your kids these melty cheese sticks. And grab one for yourself, too. No guilt allowed!
Quick Sticks
When you're reading to make these Mozzarella sticks, get three bowls ready for the breading: one with egg, one with whole wheat flour, and one with bread crumbs. Got a little helper in the kitchen? This recipe is great fun for kids who are too little to chop veggies.
Unwrap your cheese sticks, and dip each one in turn into the egg, flour, and bread crumbs.
Place the coated sticks onto a cookie sheet, and bake for just ten minutes. Be careful not to leave them in too long, or you'll have a Mozzarella puddle, instead of a stick. 😉
Enjoy them while they're hot and crunchy! They taste great dunked in a classic marinara sauce, or in our Beyond Veggie Dip.
Do you have a favorite healthy makeover recipe? What is it?