Are you craving a warm and comforting meal? Easy Vegetable Tortellini Soup is my favorite quick and easy recipe to make when I crave something warm and comforting. This soup comes together in less than 30 minutes and is made with fresh carrots, celery, kale and more. Best of all, the soup is cooked in one pot and tastes great as leftovers!
I love quick and easy dinners that are packed with fresh vegetables. I especially love to sneak greens into meals because they are packed with nutrients, cook fast and add a delicious flavor. Soup is an easy way to incorporate fresh vegetables into your diet. Roasted Butternut Squash and Red Lentil Soup and this Easy Tortellini Soup are two of my favorite winter soup recipes. Both recipes are full of fresh vegetables and flavor that both kids and adults will love. This recipe also includes cheese tortellini and italian seasonings such as dried oregano, basil, parsley and thyme.
A few quick tips and notes for this recipe:
Add more seasonings, if desired. I love dried oregano, basil, parsley and thyme so I usually add a little more seasoning.
Add more kale, if desired. I love kale and strongly believe that the more kale, the better. The kale cooks in very little time so feel free to add a few more handfuls if you love kale as much as I do.
Easy Tortellini Soup reheats well and tastes great as leftovers. Make a batch at the beginning of the week to enjoy throughout the week. You can even double the recipe in a large stockpot to enjoy more leftovers.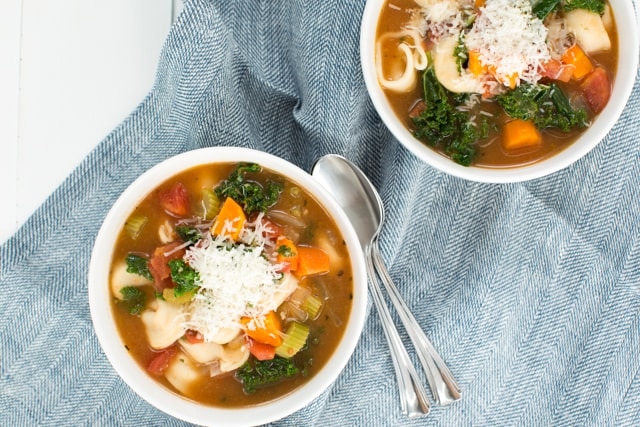 Ashley shares more of her favorite easy yet impressive recipes, including healthy meal plans and more, on Spoonful of Flavor.
Go ahead, grab a bowl and a spoon to dig in!