Easy Crockpot Mashed Potatoes
No need to stand at the stove making mashed potatoes at the last minute when hosting a holiday gathering. Let your crockpot do all the work! Crockpot mashed potatoes are easy to prepare and can stay warm and ready to serve whenever you need them.
We are quickly approaching the holiday season. That means big meals and lots of great food.
If you're like me you prefer to host rather than travel.
But that is a lot of work!
Now you can take one thing off of your last minute to-do list. Crockpot mashed potatoes let you prepare a staple side dish in advance and forget about it until dinner is served.
It really doesn't get any easier. Wash the potatoes and put them in the crockpot. Turn it on and you're over half way done with the prep work!
Once the potatoes are cooked simply mash using a potato masher or puree and add milk, butter and seasoning. If you want to bump up the nutrition factor (and festive look!) add frozen peas or broccoli to the mix.
Any type of potato will work. But it is best to use a thin-skinned potato. If you only have potatoes with a thicker skin you can peel them first or simply use an immersion blender instead of a potato masher.
No need to stick with the basics. You can create all sorts of flavor combinations.
red skinned potatoes, sour cream, rosemary
yellow potatoes, yogurt, garlic, dill weed
white potatoes, cream, thyme, sage
sweet potatoes, milk, sea salt, maple syrup
Crockpot mashed potatoes are an easy side dish to let kids make. The little ones can scrub the potatoes. Older kids should do the rest since the crockpot will be hot.
One of the best parts about making mashed potatoes in the crockpot is that you can prepare them in advance. After the mashing and mixing is done simply turn the crockpot to warm until you are ready to eat.
Place the potatoes in a fancy bowl, add a pat of butter and some herbs to the top and nobody will know you hardly lifted a finger to make them.
If you have more than one crockpot you can use them to roast vegetables and make stuffing. You'll have almost all of the work done hours before your guests arrive.
That is my kind of hosting!
Take some of the stress out of your next holiday meal with easy crockpot mashed potatoes. You'll have one more mess cleaned up and one less thing to do when the party starts.
Can't have dairy? No problem! Broth works just as well as milk. There is plenty of starch in potatoes to get the creamy texture. Broth adds moisture and flavor. Replace the butter with a little extra virgin olive oil or lard or just skip the added fat.
Don't forget a little treat to go along with your meal. These holiday Oreos® can also be made well in advance and are sure to be a crowd pleaser.
Mary is a Christian, a wife and a mother of three young children. She has a passion for real food and will help you navigate the world of food allergies and feeding challenges. She blogs about meal planning, feeding tips and healthy food at Just Take A Bite.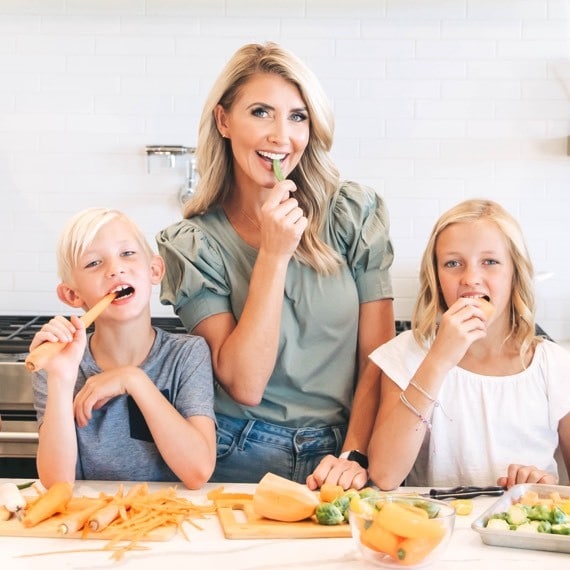 Natalie Monson
I'm a registered dietitian, mom of 4, avid lover of food and strong promoter of healthy habits. Here you will find lots of delicious recipes full of fruits and veggies, tips for getting your kids to eat better and become intuitive eaters and lots of resources for feeding your family.
Learn More about Natalie