Super-simple Butternut Squash Souffle Bites serve up vitamin-rich orange veggies and tons of protein in a sweet and fluffy little package.
Fall flavors, here we come! Here's an absolutely wonderful, incredible simple way to serve healthy, beta-carotene rich winter squash along with a protein-boost of eggs. The taste is slightly sweet and cinnamony, and the texture is fluffy and delicate, almost like a custard.
It's one of those snacks that feels just perfect in every way: easy, healthy, yummy, and unique!

If you feel like you're in a snack rut with your kids, you've got to try these tender little bites.
OUR LATEST VIDEOS
Picky Eater Promise
This recipe has real promise for your picky eaters! I don't know about your kids, but mine assign automatic brownie points to any recipe I serve them out of a muffin tin. It's just that muffin tin magic, I guess!
These bites also taste naturally sweet from the squash and raisins, and the texture is soft and easy to chew (this makes it perfect for toddlers.) So if you're not SURE if your kids will go for this… give it a try! Remember: the more you offer, the more chances you give your kids to discover they love something new.
And, of course, if they do love it, you can feel confident that your kids are getting great nutrition, including protein, fiber, vitamin A, and vitamin C. These bites are a complete meal or snack in one little handheld package.
Butternut Bliss
Butternut Squash Souffle Bites are so easy to make, and if you cook your squash ahead of time, you can make these bites in 20 minutes flat!
Prepare the squash however you like. I pressure-cooked mine for seven minutes in the Instant Pot, but you can also roast it, or even cube and steam it until it's soft enough to mash. Buy the pre-cut squash cubes to save time, if you like.
Once you have your mashed and cooled squash, just whisk in the eggs and add a pinch of cinnamon, salt, and pepper. Stir in the raisins, then portion the mixture into a mini-muffin pan, and bake.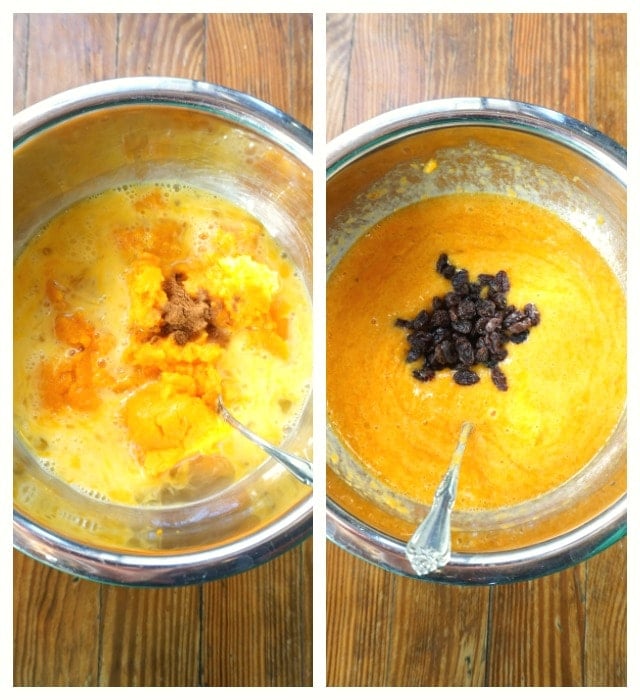 So easy. So yummy! Enjoy them warm from the oven, cold from the fridge, at breakfast, tucked into a lunchbox, or for after-school snack. These bites are super versatile!
Enjoy them.