Brown Rice Bears and Benefits
As a grain, brown rice is much superior to white rice. Brown rice contains:
349% more fiber,
203% more Vitamin E,
185% more Vitamin B6,
219% more magnesium, and
19% more protein.
Impressive, right? Do your kids like brown rice? One reason I don't cook with it more often, is simply the time it takes to cook. I put 1 cup of brown rice into my rice cooker at 7:45 this morning. It wasn't finished cooking until 9:15! 90 minutes is a long time to cook! We love to eat brown rice, but it definitely takes thinking ahead.
One of my favorite thing to do with brown rice is to make rice balls. We learned this process from our exchange students. These girls would make a rice ball to pack into their lunch every single morning. Sometimes, they would just take a ball of rice and some vegetables, but often they would fill the center of their rice ball with tuna. We decided today to fill our rice balls with some leftover stir fry and it turned out great!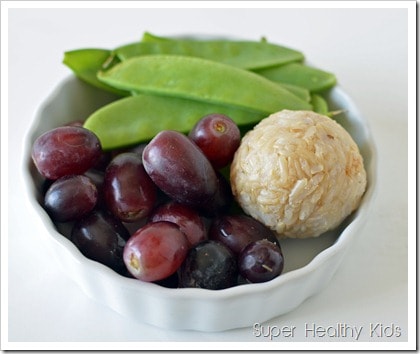 Here is the basics:
Step 1) Cook brown rice.
Step 2) Sprinkle a square of plastic wrap with salt and put a pile of brown rice into the center.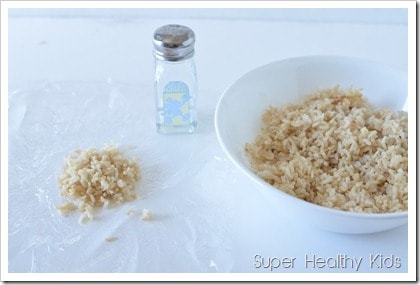 Step 3) Gather up the edges of the plastic wrap and squeeze into a ball! Warm rice works great, because it's still a little sticky and wet, and will hold it's shape much better!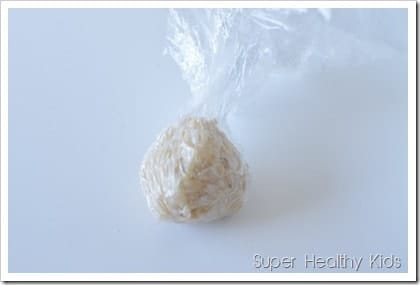 Step 4) Open plastic wrap and press a pit into the center for your filling (like a nest)
Step 5) Re-wrap the plastic wrap and squish into a ball shape again!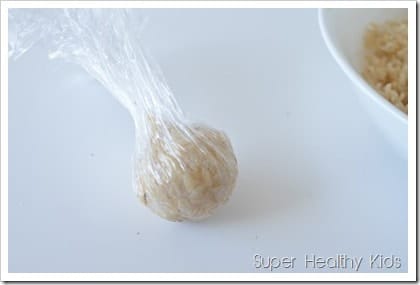 MMMM… Rice balls are a great food to take in a school lunch. They taste great cold as well as warm.
Think of the possibilities of fillings?!?
Then, if you felt like being cute, you could attempt to make a rice ball bear like I did. This might be a better task to leave to the bento bloggers, as somehow my bear looks sad.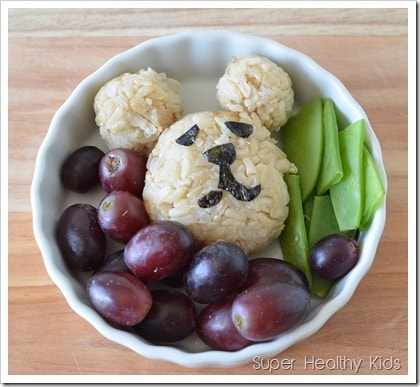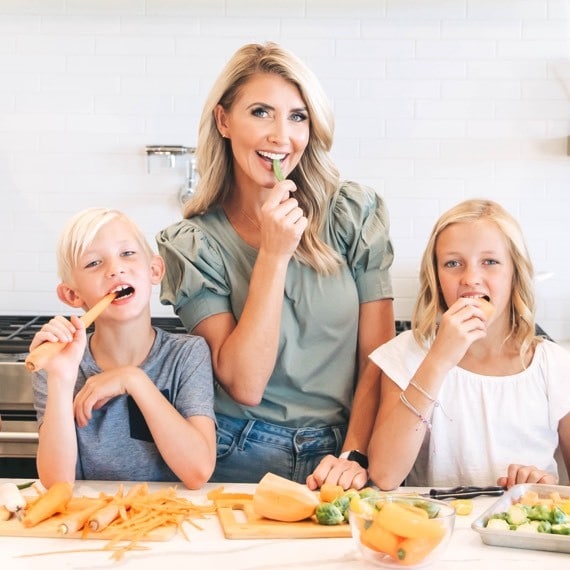 Natalie Monson
I'm a registered dietitian, mom of 4, avid lover of food and strong promoter of healthy habits. Here you will find lots of delicious recipes full of fruits and veggies, tips for getting your kids to eat better and become intuitive eaters and lots of resources for feeding your family.
Learn More about Natalie