I am ready to plug back in! Not only to the computer, but to more mindful eating! It has been a crazy 2 weeks – full of distractions, parties, feasting, playing, socializing, working, and eating. As fun as it all is, isn't it nice to be back into a routine again.
Today's idea is apple chips! For some kids (and parents) with fruit texture issues… this one is for you. My flip-flopper does not like cooked fruit, but crunchy or crispy she can handle. So we sliced up some apples to make into apple chips.
First boil apple juice with either a cinnamon stick or cinnamon.
Then we sliced apples as thinly as possible. (crosswise so the core was in the center.  No need to seed it, they just fall right out). My Fruit and Veggie Knife produces a perfect slice for this recipe.
Then we boiled the apples in the apple juice till they were somewhat transparent.
Then we took the apple slices out of the boiling juice, and patted them dry.
I laid them on a cookie rack (the kind you cool cookies on) and placed the entire rack in the oven at 200 degrees.
We baked for about 1 hour. Then we flipped them over and baked for another hour! Only bake until they are slightly browned. Oven times may vary.
Final product:  Delicious apple chips!! So much tastier than potato chips.
Apples are great to include in your families diet. Apples are:
A great source of fiber! Fiber not only helps to keep kids full till the next meal, but also helps them to stay regular.
While apples are a good source of sugar, it actually regulates blood sugar, rather than creating spikes and drops. The polyphenols in the apples have been shown to do this.
Consuming apples actually improves the bacteria in the gut. This provides a metabolic change in the intestines, leading to more health benefits! (I love this as bacteria has been shown to be a significant influence on health! (source)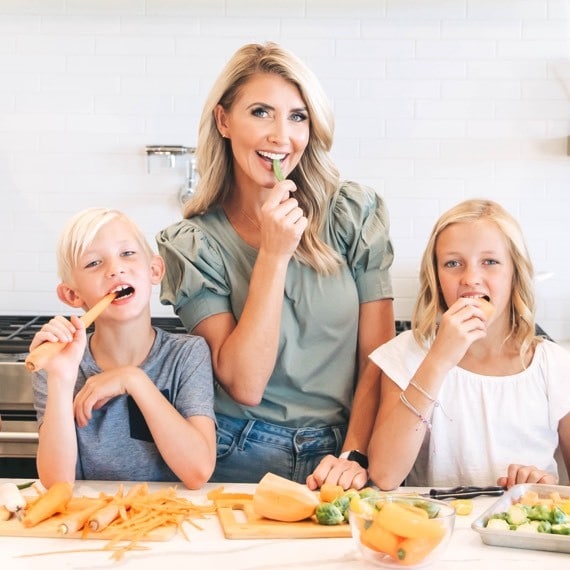 Natalie Monson
I'm a registered dietitian, mom of 4, avid lover of food and strong promoter of healthy habits. Here you will find lots of delicious recipes full of fruits and veggies, tips for getting your kids to eat better and become intuitive eaters and lots of resources for feeding your family.
Learn More about Natalie